Apocalypse Cow Recording - December
Newsletter - www.callthecow.com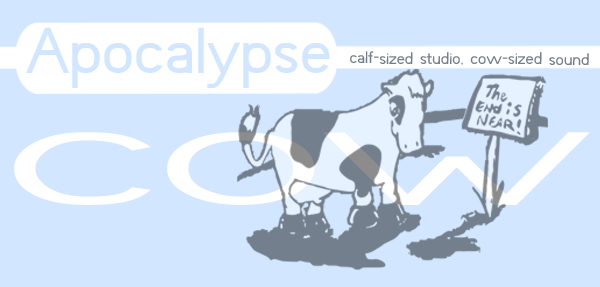 Merry Christmas ! -



NEWS

---
The Cow is still earning its keep around here and has been finishing a lot of projects. We're also gearing up for Christmas, which means we will be busy with more new bands on Christmas break in the month to come. Read on for all the exciting artists we've been working with.


NEW GEAR
---
We are in the process of replacing our big, noisy, blurry projector in the control room with a wall of visual goodness. When it's all finished there will be a total of six flat panel monitors tiled together to make a large video wall. So far we have three tiled together and it has been an enormous help when using the computer (which we tend do every once in a while). Plus it's a blast for watching music videos!



WHO'S in the RECORDING STUDIO

---
We have just finished a mastering project that came all the way from Alabama for Conecuh Workshop of Pinch and Roll Records. Conecuh Workshop's music is like Zappa with hot metal intros or almost a blend of experimental surf with spacey guitar lines added to music you wouldn't think possible from the traditional rock instrumentation. Check out the craziness at www.conecuhworkshop.com.

At long last Annie Waugh is working on final mixes for her second album. Annie has been working on "Rivers in the Desert" for officially over a year, with a lot of work going into it in the last few months. Annie has brought in several musicians to help, most recently Mark Ott on drums (who has previously toured with Three Dog Night and Dave Mason). She also brought in Greg Boerner for guitar and vocals, Mike Acquaviva on keyboards and vocals, and Andy Wahl on percussion. Keep an eye out for the release date at www.anniewaugh.com

Father Pete Jankowski's Children's Christmas music is well on its way. Fr. Pete is planning to get his songs published in time to be used for Christmastime 2004. He already has one song published and hopes to add these new songs to his list.

Into Oblivion just came in for final mixes for their EP. Into Oblivion plays good 'ol rock music with the obligatory punk-metal edge to it. Check out what they're about at www.intooblivion.net.

Courtney Jay has just finished her debut EP. Courtney traveled all the way to Nashville to record backing tracks and came here to record her vocals. Check out her website for more info at www.courtneyjay.com.

Michael John is continuing work on his album. Michael, who in the past has toured extensively with Jars of Clay, is making a solo Christian album featuring both his original works and covers of some of his favorite songs.

Cesar Corral is also continuing work on his solo album. Cesar's straight-ahead pop music features acoustic and electric guitar to compliment his singing. Cesar brought in E-Rock Bogle on drums from Champaign. Keep your ears to the grindstone for Cesar while he makes it into every car radio.

Gary Landess returned once again to work on some more eclectic tunes. Gary has recorded everything from hard rock + roll to blues to classical and spanish guitar. Gary has been playing both guitar and drums on all his songs and plans to record vocals for the songs soon. Keep your eyes peeled for him at any Aerosmith concert where he will most likely be schmoozing with close personal friend Steven Tyler and Joe Perry.

For more information on any of these artists, contact us at news@callthecow.com



JOKE OF THE MONTH
---
Why did the cow jump over the moon?
Because the farmer had cold hands.
Send in your favorite (clean) cow joke to news@callthecow.com and if we use it we'll link to you.



CONTACT INFO
---
For booking information, tours, new sampler CD, or anything else, contact us at.
record@callthecow.com
www.callthecow.com
(630) 897-9023

For old 2003 newsletters january, february, march, april, may, june, july, august, september, october, november


SUBSCRIBER INFO
You are on this mailing list because you have contacted Apocalypse Cow in the past. If you wish to be removed from this list reply to this e-mail news@callthecow.com with "remove" in the subject line. If you wish to add someone else to the newsletter, reply to this e-mail with the person's address to be added.