Apocalypse Cow Recording - July
Newsletter - www.callthecow.com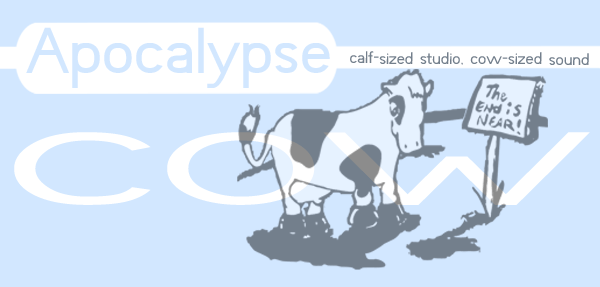 Happy Summer! -



NEWS

---
Happy summer! As always we've been extremely busy here at The Cow and we accomplished another banner month. We've been busy recording some great bands like West of 47, Wrong Turn, Apt, Etchfir, Triggered Resistance, Suckerpunk and some great solo artists such as, Shannon Clark, Courtney Jay and Annie Waugh.

This Sunday, July 6th, Apocalypse Cow recording artists Tub Ring will be on Q101's Local Show from 9-10pm. Tub Ring will be interviewed and spinning their songs, some of which were recorded and produced right here at The Cow! Be sure to tune in to 101.1 FM at 9pm for a truly revolutionary listening experience.

Look for the print version of the Apocalypse Cow newsletter coming soon to your home mailbox. Be sure to read our featured article about creating press kits, and also read about our featured artists, tips for recording and more. To make sure you receive your July newsletter send your mailing address to news@callthecow.com.

Remember that onJuly 1st our rates went up for all new projects. New prices are now $35 an hour or $315 for a ten hour day. You can, however, save money by referring other bands who record with us and by taking advantage of our "Don't be a Stranger" deal, in which you get 10% off your next project if you return to the studio within six months. And also be sure to tell friends and family about Cow Bucks (gift certificates), since they make great birthday presents.



NEW GEAR
---
We have a brand new DVD/VCR player in the control room, making it is simpler to get samples from any movie, VHS or DVD, for use in your CD (with permission of course). It is also wired in to record a video of your tracking experience. Visual is taken from the live room cameras and audio is straight from the board. Videotapes are $5 for 6 hours of memory making recording.

We've finally entered the space age and got a broadband connection for the studio. Not only does that mean we can surf faster than ever before, but we can now send wave files via e-mail. That means if you need to get an interim mix of your song before the final mix date, or we just want to shoot out some ideas for you, we can actually send a good quality file to you without the fear of our connection being lost during submission. And if you ever need to send us MP3s or any large file, we can finally receive it without tying up our computer for hours.



WHO'S in the RECORDING STUDIO

---
The band West of 47 was in recording some tracks with us in late June. This straight-up pop band utilizes the traditional five-piece crew to its best ability with catchy hooks and a great sound, blending acoustic with electric and adding great harmonies to create songs full of texture and liveliness. The songs range in style from latin-esque, Beatles-eque, jam band-esque and more(-esque), and all songs create a distinct edge for the group. True to their name, the band's members all hail from west of Rt 47: brrothers Joel and Jordan Hix (both on guitars and vocals), with Justin (drums), Eric (bass) and Zach (lead guitar).


Five Elmwood Park High School seniors collaborated on a graduation song that they came in to record recently. A supergroup of sorts coming from various local bands, the band's combined sound is a classic pop rock radio song with a catchy tune and an easy-to-sing-along-with lyric. Say congrats to the class of 2003: Vince Capraro (drums), Jim Norris (guitar/vocals), Mike Silvestri (bass), Amanda Schnoebelen and Marlene Soto (backup vocals).

Etchfir, an alternative/emocore/screamo band recorded several songs with us. The straight-edge band from Byron (that's near Rockford for the uninitiated) employs raw vocals combined with emotional music to create songs that showcase their passion. The quartet is comprised of Mike Snodgrass (vocals), Jory Eisele (drums), Chris French (bass) and Chris DeGroff (guitar). Find out more about the band at www.angelfire.com/indie/etchfir.

Reggae band Suckerpunk was in the studio as well, combining traditional reggae with a slight punk sound in the likes of Sublime and UB40. Suckerpunk comes from Woodridge, and is comprised of Andy Schmitt (Guitar/vocals), Jeff Hardy (drums) and Kaiser Morales (bass).

Emo/punk band Wrong Turn returned to the studio to record some tracks with us. Wrong Turn melds catchy music from reggae to rock n' roll and adds their own lyrics meant to speak to people their age. Coming from Oak Park are Paul Gulyas (guitar/vocals), Evan Jacobson (drums) and Brian Patterson (bass). Find out more about them at www.wrongturn.net.

Alt metal band Triggered Resistance recorded their EP "Tranquility Dead" at The Cow studios. Triggered Resistance blends the best of metal, alternative and emo music to create a style of their own. From the streets of Aurora are members Chris Wasilewski (guitar), Mike Fernandez (drums), Helen Weincek (Bass) and Dana Hanegraaf (vocals). To see more about this upcoming band visit www.angelfire.com/band2/triggeredresistance.

Apt began recording their EP this last June. Coming from LaGrange, Apt, well, aptly blends jazz with chord progressions that have an intricate but easy feel to them, like so many well-known jam bands. The band is made up of brothers Jac and Joel Cornelius (guitar/vocals and drums, respectively) and Ryan McGuire on bass.

Singer/songwriter Shannon Clark is starting her music career by recording some original songs with The Cow. Singing primarily country music, Shannon recorded some cover tunes in spring for her wedding, but is now going full force with songs written by herself, her husband, and her brother, making it a real family endeavor.

Annie Waugh is continuing work on her newest album "Rivers in the Desert." The Christian Contemporary artist gives a sampling of many genres in her music, skipping from traditional sounding folk and blues to dance pop rhythms with Irish tapping. Visit her website www.anniewaugh.com to find out more.


For more information on these artists, contact us at news@callthecow.com




JOKE OF THE MONTH
---
Two cows were standing in the barn one day talking. They see a man walk by so one cow asks the other cow, "Is that the guy who feeds us?". The other cow says, "No, that's the udder guy."
Submitted by Kenneth Brown who is building a website with videos for learning software, specifically SQL right now. Check out his early work in progress at www.youcanlearnseries.com.
Send in your favorite (clean) cow joke to news@callthecow.com and if we use it we'll link to you.



CONTACT INFO
---
For booking information, tours, new sampler CD, or anything else, contact us at.
record@callthecow.com
www.callthecow.com
(630) 897-9023

For old 2003 newsletters january, february, march, april, may, june



SUBSCRIBER INFO
You are on this mailing list because you have contacted Apocalypse Cow in the past. If you wish to be removed from this list reply to this e-mail news@callthecow.com with "remove" in the subject line. If you wish to add someone else to the newsletter, reply to this e-mail with the person's address to be added.