Apocalypse Cow Recording - April
Newsletter - www.callthecow.com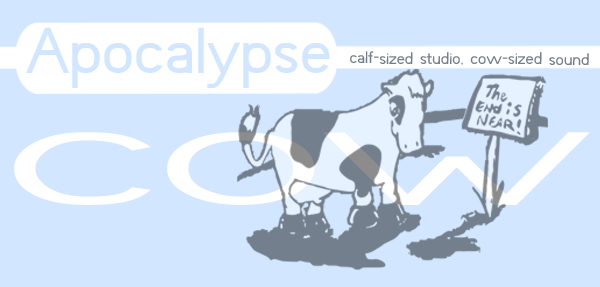 Happy Spring! -



NEWS

---
We've been extremely busy here at the Apocalypse Cow Studios this past March which has been our biggest month yet. We've had some really great bands in recording with us, Tub Ring and The Red Jacket being just a couple of our most recent additions to the Cow sound, as well as Cow veterans Sol FX, Angst and Agony and Annie Waugh back in the studio recording more tunes. We're also grabbing lots of new gear soon (this month we've added a CD duplicator, Tama drum tension watch and a new MIDI controller) so keep reading in the next several months to see what else we get. In the meantime, enjoy this great weather!





NEW GEAR
---
On its way to the studio is the Oxygen8 USB MIDI Controller. This is a very small keyboard (only 25 keys to be exact) that is used to control MIDI on the computer. The Oxygen 8 will be attached to the desk right by our mixing board making it much easier to pluck out tunes and ideas for your songs. The MIDI capability allows us to use a myriad of different sounds with just the click of a mouseas well as working in conjunction with our large library of synth sounds and the Gigasampler, which uses sample recordings of live instruments playing individual notes corresponding to the keyboard. The Oxygen 8 controller will be a great addition to the Cow, and we look forward to using it on your project.

Riding in the UPS truck with the Oxygen 8 keyboard is the Tama Tension Watch. This micrometer-looking gadget measures the head tension on drums as opposed to the more common lug tension. This makes for a better gauge of the actual tension of the drum head rather than the tension of the lugs, resulting in a better-tuned drum. For those of us not experienced in tuning drums, this little tension watch will make tuning go faster, easier and more accurate which, of course, we are all in favor of when in the recording studio. The tension watch has recommended tensions for various sized drums and pitches for a good starting place when tuning. Watch this little guy in action next time you're in recording here.
We've finally done it and bought a disc duplicator, so we can now do your short runs of CD duplication as few as five and as many as 500. We can print directly on the CD in full color 2400 dpi print resolution. Simply give us your graphic and CD to duplicate and we can make as many as you would like. Contact us for prices.



WHO'S in the RECORDING STUDIO

---
Nationally Recognized Rising Stars Tub Ring came in the studio this month to record three songs for various compilation albums. Describing themselves as "crazy rock," Tub Ring melds an abundance of genres into just a single song; one second will sound like a standard rock band, the next second will jump to an Arabian parade, then on to bubble gum pop, then swing, then . . . well, you get the idea. The tightly controlled schizophrenic band is on Invisible Records from Chicago and is currently on tour with some help from Pepsi. They recently played at South By Southwest in Texas and plan on matching their over 200 gigs from last year including some touring in Japan. In January Tub Ring made it to #84 on CMJ's top 200 for their most recent album "Fermi Paradox" an impressive feat considering they're competing with major label artists. This quintet is comprised of Kevin Gibson (vocals), Rob Kleiner (Keyboards), Dave Tavares (Drums), Jason Fields (Bass) and Shawn Sprinkel (Guitar). You can check out their music at www.tubring.com or buy their CDs in most major music stores.

The Red Jacket recorded four songs for their upcoming EP. This Emo-Art-Punk band employs both acoustic guitar based songs and electric all while having a keyboardist supplement the group with some full orchestrated playing. Members, all hailing from the Wheaton area, include Conrad Merced (Guitar/Vocals), Ryan Schmidt (Bass), Scott Heatherly (keyboards) and Jim Ratke (Percussion). To get more information about the band and their music visit their site www.theredjacket.cjb.net.

Christian Hip Hop group Sol FX was back in the studio after a long hiatus of Cow recording. This three-member team uses live instruments and their own beats to complement their rapping and singing. Eric Krawczyk and cousins John and Andy O'Connor make up the trio whose spiritual message makes you think. To learn more about Sol FX and hear their songs check out their website www.solfx.javait.net.

Angst and Agony is back in the studio working on their next set of songs for their full length album. This metal band is expecting some major changes in the near future so keep checking their website www.angst-and-agony.com to see what happens.

The Apocalypse Cow staff recently created a press kit for Annie Waugh. The press kit blends the organic with the contemporary to make a truly unique design for the unique artist. Changing the standard folder into a tin box or plastic mesh envelope makes the kit look distinguished from the others to help make it stand out from the others. See information about Annie on her website www.anniewaugh.com.



For more information on these artists, contact us at news@callthecow.com




JOKE OF THE MONTH
---
The Mother Abbess was on her deathbed and wouldn't talk to anyone. One of the nuns tried to give her some milk but the Mother Abbess would not drink any of it. So the nun, wanting to keep the Mother comfortable went downstairs and slipped some whiskey into the milk. She came back up and was finally able to coax the Mother to drink the milk. Mother Abbess motioned for the nun to get closer so she could say her dying words. The nun leaned in very close and the Mother Abbess said "Whatever you do, don't get rid of that cow."
Send in your favorite (clean) cow joke to news@callthecow.com and if we use it we'll link to you.



CONTACT INFO
---
For booking information, tours, new sampler CD, or anything else, contact us at.
record@callthecow.com
www.callthecow.com
(630) 897-9023

For old 2003 newsletters january, february, march



SUBSCRIBER INFO
You are on this mailing list because you have contacted Apocalypse Cow in the past. If you wish to be removed from this list reply to this e-mail news@callthecow.com with "remove" in the subject line. If you wish to add someone else to the newsletter, reply to this e-mail with the person's address to be added.