Apocalypse Cow Recording - March
Newsletter - www.callthecow.com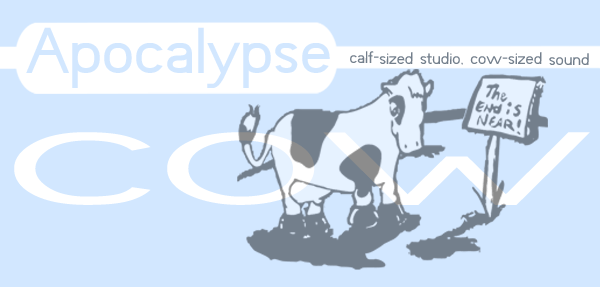 Happy St. Patrick's Day! -



NEWS

---
Welcome to Apocalypse Cow's March Newsletter. We've been doing a wide variety of things this past month. ADD has finished their three-song EP, Annie Waugh has started on her second album, Roughly Enforcing Nostalgia is moving at full-steam ahead, and we've had another young star, Courtney Jurick, laying some tracks. We have been collecting new sounds for synths, loops and samples which are all something to hear, to say the least. And we've started Apocalypse Cow Wear™, featuring The Cow logo we've all grown to love.

Apocalypse Cow has been collaborating with classical guitarist Dave Byron on creating a loop CD. For those of you not in the know, loop CDs are used primarily in ACID, a software program developed by Madison, Wisconsin-based Sonic Foundry. This program allows the average person, musician or not, to create original songs using snippets of music, and then looping the snippet (i.e. having the same line played multiple times in succession) to create a full-length song. The results can vary widely in styles from the repetitive dance music heard in rave clubs to rock songs, metal, ballads, avant garde, hip hop and even folk music. The loops used are all real recordings of musicians so as to not sound synthetic, but loops can also be manipulated in speed, pitch, order played and so forth to create a truly unique sound. Dave Byron recently recorded some of his awesome flamenco style guitar at, as well as different chords played in all ranges of the instrument, and the 1.7 Gig of material we recorded now has to be edited to make smooth ready-to-use loops and will then be submitted to Sonic Foundry for possible distribution.




NEW GEAR
---
Coming soon, a new line of fashion . . . Apocalypse Cow Wear! Yes, you too can now sport the famed Cow and be the most popular member of your band. This sophisticated line of clothing features the Cow logo embroidered distinctively on shirts, patches, pillows, some custom order items and much much more! Dressy enough to wear to weddings, yet casual enough to wear for rockin' out, available exclusively on our website.

This past month we've also been adding a virtual cornucopia of new mind-blowing samples, loops and synth sounds to our already rather extensive library. Some of the prime finds in the last few weeks have included some fantastic accordion patches, an amazingly lifelike upright bass sound, some Strataverian Strings straight outta the prog-rock heyday, a few Moogs, Prophets, Mellotrons, Harpsichords, Rhodes, "Doogie Howser MD" pianos, trumpet ensembles (perfect for that fanfare break you needed to add to you new song's bridge), an enormous cross-section of sound effects and ambience (you never know when you might need the sound of a Jetson car or a scary hoot owl, you know), bells, and atmospheric pad sounds. The pièce de résistance, though, is a collection of new-found percussion (including tamborines, kettle drums, timpanis, etc) all recorded in an incredible-sounding wide-open church! Amazing stuff by even Cow standards!





WHO'S in the RECORDING STUDIO

---
Apocalypse Cow's very own Roughly Enforcing Nostalgia has been working hard lately on their album "Compacts & Carpools", a double-disc set of brand new material that's the culmination of some five years of writing and recording. (Whew.) Comprised of brothers Jeffrey and Dan Jeremy Brooks, the two use their skills with digital editing to full advantage by creating a big portion of their songs from manipulating samples taken from pre-existing music and movies, as well as live performances, toy instruments, a vast array of keyboards, and anything else that will make a sound. The end music created is best described as "sample-based experimental pop" (or "Experaccessible", as we like to call it) with catchy pop hooks draped around an avant garage backdrop. Exploring everything from crooked music business practices in "The Ballad Of Geffen & Neil" to contract assassins in "The Bullet That Screamed Through Her Mind (or) Codex" and "Joe Chill In Crime Alley", this double album has been a work in progress since 1997, with one song actually being almost 10 years old. The brothers have been meticulously slaving over the album and are working on final mixes and mastering before the album goes to press. If progress continues steadily, the expected release date will be in June of this year. Check out some old rough mixes of Roughly Enforcing Nostalgia's songs (in MP3 format) on their website www.roughly.net.

Annie Waugh is back in the studio to create the first few tracks for her upcoming "Rivers in the Desert" disc, the follow-up to her first album "Golden Soul" released last month. Some of Annie's new music, including the William Orbit-esque dance pop of the title track, features guitarist Greg Boerner accompanying her with his revved-up, almost unclassifiable melding of folk, blues and modern guitar. Annie's current demo CD will be an EP displaying her many different styles of Christian music, from world to gospel and jazz to worship. You can now purchase her debut album "Golden Soul" at www.AnnieWaugh.com.

12 year old Courtney Jurick was in the studio this month recording a demo CD. Courtney recently became a major Chicago finalist for both Star Search and American Idol, we're currently waiting to see how far she'll get! 'Till she hits the big time, you can see her perform at the American Girl Place in Chicago, and in a lion's share of television and radio commercials you've probably already seen without even realizing it.


For more information on these artists, contact us at news@callthecow.com




JOKE OF THE MONTH
---
Q: Why did the cow wear tennies?
A: Because ninies were too small and elevenies were too big.

Submitted by a certain Mike Beckman who wishes to remain anonymous, but check out his music for the latest in loop-based rock 'n' roll abandon at http://www.acidplanet.com/artist.asp?AID=4896&T=332725 !

Send in your favorite (clean) cow joke to news@callthecow.com and if we use it we'll link to you.



CONTACT INFO
---
For booking information, tours, new sampler CD, or anything else, contact us at.
record@callthecow.com
www.callthecow.com
(630) 897-9023

For old 2003 newsletters january, february



SUBSCRIBER INFO
You are on this mailing list because you have contacted Apocalypse Cow in the past. If you wish to be removed from this list reply to this e-mail news@callthecow.com with "remove" in the subject line. If you wish to add someone else to the newsletter, reply to this e-mail with the person's address to be added.