Apocalypse Cow Recording - June
Newsletter - www.callthecow.com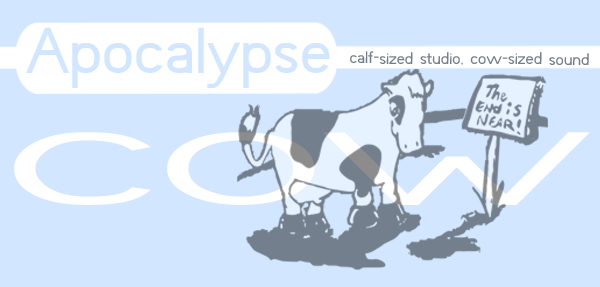 Happy Summer! -



NEWS

---
May is finally over and summer is on it's way. Along with the warm weather came lots of great bands and a busy month for us. Tub Ring, Blaked and Billy Croft all began work on their new full length albums while The Yellow House, Triggered Resistance and Courtney Jurick recorded a few songs with us this month for demo work.

New pricing update: Apocalypse Cow will be raising the rates. Starting July 1st, we will be $35 an hour and $315 for a 10 hour day of standard recording and mixing. If you want your project to get locked in at the $30 an hour rate you must get in the studio before the end of June, so book now because June dates are already filling up!





NEW GEAR
---
Our most recent addition to The Cow studios is a new computer monitor. But wait! This is not the same old boring standard monitor, but a video projector. The computer screen is projected onto the wall in front of the mixing board and spans about three feet across, which has been a great help not only visually, but audibly as well. The lack of a monitor allows us to place the speakers at the optimum position for listening to your songs and getting the best stereo-riffic mixes possible.




WHO'S in the RECORDING STUDIO

---
The Yellow House recorded three songs with us this past month. Hailing from the South Side of Chicago this Rock n' Roll band blends the Rolling Stones with Blur and the Stooges with their own deconstructionist edge. Comprised of Joe Grez (vox/guitar), Sonny Vitkauskas (drums), Shawn Baker (lead guitar) and Jeremy Muzika (bass). The Yellow House can be reached at www.theyellowhouse.biz.

Indie rock band Blaked returned to the studio to record their long-awaited first full-length album. This power trio had previously recorded a couple of songs with us a year ago, and we're glad to have this extremely tight power trio back. Blaked is based out of DeKalb and consists of Jeremy "Iron Drummer" Eisenberg (drums), Rob DeShazer (guitar/vocals) and Aaron Gudmunson (Bass). Check out their music and more at www.blakedmusic.com.

Tub Ring is back in the studio to begin work on their next full-length album, tentatively titled "The Zoo Hypothesis." This Invisible Records band is touring the nation and making pit stops here at The Cow to periodically record more songs for their album. Described by "Flipside Magazine" as music "for people into really weird s***," Tub Ring is the sound of modern music to come. To hear some samples of the future now, check out their website at www.tubring.com or pick up one of their CDs at any major music store near you (we highly recommend either "Drake Equation" or "Fermi Paradox").

In-house band Roughly Enforcing Nostalgia has been working on a new song for a Warren Zevon tribute album that will be put out by Wampus Media in 2004. Their cover of "Run Straight Down" infuses Beach Boys-esque vocals with a Space Rock underlay in the service of a lethargic Sci-Fi lyric. The Brothers Brooks, Dan and Jeffrey, both play "the studio" as their main instrument by melding samples from found-sounds, old CDs and records and their own previously recorded performances into their own songs and then add their own vocals. You can check out their groundbreaking music at www.roughly.net.

Christian Country singer/songwriter Billy Croft just started working on his newest album with the help of another guitar pro. The two met while touring in a Christian rock band and decided to join forces as a duo, playing their preferred, more traditional Country style with finger-pickin' guitar and a taste of bluegrass.

13 year-old Courtney Jurick returned to the studio to record another original song titled "I Always Knew." Her new tune is going to be set to Country music which will be created by Cow staff member Dan Brooks. Her previous original song, "I Still Love You," was a pop dance song in the TRL/top 40 style, also set to music by Dan and was a large success.




For more information on these artists, contact us at news@callthecow.com




JOKE OF THE MONTH
---
What do you call a cow with two legs?
Lean Beef.
What do you call a cow with no legs?
Ground Beef.
(Note: Jeffrey is not happy about this joke!)
Submitted by Sean Sinitski (a.k.a. sTigmuTha). Hear his music at www.acidplanet.com/artist.asp?AID=8998&T=921420. Or check out his theatrical group The Defiant Theater (of which he's a founding member) at www.defianttheatre.org. If you've never seen a play at the Defiant Theater, you've never truly seen a play.

Send in your favorite (clean) cow joke to news@callthecow.com and if we use it we'll link to you.



CONTACT INFO
---
For booking information, tours, new sampler CD, or anything else, contact us at.
record@callthecow.com
www.callthecow.com
(630) 897-9023

For old 2003 newsletters january, february, march, april, may



SUBSCRIBER INFO
You are on this mailing list because you have contacted Apocalypse Cow in the past. If you wish to be removed from this list reply to this e-mail news@callthecow.com with "remove" in the subject line. If you wish to add someone else to the newsletter, reply to this e-mail with the person's address to be added.