Apocalypse Cow Recording - February Newsletter - www.callthecow.com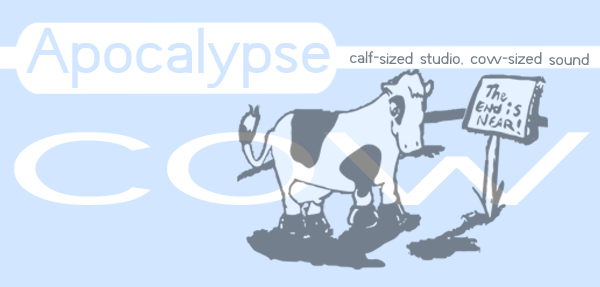 Happy Groundhog's Day! -



NEWS

---
Our newly redesigned website is now up and running. We have added an abundance of information including pictures, tips for recording, directions to the studio and bios of our staff. Make sure to also check out our rates section, where there is a detailed estimate for recording that explains every step of the recording process. For those of you wanting to copyright your songs (which would most likely be most of you) we have added links to copyright forms, as well as links to other resources which might be useful. We will have a shopping cart on the website soon so you can buy online CowBucks, Cow gear and CDs of bands we've recorded all online. See all the great changes for yourself at www.callthecow.com and tell us what you think!



Who's Been Signed to Record Labels Lately?

---

Iowa City's Slighly Paradise is currently negotiating a contract with Youngland Music, an indie label out of Cedar Rapids. We're all very excited and we'll know more next month to tell you or find out more at www.geocities.com/slightly_paradise.

Oak Park punks, Orefisaurus, have been signed to Foul Records and will soon be releasing their massive 21-song CD that they recorded here at the Apocalypse Cow Studios. Orefisaurus' brand of pop punk includes elements of hard rock, game show music, power balladry, swing, spy/surf rock and the occasional 12-tone composition. For more about these sounds get the whole scoop at www.orefisaurus.com.




NEW GEAR
---
On our website, you can see pictures of our new, hand-crafted guitar amp lunchboxes. An original FBG design, these lunchboxes pack "All the elements for a well-balanced, nutritious recording," including a miniature guitar amplifier that really works. Simply control tone and gain right on your guitar! These tiny guitar amps are chock full of Apocalypse Cow info to educate all inquisitors about the many benefits of recording at the Cow, and even comes with an Apocalypse Cow Variety Sampler CD! The amps can be purchased on our website at www.callthecow.com/FBG_LunchBoxAmps.htm, so now everyone can rock out in Cow style even while carrying their lunch.



WHO'S in the RECORDING STUDIO

---
Along with the new year came one of our youngest bands yet, but that didn't stop Confused from making a great four-song demo. Ranging from ages 12-15, the Elk Grove-based punk rock group is working hard at their music and getting gigs in their area and beyond. Members include Jon Follet (guitar/vocals), Nick Coheman (drums), Garrett Luczak (guitar) and Travis Dunlop (bass). Learn more about Confused and support their efforts at www.confused.cc.


Combustible Freedom spent a few days at the studio recording their own four-song CD. Guy Davis (guitar/vocals) and Matt Ludke (percussion) make up this rock 'n' roll act that's ready to get their music heard, and with their new demo they hope to land plenty of gigs. Combustible Freedom plans to return to the studio soon to record a full length album.

Alternative metal band Angst And Agony has begun work on their full length album of about 14 songs. The band recently won the Metal Wars at Rockhouse USA and will be playing at the finals on February 22nd. Angst And Agony is comprised of Jeff Oberg (Guitar), Andrew Burdett (Bass), Steven Minit (Vocals) and Vince Palumbo (Drums). To find out more about the band visit their website www.angst-and-agony.com.

For more information on these artists, contact us at news@callthecow.com



JOKE OF THE MONTH
---
Q: What has four legs, is white and bellows "BOOO!"?
A: A cow with a cold.

Send in your favorite (clean) cow joke to news@callthecow.com and if we use it we'll link to you.



CONTACT INFO
---
For booking information, tours, new sampler CD, or anything else, contact us at.
record@callthecow.com
www.callthecow.com
(630) 897-9023

For old 2003 newsletters january



SUBSCRIBER INFO
You are on this mailing list because you have contacted Apocalypse Cow in the past. If you wish to be removed from this list reply to this e-mail news@callthecow.com with "remove" in the subject line. If you wish to add someone else to the newsletter, reply to this e-mail with the person's address to be added.