Apocalypse Cow Recording - March Newsletter - www.callthecow.com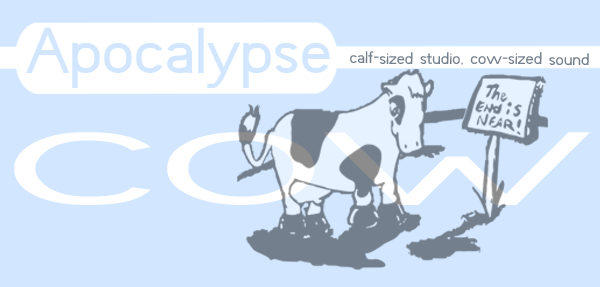 Happy National Frozen Food Month! -


NEWS

---
Things are picking up around here at the studio. We've been working on tons of projects of radically different styles, jazz and punk to orchestral and voiceover work. It's been a blast jumping from one to the other. Read more about who we're working with below.
And like always we have another podcast ready for your listening pleasure. This month features a progression of punk through The Cow years and highlights a few different styles that have come through our doors and is then bookended with two new songs by Roughly Enforcing Nostalgia. The punk bands in the podcast are Murfey's Law, Altgeld Forgotten, Two Minutes Later, Orefisaurus, Aunt Martha and One Step Behind.
WHO'S in the RECORDING STUDIO
---
Murfey's Law was in last month recording their latest EP "Sold In The Summer", which is now available on their MySpace page to buy. (These guys work fast, I'm here to tell ya!) Murfey's Law plays an adrenalized version of pop punk that combines the straight-ahead rapidity of The Offspring with the quirky glory of Chicago's own Lucky Boys Confusion & Fall Out Boy. The band features Chad "Smurf" Sands on lead guitars, Trent "Knuckles" Halverson on drums, Allen "Wenus" Murphy on bass, & Tim "Sir Squeaks-A-Lot" Crawford on rhythm axe & lead vocals. You can listen to some of the their killer-sounding (if we do say so ourselves) new tracks at their aforementioned MySpace page, www.myspace.com/MurfeysLaw, so whatcha waitin' for?
A group of unruly engineers started recording tracks for their demo CD of jazz standards with some blues thrown in on the side. The Jazz Hooligans, separately play a bunch of different styles from hillbilly punk to flamenco guitar to good old rock and roll. Together, they make a blend of untraditional jazz with rock sounding drums, nylon string guitar and keyboard capers. Ruffians include Jeff Foltz (guitar/bass/vocals), John Lewis (keys), Pat Louden (guitar), Stu (drums).
Orchestral composer Troy Sterling Nies had us master an album he wrote for Theatre Banshee's play of King Henry IV Part One (by everyone's favorite Shakespeare). Theatre Banshee (out in Burbank, CA) commisioned Troy to write music to be played during the Overture, Curtain Call, between sets and for some scenes. Troy has composed film scores for the H.P. Lovecraft Society and composed and arranged classical orchestrations performed throughout the United States. Troy has also officially become a Cow Collaborator, so congrats to him for joining the team (he is now our indentured servant). You can read more about Troy and his accomplishments at www.troysterling.com.

Dog walker extroidanaire Mike Mihalo has begun work on creating songs he's been humming for several years. Mike is a singer with lyrics and melodies all set for us to provide a backdrop for and arrange the music. His songs are good standard rock songs with guitar, bass, drums and sometimes keys. They range in style from Bruce Springsteen to AC/DC to Train. We've also brought in the help of Cow Collaborator Mike Beckman to play guitar on the songs. Mike Mihalo plans to take these songs and form a band to perform live and record a full album with his musicians. So after this project is finished there will be more to follow.
The Ounce of Prevention foundation is recording voiceovers for a movie about preventing childhood sexual abuse. Ounce of Prevention is focused on helping at-risk children receive a better life through education, family programs and advocacy. Read more about their non-profit programs and services at www.ounceofprevention.org.
Laura Zinger of Naperville Channel 17 fame recently put together a short documentary "Proceed and Be Bold: Bringing Race and Art to the Masses". The doc is about letterpress artist Amos Paul Kennedy Jr. Laura used music in our licensing catalog as the backdrop music in the doc. The song she used was Django Summer written by Cow Collaborator Mike Beckman out in St. Paul, MN. Laura hopes with this 6 minute short documentary she will be able to get funding to produce a full length documentary on Amos and his art. In a couple of weeks we'll have this short doc on our website for everyone to view. You can find out more about Kennedy Prints and the artwork at www.kennedyandsonsfineprinters.com. You can see more about Laura Zinger and her dayjob at www.nctv17.com.
Singer, keyboard player and violinist Logan Nolin came back to the studio to record vocals for more songs as well as take his first step into recording one of his own songs. He brought in guitar and bass playing friends for his song Come Fly With Me Tonight. The trio layed down a rough take of the song and then layered acoustic guitar, electric guitar and piano and rounded it out with a violin intro. Logan then sang his Josh Groban-esque vocals on top for a stellar high impact contemporary pop rock song. Find out more about Logan at www.logannolin.com.

Metal band Damien Thorne was back in the studio last month to finish tracking drums for their newest album. They will be back in to finish guitars, bass and vocals later this month. Damien Thorne has been around for almost three decades and have been loving every minute of it. They've toured the states and Europe and were on Roadrunner Records in the heyday of hair metal. View more about them at www.damienthorne.com.

For more information on any of these artists, contact us at news@callthecow.com


NEW GEAR
---
We just purchased a new group of pluggins created by Line 6. The pluggins are mostly amp simulations available in the TonePort which we also own. Now the tones can be found and implemented faster and we can change your amp tone (of the direct-in signal) non-destructively. All with the wondrous technologies of computers, we can now make guitars sound bigger, badder and better faster.
JOKE OF THE MONTH
---
I know a farmer who has 200 head of cattle. He thought there were only 196 until he rounded them up.

Send in your favorite (clean) cow joke to news@callthecow.com and if we use it we'll link to you.


CONTACT INFO
---
For booking information, new sampler CD, or anything else, contact us at.
record@callthecow.com
www.callthecow.com
(630) 897-9023
For Past Newsletters follow this link

SUBSCRIBER INFO
You are on this mailing list because you have contacted Apocalypse Cow in the past. If you wish to be removed from this list reply to this e-mail news@callthecow.com with "remove" in the subject line. If you wish to add someone else to the newsletter, reply to this e-mail with the person's address to be added.