Apocalypse Cow Recording - March 2009 Newsletter - www.callthecow.com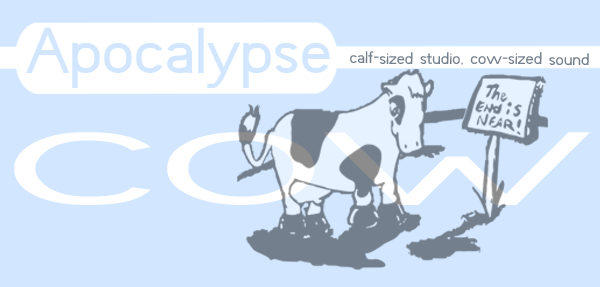 Happy Irish American Month! -


NEWS

---
Apocalypse Cow recently made a couple public engagements and we're adding a comic strip to the newsletter.
Theresa and Jeffrey were speakers at the SEA Conference in Lisle. The conference is for Self Employment in the Arts and covers the business end of all arts; visual, performing and aural. It was a fantastic conference, met tons of great artists and was very inspiring. If you're interested in attending next year check out www.SEAConference.com .
Theresa also recently attended the DMBO Arts and Entertainment Career Fair. We wish we had positions open because there were a lot of great students there. Check out the DePaul Music Business Organization myspace www.myspace.com/dmbo.
You might be happy to see the new look for our newsletter as you scroll down and no longer see those bad cow jokes. Tommie from Road Crew Comic is generously allowing us to include his comic in our newsletters. Please check out his website www.roadcrewcomic.com and support him!
WHO'S in the RECORDING STUDIO
---
The Boxx Elders returned to the studio to record a demo for their cover act. They cover all the great hits from Soft Cell to Eve 6 and you can see them play in the burbs a couple time a month. Like most cover bands, these guys know how to have fun! You can find out more about them at www.myspace.com/theboxxelders.
The Guardians came into the studio to record their acoustic guitar/vocal group. This trio locks in their performances and sing some amazing harmonies. The three all performed at the same time so they had to nail their parts on each song and it resulted in some wonderful melds of guitars and voice.
The Cow just finished some scoring work. We composed additional music for a documentary called ClarkWORLD about the life and tragic death of Bob Clark, the genius of movies "A Christmas Story" and "Porky's". This is the second film The Cow has worked on for Deren Abrams and Film Pharm productions. To find out more visit Clarkworldfilms.com
After a meeting with the producer we are getting close to finishing sound design and audio mixing for the film Scorpion Bowl, by Cosmic Control Productions.
For more information on any of these artists, contact us at news@callthecow.com


JOKE OF THE MONTH
---

Thanks to Tommie Kelly for the comic, please check out roadcrewcomic.com for more from him!

CONTACT INFO
---
For booking information, new sampler CD, or anything else, contact us at.
record@callthecow.com
www.callthecow.com
(630) 897-9023
For Past Newsletters follow this link

SUBSCRIBER INFO
You are on this mailing list because you have contacted Apocalypse Cow in the past. If you wish to be removed from this list reply to this e-mail news@callthecow.com with "remove" in the subject line. If you wish to add someone else to the newsletter, reply to this e-mail with the person's address to be added.