Apocalypse Cow Recording - June 2009 Newsletter - www.callthecow.com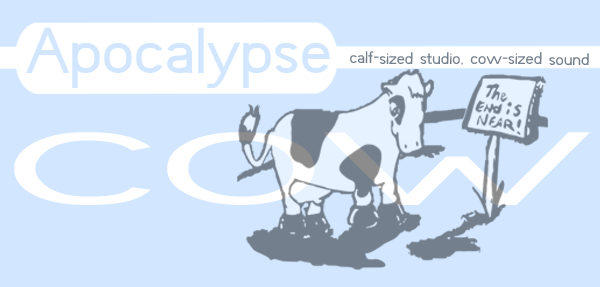 Happy SUMMER!!!! -


NEWS

---
We've decided to announce in advance our summer sale schedule so you can plan your recording projects accordingly around your summer vacations. Check out the full schedule on our sale page. A quick rundown includes:

June - Solo Artists
July - Return Musicians
August - Full bands
September - New to The Cow
WHO'S in the RECORDING
STUDIO
---
The Jazz Hooligans are back at it again. They are recording more cover songs for their gig getting demos. The Jazz Hooligans is fronted by Jeff Foltz who plays guitar, drums and sings. The Jazz Hooligans play a mix of covers, a lot of jazz music (dull surprise) to 60's rock to current songs. Definitely a great variety of music all in one band.
We finished up mixing for Dave Rehfeldt's solo project. Just Dave singing with guitar and little percussion. A great sounding album that doesn't need the extra frills.
We're recording more of Youlanda Burnett from Maylay Entertainment. Youlanda has come in with more of her smooth vocals singing on her original R&B songs. She plans to keep doing a lot of recording in the next couple months to finish her album this summer so keep your ear out for her. In the meantime check her out at www.maylayent.com.
And last but not least Wes Kochan from Starway is finishing up some changes for his album. Making those last final tweaks to really bring the songs to his perfection. You can find out more about Starway at www.myspace.com/starwayrockband.
For more information on any of these artists, contact us at news@callthecow.com


JOKE OF THE MONTH
---

Thanks to Tommie Kelly for the comic, please check out roadcrewcomic.com for more from him!

CONTACT INFO
---
For booking information, new sampler CD, or anything else, contact us at.
record@callthecow.com
www.callthecow.com
(630) 897-9023
For Past Newsletters follow this link

SUBSCRIBER INFO
You are on this mailing list because you have contacted Apocalypse Cow in the past. If you wish to be removed from this list reply to this e-mail news@callthecow.com with "remove" in the subject line. If you wish to add someone else to the newsletter, reply to this e-mail with the person's address to be added.