Apocalypse Cow Recording - July 2009 Newsletter - www.callthecow.com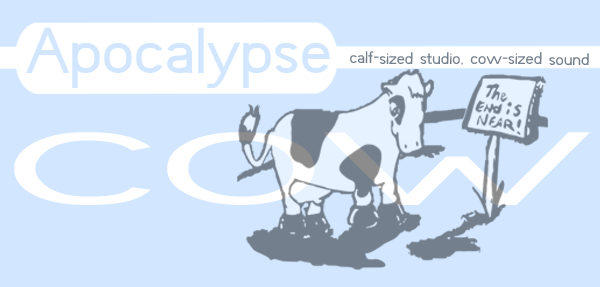 Happy SUMMER!!!! -


NEWS

---
June has kept us busy and it seems that will be a trend throughout the summer. Our summer sales have been a success so be sure to check out the schedule to see when you get to save some dough. Also below, read all about who's been keeping us busy in June.
July - Return Musicians
August - Full bands
September - New to The Cow
And since July is the month for returning artists...our small display of Cow recorded albums is ready for a fresh rotation. If you've released an album with artwork that you recorded with us we'd love to add it to the family. We don't always get to see the finished album after we send you off to the world with the master. We'd love to see what artwork went with your music. Please mail us a disc or stop on by sometime.
WHO'S in the RECORDING
STUDIO
---
Starway is relentlessly working on the final touches of all of their songs. The Christian rock band has recorded a full album with us and is making sure everything is perfect for their debut release due out in October. Check them out at www.starwayrockband.com.
Rock band The Future Burns has finished tracking for their album. This 6 piece incorporates a lot of guitar and percussion rhythms going throughout along with vocal harmonies really making great full sounding songs. Go to www.myspace.com/futureburns to hear about their upcoming shows.
Gary Landess came in to finalize the sequencing for his album Devil Hitchhiker. This album is full of great acoustic blues songs all performed by Gary after drinkin' shots of whiskey and smokin' a pack. (not really but that's what it sounds like...in a good way). Check out his website for more. www.Garylandess.com.
New to The Cow is Christian Beardsley who came in recording some acoustic solo music. With just a guitar and his voice Christian performed an album's worth of songs in the style of John Mayer. Christian has a sound that is close and personal and sings close to his heart.
Mike Nutt and Pete (who have recorded with us before with the group named Senn and Nutt) came in for an impromptu recording session. Inspiration hit and they were able to come in and lay something down in a few hours. They played acoustic gutiars, Mike sang and Pete followed up with a bit of percussion on one song. They plan to do more when they can so keep your ears out for them.
And last but not least the Jazz Hooligans are continuing tracking for their newest demo to get gigs. This cover band fronted by Jeffrey Foltz is comprised of drums, bass, guitar, keys and vocals playing standards and not so standards.
For more information on any of these artists, contact us at news@callthecow.com


JOKE OF THE MONTH
---

Thanks to Tommie Kelly for the comic, please check out roadcrewcomic.com for more from him!

CONTACT INFO
---
For booking information, new sampler CD, or anything else, contact us at.
info@callthecow.com
www.callthecow.com
(630) 897-9023
For Past Newsletters follow this link

SUBSCRIBER INFO
You are on this mailing list because you have contacted Apocalypse Cow in the past. If you wish to be removed from this list reply to this e-mail news@callthecow.com with "remove" in the subject line. If you wish to add someone else to the newsletter, reply to this e-mail with the person's address to be added.