Apocalypse Cow Recording - February 2009 Newsletter - www.callthecow.com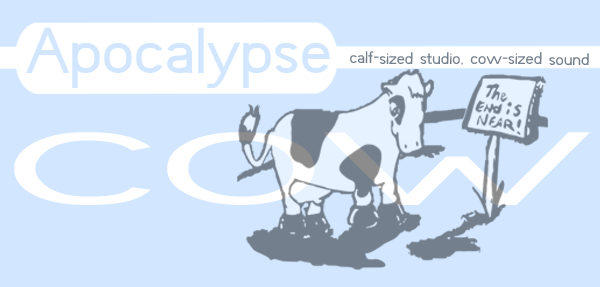 Happy Groundhog's Day! -


NEWS

---
We've been jumping straight into 2009 with a bang. It's been great! With the new year we're trying out a new schedule. Sunday through Thursday 9am-5pm. I know, it's a little weird, but we just needed to see some daylight in these winter months. That said, if you are not able to do your tracking within this time period we completely understand and so we'll be flexible with scheduling and make some evenings and Saturdays available when needed.
New online feature! Want to make a payment on your Cow balance with a credit card? You can now easily do this online. Just visit our order page. Choose "Make a Payment" and for the quantity just type in the dollar amount that you want to pay.
A new sale this month to go with our new hours! For the month of February any tracking done Monday Tuesday or Thursday 10am-5pm will be 10% off (that's $36/hour). And we'll extend that rate for any 10 hour session that starts by noon Monday, Tuesday or Thursday.

And one last bit of news, we have added a testimonials page on our website (off our clients page). Thank you to everyone who said all the great quotes I found in our e-mail conversations, it's a real good ego booster around here!
WHO'S in the RECORDING STUDIO
---
Metal band Corialis Effect visited the studio recently to lay down a group of songs to start their new album. The Corialis Effect has huge, deep sounding songs with the growl that only 'drop A' tuning can give. They mix in some hardcore and death metal in their songs making for a totally gruesome album. The Corialis Effect is just around the corner (literally) in our hometown Oswego. Members include Joe Cochiaro (vocals), Peter Mirkes (bass), Rich Thornton (guitar) and Mike Lowy (drums). Check out their music at www.myspace.com/thecorialiseffect.
For more information on any of these artists, contact us at news@callthecow.com


JOKE OF THE MONTH
---
Q: What do you call cattle with a sense of humour?
A: A Laughing Stock!

Send in your favorite (clean) cow joke to news@callthecow.com and if we use it we'll link to you.


CONTACT INFO
---
For booking information, new sampler CD, or anything else, contact us at.
record@callthecow.com
www.callthecow.com
(630) 897-9023
For Past Newsletters follow this link

SUBSCRIBER INFO
You are on this mailing list because you have contacted Apocalypse Cow in the past. If you wish to be removed from this list reply to this e-mail news@callthecow.com with "remove" in the subject line. If you wish to add someone else to the newsletter, reply to this e-mail with the person's address to be added.