Apocalypse Cow Recording - August 2009 Newsletter - www.callthecow.com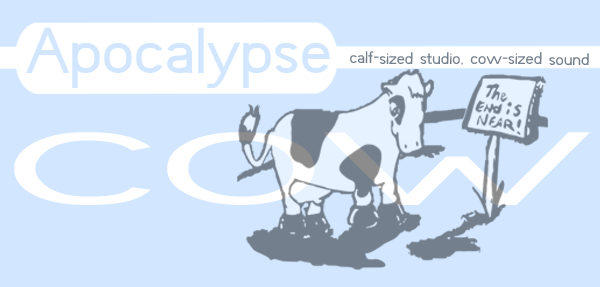 Happy Rise of the Ice Cream Sales!!!! -


NEWS

---
This summer has been wonderful for us, great musicians keep coming in for more! Not to bring up the big "E" word (okay, economy) but it seems that despite the rough times artists are writing more and fiercer than ever before. That's the one good thing that comes out of adversity is even better art! So here's to songwriting, a great creative outlet and a way to get your voice heard!
Remember our sales for the rest of the summer.
August - Full bands
September - New to The Cow
WHO'S in the RECORDING STUDIO
---
Long time Cow favorite Greg Boerner returned to start laying down some new tracks. Greg is opting to keep things simple with more of a live feel this time around. He is best known in his live shows for his intimate songs and enthusiastic foot stomping as he plays acoustic guitar and sings a mix of blues, folk and rock. The Georgia native has brought his identity to Illinois with him where he tours the midwest and can frequently be found in Wisconsin and Minnesota doing hundreds of shows a year. Be sure to find out where he's playing and check him out at www.gregboerner.com
Another multiple time Cow artist Chris Pluska is back in the studio as well laying down a few new tracks for his album. Chris is doing a variety of tunes from spooky burlesque type songs to full on dance pop, all sounding great! Chris is collaborating with Joe Bozek and brought in drummer Tom Reber and saxophonist Mark Colby to play on the songs. With recording well underway Chris is forming his live band and will be performing soon.
The Future Burns are in the final steps of their album, "Highland Avenue" due out August 29th when they play the benefit show Rock for a Cure. Be sure to check them out and go to the show if you can, it should be a day filled with fun and music! Visit them at www.myspace.com/FutureBurns.
Starway has finished the mixes on a couple songs recently and will be included on a compilation album out in fall. The band is also taking on another alter-ego First Star Destiny. FSD will be their new Christian based moniker while Starway will be more the general rock name. Be sure to check them both out www.myspace.com/starwayrockband and www.myspace.com/firststardestiny.
From the Maylay Entertainment label Youlanda Burnett is continuing to delve deep into her album of R&B songs. Youlanda comes to The Cow with music and adds her bird song voice and harmonies. Check her out at www.youlanda.org.
Jazz Hooligans is continuing work on their album. Switching up the standard order we recently laid down drums over the existing guitar and bass. Next up will be vocals with a myriad of backups.
For more information on any of these artists, contact us at news@callthecow.com


JOKE OF THE MONTH
---

Thanks to Tommie Kelly for the comic, please check out roadcrewcomic.com for more from him!

CONTACT INFO
---
For booking information, new sampler CD, or anything else, contact us at.
info@callthecow.com
www.callthecow.com
(630) 897-9023
For Past Newsletters follow this link

SUBSCRIBER INFO
You are on this mailing list because you have contacted Apocalypse Cow in the past. If you wish to be removed from this list reply to this e-mail news@callthecow.com with "remove" in the subject line. If you wish to add someone else to the newsletter, reply to this e-mail with the person's address to be added.