Apocalypse Cow Recording - April 2009 Newsletter - www.callthecow.com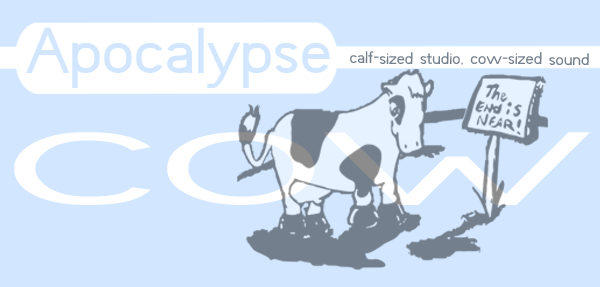 Happy Poetry Month! -


NEWS

---
We're working hard at The Cow as always. Gearing up for summer celebrations to mark our official 10 years in business. So keep an eye out for happenings and specials occurring in the summer months.
Keep up with what's happening at Apocalypse Cow by following us on Twitter and joining our Facebook page. And there's always our MySpace page too. Come be our friends and keep on top of the fun stuff that happens at The Cow.
WHO'S in the RECORDING STUDIO
---
Maylay Entertainment has started recording at The Cow with their first artist Youlanda Burnett. Youlanda sings R&B and recorded vocals for her song Rendezvous. Rendezvous is a soft ballad and brings out the pure clean voice that Youlanda has. Check out more from Youlanda and the other Maylay artists at www.maylayent.com.
Gary Landess is back for mixing on a couple of his songs both new and old. His artwork for Devil Hitchhiker is almost complete and it is going to look fantastic! Keep ahead of the news at www.garylandess.com.
We also recorded a voiceover for Ford Motor Company. Ad agency Ogilvy Mather brought in noted saxophonist Mark Colby for the voice talent.
For more information on any of these artists, contact us at news@callthecow.com


JOKE OF THE MONTH
---

Thanks to Tommie Kelly for the comic, please check out roadcrewcomic.com for more from him!

CONTACT INFO
---
For booking information, new sampler CD, or anything else, contact us at.
record@callthecow.com
www.callthecow.com
(630) 897-9023
For Past Newsletters follow this link

SUBSCRIBER INFO
You are on this mailing list because you have contacted Apocalypse Cow in the past. If you wish to be removed from this list reply to this e-mail news@callthecow.com with "remove" in the subject line. If you wish to add someone else to the newsletter, reply to this e-mail with the person's address to be added.