Apocalypse Cow Recording - May 2008 Newsletter - www.callthecow.com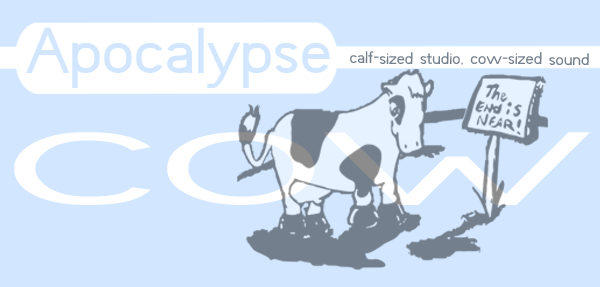 Happy National Blood Pressure Month! -


NEWS

---
Welcome to the Apocalypse Cow Newsletter for the month of May. Hopefully all the readers are keeping their blood pressure down by going outside and enjoying the fabulous weather right now. Things are moving along here as always and we're continuing work with a couple big projects that you can read about below. We're gearing up for the summer season which usually tends to be a bit busier.
And the May podcast is up featuring DJ Dan Jeremy and Mike Nutt, Joon Park, Starway, Gary Landess and Roughly Enforcing Nostalgia.

WHO'S in the RECORDING STUDIO
---
Everyone's favorite Mike Mihalo is back in the studio recording more songs. Mike has now surpassed the 50 song mark that he has recorded with us so big congrats to Mike. His songs range from mostly rock but branch out with adding a lot of sound fx, adding crazy instruments like accordians, adding group chants, etc. His subjects range from your standard rock affair to his newest satirical song about discrimination. Be sure to read on in the months to come to find out where he takes his songs next.

Starway, after finishing up final mixes for their previous group of songs is already back here recording even more songs to complete their first full length album. Starway is a Christian rock band that has a sound similar to Journey. They layer thick guitars with many vocal harmonies and also tender acoustic guitar and synth. The band is really spending their time getting awesome performances and making the songs spectacular. To find out more about Starway visit them on Myspace at www.myspace.com/starwayrockband
For more information on any of these artists, contact us at news@callthecow.com


JOKE OF THE MONTH
---
Q: What do you call a cow that twitches

A: Beef Jerky

Submitted by Kane, #1 groupie of Starway

Send in your favorite (clean) cow joke to news@callthecow.com and if we use it we'll link to you.


CONTACT INFO
---
For booking information, new sampler CD, or anything else, contact us at.
record@callthecow.com
www.callthecow.com
(630) 897-9023
For Past Newsletters follow this link

SUBSCRIBER INFO
You are on this mailing list because you have contacted Apocalypse Cow in the past. If you wish to be removed from this list reply to this e-mail news@callthecow.com with "remove" in the subject line. If you wish to add someone else to the newsletter, reply to this e-mail with the person's address to be added.