Apocalypse Cow Recording - March 2008 Newsletter - www.callthecow.com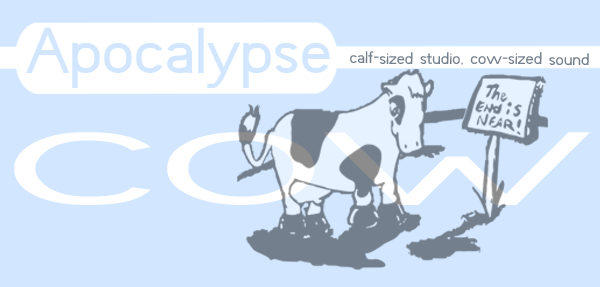 Happy Waffle Day! -


NEWS

---
Welcome to the March newsletter from Apocalypse Cow. It's been business as usual around here, recording more bands and starting and finishing new projects. Read about them in the who we sound like section.
We're finally have another podcast up, sorry for the delay in getting them out. We've had a lot of great acts coming through in the last couple of months so it is a jam packed episode that you won't want to miss. Go to our podcast page to sign up for our podcast or listen to the show streaming on our website. This month features Ink Lasts Longer, Jeff Lamarre, Sarah Rose, Mike Nutt, Gary Landess and our own Roughly Enforcing Nostalgia. Be sure to check it out!

WHO'S in the RECORDING STUDIO
---
Mike Nutt and his bandmates have tracked a few songs here for an EP. The three have played together in previous incarnations of the band, the most recent being SennNutt from Eastern Illinois University. The band is an acoustic based rock band using acoustic guitar as the basis for all their songs, though their songs do range from bluegrass, singer/songwriter, rock and back around to blues. The songs are extremely catchy and sound absolutely fantastic! Originating out of Naperville are members Mike Nutt (vocals, guitar), Peter Nyberg (bass, guitar, mandolin, drums) and Senn Soldwedel (drums, guitar, bass, vocals). Check out some of their previous work at www.myspace.com/sennnutt.
Starway is finishing up the tracking on their songs recorded at The Cow. This christian band with crossover appeal is in the midst of completing their first full length album combining songs recorded here and from another studio. The full version of the band is still newly formed though several of the members have been playing together on and off for years. It's a great combination of players and songwriters working together with a great message and great songs. Visit www.myspace.com/starwayrockband for more info.
T-Naz de la Sierra has started the mixing phase of their album. After recording 13 songs they're compiling them together for mixing. Once the mixing is finalized the band is ready to start tracking new songs for their next album, so I'm sure you'll be hearing more about them throughout the year. Go to www.myspace.com/tnazdelasierra
Russi Gore has come to us to start working on some of her songs. She is starting a business to send out songs as personalized birth announcements. The songs will feature the baby's name in it a couple of times and the parents can keep it for themselves and their children as they grow older, but also send them out to family and friends to commemorate the occasion of the birth of their child. I'm sure you'll hear more about Russi in the future as well.
Johnny Badlaw is putting the final touches on his mixes so his album will be done very soon. You can already hear a couple of his tunes on his website at www.myspace.com/johnnybadlaw.
And last, but certainly not least, Chris Pluska made an appearance early in the month to put down some vocals for the Chris and Tommy Experience, though now the duo has an official name of Solanum. There's still a tiny bit more tracking to do on this project before the two move on to recording something completely different. We'll let you know what the music will become.

For more information on any of these artists, contact us at news@callthecow.com


JOKE OF THE MONTH
---
Q: What do you call a cow spying on another cow?

A: steak out.


Send in your favorite (clean) cow joke to news@callthecow.com and if we use it we'll link to you.


CONTACT INFO
---
For booking information, new sampler CD, or anything else, contact us at.
record@callthecow.com
www.callthecow.com
(630) 897-9023
For Past Newsletters follow this link

SUBSCRIBER INFO
You are on this mailing list because you have contacted Apocalypse Cow in the past. If you wish to be removed from this list reply to this e-mail news@callthecow.com with "remove" in the subject line. If you wish to add someone else to the newsletter, reply to this e-mail with the person's address to be added.