Apocalypse Cow Recording - February 2008 Newsletter - www.callthecow.com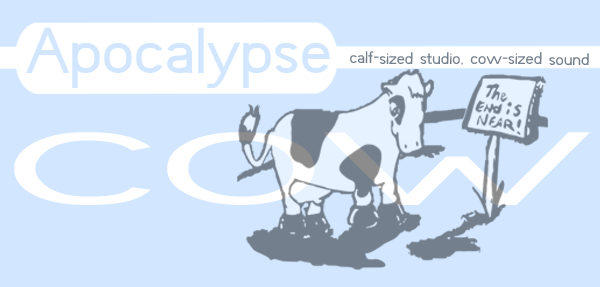 Happy Groundhog's Day! -


NEWS

---
It's been an exciting year here at The Cow. Thanks to each one of you who have made it a successful year and an enjoyable one. Please let us know if there are ways we can make this year even better for you.
Here's a reminder to everyone in Illinois to vote on February 5th. The primaries are coming so if you want to get your voice heard, be sure to get out there. Just go to www.rockthevote.com for more info about if you're registered and where to go. For those of you away from home be sure to request an absentee ballot. If you don't know who's running yet, feel free to contact us and we'll give you our totally biased thoughts, or you can check out www.glassbooth.org.

We know we're way past due on putting out our podcasts. But don't worry there will be one very soon, so don't fear. There's a ton of great projects to include it in so it will be a good one not to miss. We've just been so busy recording we haven't had a chance to put it together.
Since it's been so long since the last newsletter I know we have a bit of a backlog of recording news, there's a lot of different bands, but we really have been working with some wonderful artists lately so be sure to read all about them below
WHO'S in the RECORDING STUDIO
---
First off, we'd like to mention that we recently recorded a radio spot for Congressional candidate John Laesch (pronounced Lash). Laesch is running for the 14th district house seat for Congress and running to replace Denny Hastert for the remainder of this year. For those of you in the 14th district (which covers as far north as Elgin and south past Yorkville, then all the way west to Iowa) Laesch is our candidate of choice, and should be yours too. Many of you probably know our political stances (it usually tends to slip out during sessions) so if you agree with us on anything, you're going to like John Laesch. He has plans for when he gets in and the facts to back up his ideas. For more information check out his website www.john08.com or you can give us a call. Also remember for those of you in the 14th district that you can vote twice on Tuesday, so be sure to ask for 2 ballots (one for the general primaries and one specifically for the special election). Again, ask us if you have any questions about this as well.
Starway is currently in the studio recording the 2nd half of their debut album. Starway is a Christian rock band based out of Bartlett that sings about everything from love to You! They have been compared to Journey with their full sound of 2 guitarists and a keyboardist, sweetened by layered harmonies. This will be their first album released, though three of them have been playing together conistently for about a year now. Members include Wes Lee K (guitar/vocals), Randy DeBord (guitar/back vox), Scott Christman (bass/back vox), Kerry Knippen (drums) and Jennifer Dale (keys). You can check out the band at www.myspace.com/starwayrockband
Johnny Badlaw, a solo artist with a little bit of country and a little bit of blues is working on his project currently. John came to us to track the drums and bass for his album, and the rest he is recording at his home studio. Now that his tracking is complete he's bringing the songs back to us to mix it all together. John has brought in a couple of his friends including Steve on keys (currently on tour with Ronnie Brooks), a fiddler, and a harmonica player to add to his own acoustic and electric guitars and vocals. You can hear more from Mr. Badlaw himself at www.myspace.com/johnnybadlaw.
In addition to all The Cow's normal recording bands (who are always stellar) we've had some more television airplay of music we've written. We recently had a song of ours played on ABC's new comedy of the season Samantha Who starring Christina Applegate. Coincidently the show takes place in Chicago and one of the actors in the show went to the same high school as Dan and Theresa, serendipitous, huh. We've also recenty had our music played on "Cities of the Underground" on the History Channel and "Ace of Cakes" on the Food Network. We're adding these shows to our resume of other airplays such as American Idol: Rewind and Dr. 90210 as well as play on XM and Sirius Radio.
The Pluska and Tommy Experience is continuing work on their project recording whatever songs they feel like writing in the studio. Thus far they have recorded heavy rock, southern rock and, yes, even accordian rock. They only have a basic plan of what they want to record when they come in, for the most part everything is written in the studio. They have brought in session drummer Tom Reber to lay down some basic rhythms they can follow. The songs are sounding great and they are planning to do even more songs in even more different styles.
The project of Lullabies has come to a close. Sarah Mendenhall of Sycamore has been coming in since the summer working on a compilation of over two dozen songs entitled "Homing". The CD is recorded for a friend who will be adopting a baby girl this year and this CD will certainly be perfect to put the little one down to sleep. Sarah composed all the songs for various arrangements of dulcimer, keys, cello, viola, violin, horn, flute, guitar, recorder, djembe and other percussion, and a dozen different singers and readers.
Mike Mihalo is keeping up work on his songs. He has written almost 50 songs to date in less than a year with us and the songs keep getting better and more original each week. His next course of action will be to start doing remixes of his songs in various styles with a lot of influence from The Beatles. It will be fun to see where this project goes.
Murfey's Law has finished the final mixing of their latest group of songs. Murfey's Law is a fun punk band that plays punk rock songs. You can't get any better than that, huh. They'll be starting a new batch of songs coming up, so you'll definitely hear more about this band. You can check them out at www.murfeyslaw.com
Solo artist, Gary Landess, some of you may recognize his abstract art hanging in our live room, has been working hard on his newest album. In the past Gary has played a wide variety of music, from hard rock to blues to classical. This time he's narrowing his focus to more of a blues album using mostly resonator guitar and his deep weathered voice. He's mixing in a range of covers along with his originals and creating whole new versions of songs like "You are my Sunshine" and Marilyn Manson's "mOBSCENE". Gary's album will be packed full of great songs. Gary recently released an EP titled "Whittlin the Kindlin". You can find it on his website, iTunes or on CD Baby. Find out more at www.garylandess.com.
Duranguense band T-Naz de la Sierra is almost done recording their 3rd album. They are putting the final touches on the tracking then we'll move on to mixing. T-Naz tours nationally and plays out often in the area as well. It's a large band comprised of 5 keyboards, drum kit, tamborazo and vocals. Go to www.t-naz.com to find out more.
We have been writing a slew of songs for Naperville Community Televison's new documentary series "History Finders." NCTV17 commissioned us to write a library of songs they can use for this four part series based on Naperville history. All the songs are written in a classical film style with full orchestration. Visit www.nctv17.com to watch the station anywhere in the world.

For more information on any of these artists, contact us at news@callthecow.com


JOKE OF THE MONTH
---
Q: What do you call a cow that eats grass?

A: A lawnmooer


Send in your favorite (clean) cow joke to news@callthecow.com and if we use it we'll link to you.


CONTACT INFO
---
For booking information, new sampler CD, or anything else, contact us at.
record@callthecow.com
www.callthecow.com
(630) 897-9023
For Past Newsletters follow this link

SUBSCRIBER INFO
You are on this mailing list because you have contacted Apocalypse Cow in the past. If you wish to be removed from this list reply to this e-mail news@callthecow.com with "remove" in the subject line. If you wish to add someone else to the newsletter, reply to this e-mail with the person's address to be added.