Apocalypse Cow Recording - December 2008 Newsletter - www.callthecow.com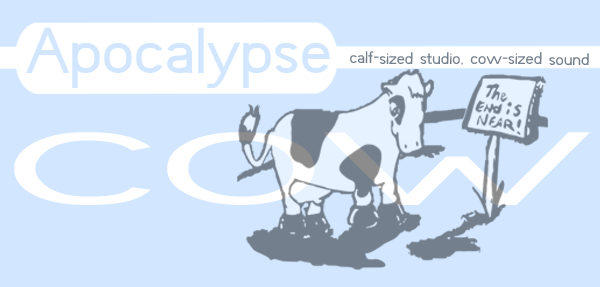 Happy Holidays! -


NEWS

---
At long last, an Apocalypse Cow newsletter to finish off the year. It has been several months and a ton has happened from finishing bands' projects to updating multiple computers and many other adventures music related and not (boy do we have stories to tell).
Save 10% at The Cow! We're going to do a couple sales this month, our little way of saying Merry Christmas. Rates for December will be $36/hour ($324/ten hour day). The only catch is that it has to be before the 22nd as that's our last business day of the year. The other sale is for Cow Bucks (gift certificates for recording). Get a $40 gift certificate for only $36! Only catch there is you can't use the sale Cow Bucks to get the December sale price recording. Got it? Good. Get it!
WHO'S in the RECORDING STUDIO
---
Aptly describing themselves as progressive, power, symphonic metal Pandora's Box came in and recorded a few death defying tunes (literally)! Influenced by Symphony X, Pandora's Box plays ripping lead guitar parts, orchestrates dramatic strings and has powerful vocals. Right now the band is made up of Aaron Hurst (vocals) and Jay Rapp (guitar). Word is they are open to adding a bassist and drummer to complete the band.
After months of dedicated work Starway has completed their full length album. The album is a great collection of rock and ballads from a Christian standpoint. They are currently shopping the album to labels, I'll let you know more as success comes their way. In the meantime, check out Starway's website with their new music video T.G. at www.myspace.com/starwayrockband.
the band that (Never Whas) just finished a very rocking full length album. They also were recently played on Jonathon Brandmeir's morning show on The Loop (97.9 fm). They got raving feedback from the listeners who called in. Let's hope this leads to more success. Check out when they're playing next at www.myspace.com/neverwhas667.
It was a while ago but I never got the shout out to Stereo Strikes Back who came in early summer to record some more songs at The Cow. They have now released their debut album, "Good. Dirty. Rock&Roll" (which describes their music to a 'T') Be sure to check it out at www.myspace.com/stereostrikesback
Scotti Montgomeri is reworking his song that will become a Christmas classic for years. The song Santa's Whispers is the story of being away from your loved ones during Christmas time and asking Santa for that one wish come Christmas. Check out more on his website www.myspace.com/scottimontgomeri.
One man band Gary Landess has gotten back to his roots both with his music and by moving back to Illinois. He has put the finishing touches on a group of songs to become his next album (his 3rd) "Devil Hitchhiker." The album features a lot of resonator stomp and some covers of blues tunes. It should hopefully be out soon, keep up to date at www.garylandess.com.
Johnny Badlaw had us re-master his album, "Ain't No Big Whoop Dog!" This album was the precursor to some more tracks he laid down this year, probably out soon as another album. Find out more at www.myspace.com/johnnybadlaw
The Solanum project is still making progress after having one of their songs get The Cow treatment this summer. More will be out very, very soon and I'll give more details next month.
The Cow has stepped into doing some sound design for the film Scorpion Bowl by Cosmic Control Productions based out of Arizona. Again stay tuned next month for more info and in the meantime check out www.cosmiccontrol.com
For more information on any of these artists, contact us at news@callthecow.com


JOKE OF THE MONTH
---
Q: Why should you never-ever tell a Cow a secret?

A: Because it will just go in one ear and out the UDDER

Send in your favorite (clean) cow joke to news@callthecow.com and if we use it we'll link to you.


CONTACT INFO
---
For booking information, new sampler CD, or anything else, contact us at.
record@callthecow.com
www.callthecow.com
(630) 897-9023
For Past Newsletters follow this link

SUBSCRIBER INFO
You are on this mailing list because you have contacted Apocalypse Cow in the past. If you wish to be removed from this list reply to this e-mail news@callthecow.com with "remove" in the subject line. If you wish to add someone else to the newsletter, reply to this e-mail with the person's address to be added.