Apocalypse Cow Recording - Summer Newsletter - www.callthecow.com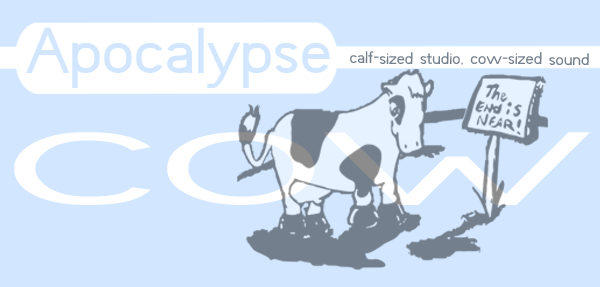 Happy National Hair Loss Awareness Month! -


NEWS

---
Hello you lovely Cow people, and welcome to the August newsletter. Wow, it's a been a long time since we've had one of these, and there's much good stuff to report, so let's just dive right in shall we?

On August 12th we attended the premiere of a new Naperville Community Television documentary entitled "Two Brothers, One Beer and the American Dream", which is about the famous Stenger Brothers brewery based in Naperville in the late 1800s. We here at The Cow wrote the score for it, and our own Dan Jeremy Brooks provided the narration, so naturally we were very pleased with the results. The hard-working (and very snappily-dressing) people at NCTV17 did a wonderful, artful job putting together this doc, which should be available on DVD in the coming months. We'll keep you posted. You can hear the music we wrote for it in the latest licensing podcast we produce, go to our Licensing Podcast page for more info.
In other documentary news, The Cow recently completed the music for a new documentary directed by Deren Abrams titled "The Hollywood Dream", in which three hopefuls trying to break into show business are spotlighted. Guest appearances from legends such as Burt Reynolds, Dom DeLuise, Charles Durning, Christopher Lloyd, Dick Van Patten, Angelo Pizzo (the screenwriter of "Hoosiers" & "Rudy") and many others are sprinkled throughout, as well as a wide range of musical genres that allowed us to stretch our writing skills in all kinds of exciting new ways. "The Hollywood Dream" will be submitted to The Sundance Film Festival soon, so we'll keep you abreast of all the new developments there too.
Many of you will be very happy to hear that we have a running air conditioner in the live room again. Thanks everyone for your patience to get that going.
More big news: (though it doesn't relate to any of you, but we like to spread the word about our own success to whoever will listen) music we've written has been played on American Idol Rewind and Dr. 90210. It's true; we have the royalty checks to prove it! American Idol Rewind is a syndicated program which shows episodes of American Idol from past seasons with additional commentary and interviews from contestants, as well as unedited audition tapes and stuff describing where they are now. Dr 90210 is a reality show on the E! Channel profiling cosmetic surgery and the people who have them done. Let me tell you, it's an interesting experience watching an episode of a show describing plastic surgery in great, unsparing detail and then suddenly hearing two of your songs playing in the background. Plus, it's good money when you can get it!
Also, we just wanted to mention that a few more bands have recently taken advantage of our "Don't be a Stranger Deal." If you come back to record another project within six months of finishing your first one, you can get 10% off the entire project. So it's only $36/hour (or $324/day). In other words, save lots by recording lots! Also, if you get another band or artist to record with us (at least 10 hours) we'll give you two free hours of studio time for each band!

The newest version of the Bandcast is up and ready for your downloading pleasure . Go to our Podcast Page for more info and links. You'll hear a smattering of bands we've worked with over the summer including Brent Brown, Beneath Betrayal, Misunderstood, Honeyglass, Little Red and the Hoods and Roughly Enforcing Nostalgia.
NEW GEAR

---
In gear news, we recently acquired more American Classic API mic pres that have help us get a great clarity and edge to our drums, and they also sound most splendid on high-gain guitar amps. If you wanna know what they sound like, just pick up any American-recorded rock album from the last fifty years!
We've also just bought ourselves an ISP Sonic Decimator, which is a fantastically powerful rackmountable noise gate which annihilates noise and guitar amp hum with extreme prejudice! Sometimes we only have to threaten to plug this badboy in, and the amp noise runs off like a scared puppy!
WHO'S in the RECORDING STUDIO
---
Hardcore metal band Misunderstood was in mid-July to record two new songs. Misunderstood plays the kind of music your mother warned you about: brutal and impactful, with shredding guitars over pounding double kik rhythms and vocals of the highest heavinosity quotient. Let's see, ya got Manny Cordova on guitar, Matt Gawel on bass, Bill Mullen on lead throat, and Bryan Harper on drums. For more info, see http://myspace.com/stood1

And on the other end of the musical spectrum, symphonic rock act Little Red And The Hoods were by to record an epic song by the name of "Atlas" in June. Led by singer/writer/wunderkind Christine Chung (aka "Red"), The Hoods play a lilting, almost indescribable mix of classical, cabaret, prog and modern rock, all wrapped up in acerbic, intelligent lyrics. The members of this band include (lemme just get a good long breath before I start) Christine on vocals, glock and keys, Phil Beskid on sax and flute, August Appleton on guitar, piano and mandolin, Peter Park on drums and percussion, Jen Slotterback on violin, and Will Donis on bass. I dare you not to be interested! http://www.myspace.com/littleredandthehoods

Brent Brown was in the studio to record an albums-worth of songs. Brent plays a shimmering, lyric-driven alt rock powered by acoustic guitars, drums, mandolin, occasional steel drums and his own inimitably honest singing. Brent had originally recorded demos of these songs, but decided in the last couple months to give 'em the full-on Cow treatment, and we're very happy with the finished product.

Johnny Badlaw (aka John Till) has returned to The Cow fold recently. (Hmm, that's a bit of mixed animal metaphor; perhaps I should say he's returned to the herd.) His last album, "Ain't No Big Whoop Dog!", has done remarkably brisk sales online, with his single "My Pit Bull Has An Evil Smile" getting mucho plays! Now he's back to record a series of new tunes for his follow-up album. Read more at http://www.myspace.com/johnnybadlaw
Speaking of Cow favorites, Lee Donovan has been in lately recording a new song (with lyrics penned by his wife) and three cover pieces, including the immortal Ledbetter tune "Goodnight Irene", for a demo to fetch gigs with. Lee's also been mixing songs with us intermittently, and should soon have enough material for a full-on album, so keep your ears open for new info on Lee.

Sarah Mendenhall has been busy recording a group of almost two dozen songs for a CD of lullabies, mostly traditional and liturgical pieces she's given fresh new arrangements for. This has been an amazing, complex project, bringing in a myriad of instruments, including viola, violin, hammered dulcimer, lap dulcimer, penny whistle, recorder, many vocalists/readers, guitar, keyboards, and various percussion instruments. We can't wait to hear the finished project!

For more information on any of these artists, contact us at news@callthecow.com


WHAT'S IN THE COW CD PLAYER
---
Gary Landess – "Whittlin' The Kindlin'"
Charles Mingus - "Blues And Roots" and "Oh Yeah"
Nellie McKay - "Pretty Little Head"
Bjork – "Volta"
Tinariwen – "Water Is Life"
Arcade Fire - "Neon Bible"
Mighty Sparrow - "Volume One"
Christina Aguilera – "Back To Basics"
Robert Palmer - "Clues"
Los Lobos – "Kiko", "The Neighborhood" and "The Town And The City"
Sage Francis – "A Healthy Distrust" and "Human The Death Dance"
Tragically Hip – "World Container"
Panda Bear – "Person Pitch"
Xiu Xiu – "The Air Force"
John Vanderslice – "Emerald City"
NIN – "Year Zero"
Modest Mouse - "We Were Dead Before The Ship Even Sank"
Amy Winehouse - "Back To Black"
Contramano – "Unsatisfecho"
Godley And Creme – "Ismism"
Buck 65 – "Secret House Against The World" and "Talkin' Honky Blues"
Fujiya And Miyagi – "Transparent Things"
Red Crayaola – "Soldier-Talk"
Sounds Of Animals Fighting – "Lover, The Lord Has Left Us"
Octant – "Car Alarms And Crickets"
Fantomas – "Suspended Animation"
Gwen Stefani – "The Sweet Escape"
Tim Hecker – "My Love Is Rotten To The Core"




JOKE OF THE MONTH
---
Q: Why should you never ever tell a Cow a secret?
A: Because it will just go in one ear and out the udder!


Send in your favorite (clean) cow joke to news@callthecow.com and if we use it we'll link to you.


CONTACT INFO
---
For booking information, new sampler CD, or anything else, contact us at.
record@callthecow.com
www.callthecow.com
(630) 897-9023
For Past Newsletters follow this link

SUBSCRIBER INFO
You are on this mailing list because you have contacted Apocalypse Cow in the past. If you wish to be removed from this list reply to this e-mail news@callthecow.com with "remove" in the subject line. If you wish to add someone else to the newsletter, reply to this e-mail with the person's address to be added.