Apocalypse Cow Recording - October Newsletter - www.callthecow.com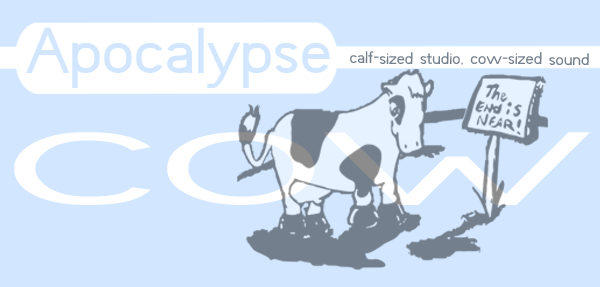 Happy National Vegetarian Month! -


NEWS

---
Welcome to the October edition of the Cow Newsletter. I know these are getting a bit more random than our old monthly newsletters so we apologize to those who wait around with baited breath to get these. We've been extremely busy lately as I'm sure those of you who have been scheduling have found out. We're getting bands in as fast and furious as we can so rest assured we're booking you a soon as we can. But, word to the wise, book as soon as you can so we can get you in (especially weekends since we're already booking into December).
It's probably way too early to start talking about "the Holidays", but since stores already have Christmas items out I'll hop on the bandwagon and talk about what a great idea getting Cow Bucks gift certificates would be. We have gift certficates available in $40 denominations that all your loving friends and family can buy for your next recording projects. It's the gift that keeps on giving!

The newest version of the Bandcast is up and ready for your downloading pleasure . Go to our Podcast Page for more info and links. You'll hear a smattering of bands we've worked with recently including Vanattica, Gary Landess, Honeyglass and Roughly Enforcing Nostalgia.

WHO'S in the RECORDING STUDIO
---
T-Naz de la Sierra has been working diligently with tracking their latest album. T-Naz plays Duranguense which they describe as Mexican country music. They have four or five keyboards going at one time covering tuba, brass, saxophone, violin, accordian, synth sounds and more. Along with keyboards they have someone playing the drum kit, playing the tambora and drum pad and a singer. The group plays nationally and is known to play several gigs in a day. The main members are Juan Carlos (vocals) and Guillermo Gonzales (manager, keyboards, backup vocals). You can check out www.t-naz.com for more info on the band and to brush up on your Spanish skillz.

Rock band Vanattica was in the studio recently and recorded 10 songs for their latest album, "Poetic Justice". Their songs are all out rock with heavy guitars and strong vocals. Be careful though as the songs will get stuck in your head. Vanattica came to us all the way from Mahomet, Illinois (right near Champaign-Urbana). Members are Travis Leonard (vocals and guitar), Tom Miebach (guitar), Doug Greene (bass) and Drake Gravely (drums). You can check them out at www.myspace.com/vanattica.
(The band that) Never Whas made it back into the studio to record another group of songs in addition to a handful they recorded in the spring. Never Whas plays heavy, dirty rock with a little bit of blues and punk thrown in. Their influences range from Type O Negative to Bruce Cockburn to Winger to Dean Martin...so just picture that. They play a killer cover of Runaway but offset it with their original songs such as Death by Bubblegum. Members of the band are Mike Rubicz (vocals and guitar), Rik Rubicz (drums), Nick Rubicz (guitar) and Roy (bass). Find out more at www.myspace.com/neverwhas667
Solo artist Joon Park came back to The Cow to record another song of his. Joon plays guitar and sings his songs and then leaves the rest of the arrangement up to us. His songs are an extremely catchy, pop rock ordeal usually with both acoustic and electric guitar to get the standard rock format. We're currently working on the arrangements of his latest song and I'm sure you'll hear it on the podcast when it's out.
First time songwriter Sarah Rose came to The Cow to have us help her arrange and record three songs. Sarah's singing is a mix of R&B ballad and current heavy rock. The three songs range from a Fall Out Boy to a John Mayer/Sara Bareielles feel so she definitely has a wide range. Keep your ears open for Sarah Rose as I'm sure you'll hear more of her (especially listen for our next podcast which will most likely include Sarah).
Two guys Chris Pluska and Tommy have come in to jam and write some songs in the studio (I like to call it the Pluska Project though "poker face" Tommy has equal stake in the songs). They came in without any plans just to see what would happen when writing in a studio environment. So far they've laid down skeletons for five songs and really worked on a sixth song. They brought in local session drummer Tom Reber who played some killer drum parts for the two to work off of. Both Chris and Tommy play guitar, keys and accordian, yes accordian (they bring along three different accordians to choose from). The project is in it's early stages so we're excited to find out where it's all going to lead.
Scott Osantowski is working on a music video he's hoping to release online this Christmas. Scott has come in to record keyboards and vocals for his song "Santa's Whispers." The Cow will take his parts and make a full arrangement including piano, strings and percussion. The song is a very touching Christmas song that really incorporates the Christmas spirit. He plans to start shooting video very soon and to have it all released by the holidays.
Our favorite Kansas City musician Gary Landess made an appearance at The Cow this past month. Gary worked on a bunch of music and laid down drums, guitar and vocals most recently. You can hear one of his latest songs on this month's podcast. Gary will be spending a lot of time with us in November so you will get to hear more of him again soon. Check out www.garylandess.com to see and hear more from Gary.
Mike Mihalo is making his usual rounds recording at The Cow. He has racked up over 50 songs with us so far and has no plans of slowing down anytime soon. Like several other recent solo artists, Mike comes to us with a melody and lyrics and counts on us to create the rest of the arrangements. He is making a full catalog for himself and preparing to take over the world.

Sarah Mendenhall is in the final stages of working on her Lullaby CD masterpiece. Sarah has brought in almost a dozen vocalists and readers, as well as performers on violin, viola, dulcimer, recorder, percussion and more I'm sure I'm forgetting. Throughout the summer Sarah has been visiting us to record more and more, just when we think the project must be getting close to end, she surprises us with another performer or a new song. But this time it really is almost done. One more cello player and mixing and she'll leave with a CD of over 20 tracks perfect to put young babies to sleep.

For more information on any of these artists, contact us at news@callthecow.com


JOKE OF THE MONTH
---
Q: Which side of the cow has the most spots?

A: The outside.


Send in your favorite (clean) cow joke to news@callthecow.com and if we use it we'll link to you.


CONTACT INFO
---
For booking information, new sampler CD, or anything else, contact us at.
record@callthecow.com
www.callthecow.com
(630) 897-9023
For Past Newsletters follow this link

SUBSCRIBER INFO
You are on this mailing list because you have contacted Apocalypse Cow in the past. If you wish to be removed from this list reply to this e-mail news@callthecow.com with "remove" in the subject line. If you wish to add someone else to the newsletter, reply to this e-mail with the person's address to be added.