Apocalypse Cow Recording - November Newsletter - www.callthecow.com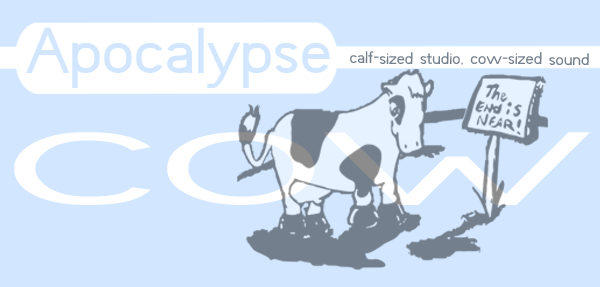 Happy National Adoption Awareness Month! -


NEWS

---
Welcome to yet another newsletter from Apocalypse Cow. We are still keeping super busy around here and recording tons of different projects. Be sure to read about them below, we've had a lot of returning bands lately so it's great fun to see how their music has evolved in the past year.
And of course I have to get in the plug for our Cow Bucks gift certificates for recording. Great for holiday gift giving and receiving. Go to http://www.callthecow.com/cowBucks.htm to buy them.

Another podcast is up and ready for you. Go to our Podcast Page for more info and links. This month you'll get to hear the new sounds of Stereo Strikes Back, Neverwhas, Joon Park and naturally Roughly Enforcing Nostalgia.

NEW GEAR
---
We just got some new BLUE microphones, two of the Blueberry mics. The Blueberry mics are great for many different recordings, we use them all the time as drum overheads, acoustic guitar, acoustic instruments in general and even on vocals sometimes. A great clear microphone that brings out the best of acoustic instruments. These mics we just bought are a matched pair and have been hand tweaked and customized by one of the engineers at the BLUE labarotories. They also come with their own special shockmount and popper stoppers which may not sound like much but when you see the mic is rectangular it adds that touch of specialness for it to have it's own special shockmount.
We also added a Small Fry Burn Unit to our assortment of guitar pedals. This little red guy packs a mean punch and gives an extra kick of distortion to any guitar tone. We just love it and I'm sure you will too!

WHO'S in the RECORDING
STUDIO
---
Stereo Strikes Back came to The Cow to record a whirlwind four songs for their demo. Stereo Strikes Back is a three-piece that hearkens back to the garage rock of the 60's and 70's. They have a raw live sound that really makes their energy shine through in their songs. Coming from Oak Forest are Nate Girard (vocals, guitar), Kendra Blank (keys) and Bill Westphal (drums). You can hear their pumping tunes on our podcast this month or on their website at www.myspace.com/stereostrikesback.

The Band that Neverwhas has finished tracking their latest group of songs and the mix is just now complete. Neverwhas came back in with a great set of rock tunes that will have you dancing, singing along, laughing, crying; they bring it all in their music. Check out their webpage www.wegrowskulls.com or www.myspace.com/neverwhas667.
Punk pop/ rock band Murfey's Law came back to The Cow to record more songs for their album. The 4 piece was here in the spring and recorded a group of demo songs but they came back to complete more songs and have a full album. These songs have more power and catchy pop goodness and Murfey's Law is spending their time on the songs so they can really get them fully produced sounding. You can find out more about the band and their shows (they recently played a show with New Found Glory) at www.murfeyslaw.com.
The project of Lullabies is coming to an end. Sarah Mendenhall has been working on this project throughout the summer and the tracking is now complete for it. She has brought in a ton of musicians for the album including viola, violin, cello, dulcimer, acoustic guitar, flute, keyboards, recorder, percussionists, french horn and penny whistle as well as almost a dozen singers and a half dozen readers, including a reverend. There are two dozen songs in total for the album, everything from spiritual readings to Sarah's own full orchestral arrangements of music from the Lord of the Rings. The project is really wrapping up nicely and will be a great collection of lullabies for little ones, specifically for her friend who will be adopting soon.
Scotti Montgomeri of Santa's Whispers fame is in the middle completing his song with us at The Cow. Scott came to us with his song he sang and played keyboards on, then we took control of it and turned it into a full orchestral arrangement. We'll be bringing in CJ from the band Honeyglass to lay down some righteous Christmas singing. Keep your ears open this Christmas and you just might hear this song, or you can hear it direct at www.myspace.com/scottimontgomeri
T-Naz de la Sierra is diligently working on their album with us at The Cow. They're tweaking the keyboard parts and plan to be recording tambora parts real soon. This six piece Duranguese band keeps on playing tons of live shows and is planning a tour to Florida this winter. Check out www.t-naz.com for more info on this group.
John Badlaw , songwriter extrodanaire has been periodically coming in to The Cow to record bits and pieces for his project. He has recorded drums and bass with us so far and has recorded keys, fiddle and steel pedal guitar on his own. When everything is recorded he will come back and have us do the mixing to his tracks. Check out tracks from his last album at www.myspace.com/johnnybadlaw.
The Pluska Project and the Terrific Tommy Experience came back to work on more of their songs with us at The Cow. They have laid down a half dozen songs so far and are concentrating on getting those songs fully produced before they move on to another set of songs. Chris and Tommy are writing the songs in the studio, playing guitar, keys, drums and yes, even accordian. Their songs are anywhere from groove oriented to heavy rock and the occasional accordian solo. We're excited to see the continuation of this project.
Joon Park came back to The Cow recently as well to record a new song. Joon plays guitar and sings and left the rest of the song up to us. Joon's songs are usually catchy acoustic pop driven songs with plenty of heart so they're great fun to work on. We can't wait to hear more from Joon.
And who can forget the one and only Mike Mihalo who is intently working on his songs. With over 50 songs to date Mike is starting to polish up some of them. He has brought in Tom Reber on drums and we'll have CJ from Honeyglass come in for some back up vocals on his project. Mike is also redoing some of his original vocals now that he's had some time to practice the songs he can get the performances spot on.

For more information on any of these artists, contact us at news@callthecow.com


JOKE OF THE MONTH
---
Q: What do you get when you cross a cow with a crown?

A: A dairy queen


Send in your favorite (clean) cow joke to news@callthecow.com and if we use it we'll link to you.


CONTACT INFO
---
For booking information, new sampler CD, or anything else, contact us at.
record@callthecow.com
www.callthecow.com
(630) 897-9023
For Past Newsletters follow this link

SUBSCRIBER INFO
You are on this mailing list because you have contacted Apocalypse Cow in the past. If you wish to be removed from this list reply to this e-mail news@callthecow.com with "remove" in the subject line. If you wish to add someone else to the newsletter, reply to this e-mail with the person's address to be added.