Apocalypse Cow Recording - May Newsletter - www.callthecow.com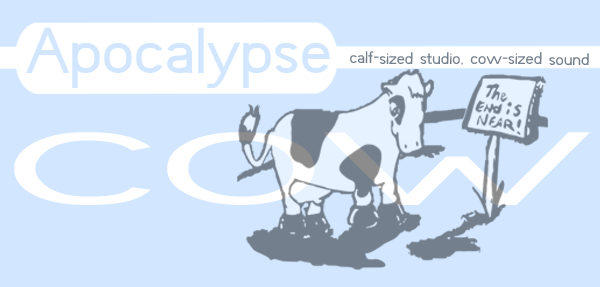 Happy National Photograph Month! -


NEWS

---
Welcome to our 50th installation of the Apocalype Cow Newsletter! Yes, you read right, the big 5-0. A big thanks goes to anyone who has actually read all 50, or even 1. And thanks for hanging in there with all the really bad cow jokes (it's amazing there are so many)!
We're still keeping super busy around here recording, writing and more. Music written by the Cow crew is being used by the comedy group Your Average Zombies in their weekly podcasts. Our music is in both the opening and closing credits! Be sure to check out their humorous shorts at www.youraveragezombies.com and subscribe to their podcast.
With the collaboration of Troy Sterling Nies we're working like banshees scoring a documentary for Naperville Community Television. The doc, "A Role of Their Own" goes in depth about the impact seven Napervillian (something tells me that's not a real word) women have had on the community. The film will be submitted to film festivals as well as played on television. Also, we will be interviewed by NCTV17 about our business. If you're in the Naperville area tune in to channel 17 to see the interview on the Business Connection (I'm not sure what times it will be played yet nor the first air date). Or you can go to www.nctv17.com and see the video there.
A song of ours is currently lined up to be in the end credits of Independent feature film The Scorpion Bowl by Cosmic Control Productions. Our song "Everyone Loses in the End" is a nod to the exotica music of the 50's to tie in with the film's tiki theme. We brought in everyone's favorite teen singer Courtney Jay to lay down some sultry vocals for a version and we have a version with our very own Dan Jeremy Brooks singing. Cosmic Control loves the song so much they're hoping to use one version for the film and make the other into a music video. We'll keep you posted as we know more details. For now you can check out www.cosmiccontrol.com for more information.
A couple of our bands are getting some good airplay on local WONC radio station. Murfey's Law was a featured artist on Local Chaos a couple of weeks ago and The Band that Neverwhas has been in rotation. Be sure to tune into 89.1 Tuesday nights from 8-10pm and request music. Also, go ahead and submit your music to the show to get your own airplay.
And finally, the May episode of our podcast is up and ready for your listening pleasure. Go to our Podcast Page for more info and links. You'll hear some cool bands who have been in lately such as Honey Glass, Greg Boerner, People on Trial, Neverwhas and naturally Roughly Enforcing Nostalgia. Another jam packed episode you won't want to miss!
Now onto the bands!
WHO'S in the RECORDING STUDIO
---
Honey Glass spent a fun four day marathon in the studio tracking songs for their new full length. At some points heavy rock, sometimes pop, sometimes gentle ballads, always powerful! Strong layered female vocals are backed by a foundation of impeccable guitar performances, solid bass and just the right touch of drums. Honey Glass takes cues from a huge array of music spanning decades and genres but can best be described as a combination of Blue October, The Pretenders, Living Colour, Evanescence, and Jane's Addiction (if you can imagine that). Members of Honey Glass are CJ Shellbach (vocals), Brian Shellbach (bass), Daniel Grounds (guitar) and Brian Posdal (drums). Be sure to keep your eyes open for Honey Glass, you won't want to miss them. And you can hear a sneak peak, hot off the press mix the band hasn't even heard yet on this month's podcast.
Reggae/Punk band People on Trial began recording songs for their new album. People on Trial mixes the pop punk genre and adds in a little bit of reggae love in keeping with their hero band Sublime. Each song makes you want to sing along and dance. Two members of the band were from pop punk band Ten Cents Short and have now formed this new band with a new drummer and a new attitude. You can catch them pretty much every weekend at various Chicago venues. Coming from West Chicago are members Derek Scott (vocals, guitar), Jason Winter (bass) and Jim Hurley (drums). Be sure to check out their website for show dates at www.myspace.com/peopleontrial. And listen to our podcast this month to hear their songs.
A fun cover band with an equally fun name Send in the Clones was in recording a demo CD. Send in the Clones plays a wide variety of covers from the Beatles to Living Colour to John Cougar Mellencamp and everything in between. The fearsome foursome include Dave Panacchia (vocals, guitar), Mike Panacchia (drums), Brian Shellbach (bass) and Chris King (guitar). Check out their MySpace at www.myspace.com/sendintheclones.
The Victoria Amp Company came here to record samples of their hand built amplifiers. President Mark Baier brought in Sam Hubbell (from the Mike Heaton Band and Hix Bros. Music) to lay down some smoking licks and really show off the amps. The models that were demonstrated are the Regal and the 5112, both sound absolutely fantastic by the way. For those of you who haven't heard of Victoria Amps they are amazing, hand built amps made to recreate the sounds of the 50's Fender amps. They are great if you're looking to recreate a vintage sound and also great amps in general. You can hear samples of some amps on the website with the Regal and 5112 coming soon at www.victoriaamp.com.
Longtime Cow artist and nemesis Greg Boerner was in for a couple quick hours to lay down a single song for an admiring fan. Greg's rendition of Hallelujah by Leonard Cohen is right up there with the original. The intimate guitar/vocal recording captured the soul of both Greg's performance and Cohen's song which you can hear in this month's podcast. You can also see Greg perform this song live at one of his many performances. To find out show dates go to www.gregboerner.com.
Courtney Jay was in recording a song for us and some songs for her reel. As I mentioned earlier Courtney sang on one of our songs, "Everyone Loses in the End" to be featured in an upcoming film by Cosmic Control Productions. Courtney is also getting her college reel together and singing songs in about every genre from pop and rock to country and even opera. This summer Courtney will be performing regularly at Six Flags Great America (at 17 years old, the youngest singer they have ever hired). So if you're at the Six Flags be sure to see some shows and you might see Courtney! In the meantime you can check out Courtney at www.courtneyjay.com or www.myspace.com/courtneyjay90.
Metal band Blynded is continuing work to finish their album. They laid down guitars this month and will be finishing with vocals in the coming month. So by the next newsletter their album should be ready to punish your ears! We'll keep you posted.
And last but certainly not least, Mike Mihalo is making regularly scheduled appearances to keep getting his songs out of his head and into your car. Mike is about halfway through the projected 30 songs of arranging his songs so he can start forming a band. Mike comes to us with a vocal line and some ideas and we write and record the rest. It's been great arranging the many different genres he brings to us, ranging in styles from Queen to Springsteen to Train. Expect to hear more from Mike next month.
For more information on any of these artists, contact us at news@callthecow.com


WHAT'S IN THE COW CD PLAYER
---
Robert Palmer - Clues
Beck - The Information
Skinny Puppy - Mythmaker
Kalashnikov - Songs About Amore & Revolution
King Crimson - The Power To Believe
Mars Volta - Amputechture
Pipettes - We Are The Pipettes
Avril Lavigne - Best Damn Thing
The Jam - All The Choice Cuts
Dream Syndicate - Tell Me When It's Over
Assassins - You Will Changed Us
Heavens - Patent Pending
TV Eyes - Self-Titled
Neon Blonde - Chandeliers On The Savannah
Of Montreal - Hissing Fauna Are You The Destroyer?
Arcade Fire - Neon Bible
Rust - This Infection
Fujiya & Miyagi - Transparent Things
MK Ultra - The Dream Is Over
The Blue Nile - Hats
Tom Petty - Blue Moon Fever
Amy Winehouse - Back to Black
Fall Out Boy - Infinity On High


JOKE OF THE MONTH
---
Q: Which side of the cow has the most spots?

A: The outside.

Send in your favorite (clean) cow joke to news@callthecow.com and if we use it we'll link to you.


CONTACT INFO
---
For booking information, new sampler CD, or anything else, contact us at.
record@callthecow.com
www.callthecow.com
(630) 897-9023
For Past Newsletters follow this link

SUBSCRIBER INFO
You are on this mailing list because you have contacted Apocalypse Cow in the past. If you wish to be removed from this list reply to this e-mail news@callthecow.com with "remove" in the subject line. If you wish to add someone else to the newsletter, reply to this e-mail with the person's address to be added.