Apocalypse Cow Recording - February Newsletter - www.callthecow.com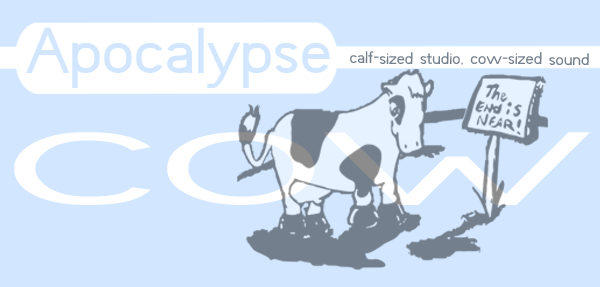 Happy Groundhog's Day! -


NEWS

---
Well, by now the little Groundhog in Pennsylvania has certainly come out to face his shadow (or not). Luckily winter hasn't been too bad this year though.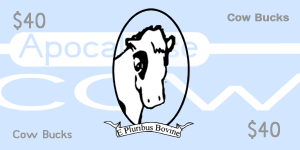 We have a very special poll this month for all of you. If you fill out our poll completely you will get a Cow Bucks gift certificate for $20, that's a half hour of free recording studio time! There are just a few questions about mp3 players and podcasts. Pretty easy to fill out and then we will mail you the Cow Bucks. Ain't life grand? Click here to take the poll.
The February installment of our Bandcast (podcast) is up and ready to be downloaded to your podcast player of choice. This month we have some great selections that will be sure to inspire you such as Joon Park, Greg Boerner, Blynded, 3-2-1 Activate, Tub Ring, Lisa Matthews, Vital Kin, and who can forget Roughly Enforcing Nostalgia.
WHO'S in the RECORDING STUDIO
---
Joon Park of Chicago came in to record a song (for his wife's birthday. How sweet!) Joon has been playing guitar and singing since childhood and in the last few years started to write songs as well. This is his first foray into recording and with the help of the production staff here at The Cow, we turned his acoustic guitar demo into a full on radio ready release. Joon played

Damien Thorne started recording their heavy metal full length rock album here at The Cow. Damien Thorne has been together for years and was on Roadrunner Records back in the day. Now they are primarily a studio band making only the occasional performance on tours to Germany where fans young and old scramble for autographs. The band has made crossroads in their genre playing lightning fast guitar solos, double kik rhythms and bumpin' bass lines. Members include Ken Mandant (guitar), Rick Browz (bass), Mike Browz (drums), Mike (the temporary singer). You can find more info about the band at www.damienthorne.com
Longtime Cow favorite Gary Landess made two stops into the studio last month and has been working on a cover of the Jim Croce tune "Rapid Roy". Incidentally, Gary's version is notably less rapid, bringing down the tempo to create a more blues shuffley feel. Gary played guitar, drums, harmonica and sang, and, on his second session for "Rapid Roy", brought in expert bassist Kevin Mayes to provide low-end. Kevin's been playing bass for several decades now, performing with the likes of the Artist Everybody Still Calls Prince and many more. To learn more about Gary's music, or to check out some of his most choice cover art, go to www.garylandess.com.
For more information on any of these artists, contact us at news@callthecow.com


WHAT'S IN THE COW CD PLAYER
---
There's so much great music out these days we love to listen to it all (and we suggest you do the same)! Here's a few ideas to get you started.

John Vanderslice – "Cellar Door" & "MGM Endings"
Bruce Cockburn – "Sunwheel Dance"
Matmos – "The Civil War"
Solid Eye – "Fruits Of Automation"
Neil Young – "Rust Never Sleeps"
Twink – "The Broken Record"
Buck 65 – "Secret House Against The World"
Head Automatica – "Popaganda"
Matthew Herbert – "Plat Du Jour"
Muse – "Black Holes & Revelations"
Kronos Quartet – "Black Angels"
Kelly Clarkson – "Breakaway"
Baader Meinhof – "Baader Meinhof"
The Dismemberment Plan – "Emergency & I"
Troy Sterling Nies – "The Ethereal Plane"
"Fast Food Nation Soundtrack"
Sam Phillips – "Omnipop"
Clouseaux – "Beyond Good & Evil"
Blue October – "Foiled"
Sound Of Animals Fighting – "Lover The Lord Has Left Us"
My Chemical Romance – "The Black Parade"
Bill Frisell – "Unspeakable"
The Killers – "Sam's Town"


JOKE OF THE MONTH
---
A city man was tooling down a country road when his car sputtered to a complete stop near a field filled with cows. The driver, getting out to see what was the matter, noticed one of the cows looking at him. "I believe it's your radiator," said the cow.
The man nearly jumped right out of his city slicker britches! He ran to the nearest farmhouse and knocked on the door. "A cow just gave me advice about my car!" he shouted, waving his arms franticly back toward the field.
The farmer nonchalantly leaned out beyond the door frame to glance down the field. "The cow with two big black spots on it?" the farmer asked slowly.
"Yes! Yes! That's the one!" the excited man replied.
"Oh. Well, that's Ethel," the farmer said, turning back to the man. "Don't pay any attention to her. She doesn't know a thing about cars."


Send in your favorite (clean) cow joke to news@callthecow.com and if we use it we'll link to you.


CONTACT INFO
---
For booking information, new sampler CD, or anything else, contact us at.
record@callthecow.com
www.callthecow.com
(630) 897-9023
For Past Newsletters follow this link

SUBSCRIBER INFO
You are on this mailing list because you have contacted Apocalypse Cow in the past. If you wish to be removed from this list reply to this e-mail news@callthecow.com with "remove" in the subject line. If you wish to add someone else to the newsletter, reply to this e-mail with the person's address to be added.