Apocalypse Cow Recording - February Newsletter - www.callthecow.com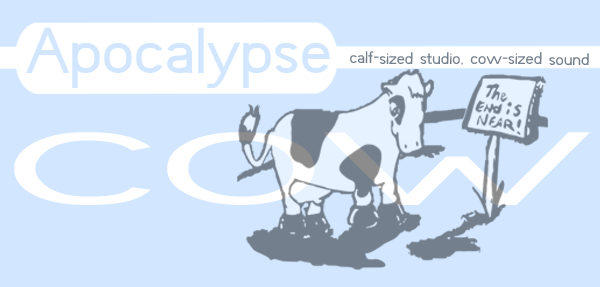 Happy Belated Groundhog's Day! -


NEWS

---
Well, the little Groundhog in Pennsylvania saw his shadow this last Friday. That means hope is in store for a quicker end to winter, hooray! Soon the sun will start shining, the thermometer will be on the rise, trees will bloom and it will be great to be in Chicago again.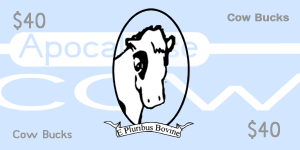 We're extending our podcast poll for everyone. We're still offering a $20 gift certificate for all polls filled out completely. It's easy to do and you get free studio time. There are just a few questions about mp3 players and podcasts. Pretty easy to fill out and then we will mail you the Cow Bucks. Ain't life grand? Click here to take the poll.
The February installment of our Bandcast (podcast) is up and ready to be downloaded to your podcast player of choice. This month we have some great selections that will be sure to inspire you such as Joon Park, Greg Boerner, Blynded, 3-2-1 Activate, Tub Ring, Lisa Matthews, Vital Kin, and who can forget Roughly Enforcing Nostalgia.
WHO'S in the RECORDING STUDIO
---
Joon Park of Chicago came in to record a song (for his wife's birthday, how sweet!) Joon has been playing guitar and singing since childhood and in the last few years started to write songs as well. This is his first foray into recording and with the help of the production staff here at The Cow, we turned his acoustic guitar demo into a full on radio ready release. Joon played both acoustic guitar and electric guitar on the song and of course sang from his heart. Joon is expecting this to be the first recording in a long line of songs he's written. By the way, his wife loved the song!

Damien Thorne started recording their heavy metal full length rock album here at The Cow. Damien Thorne has been together for years and was on Roadrunner Records back in the day. Now they are primarily a studio band making only the occasional performance on tours to Germany where fans young and old scramble for autographs. The band has made crossroads in their genre playing lightning fast guitar solos, double kik rhythms and bumpin' bass lines. Members include Ken Mandant (guitar), Rick Browz (bass), Mike Browz (drums) and another Mike (as the temporary singer). You can find more info about the band at www.damienthorne.com

Members of the band Altgeld Forgotten had us mix their album they recorded here in the summer. For those of you who have forgotten (okay, bad pun) Altgeld Forgotten is a good 'ole punk rock band with fun short high energy songs with the occasional political rant... in every song. They keep the enthusiasm for music and performing alive and young and never stray from their message of festivity! Members are Steve Healy (drums), Lou Dagostino (bass), Luke Staszak (guitar), Crazy Jon (guitar). You can hear more at www.nocoastpunkrock.com.

Stephanie Hosea of Chicago came into the studio to record a demo for getting voiceover work. Stephanie has studied the art of being a voiceover talent and it truly paid off as she has a wonderful voice. She also has been in television shows such as ER many times. And last, but not least, she is also a songwriter and will be having us re-produce a song for her.
Gary Landess is perfecting the mixes on some of his songs he's recorded recently as well as gearing up to write some new songs with some new grooves. Gary has also been kind enough to loan us some of his artwork that you can now see hanging on the live room walls. Gary's visual art is influenced by Rothko and Gerhard Richter and uses the mix of oil paint colors and textures on canvas to create different moods. The artwork is great and very inspiring for when you're rocking out. Be sure to check it out when you're here then tell Gary how much you like it at www.garylandess.com.
For more information on any of these artists, contact us at news@callthecow.com


WHAT'S IN THE COW CD PLAYER
---
There's so much great music out these days we love to listen to it all (and we suggest you do the same)! Here's a few ideas to get you started.

Troy Sterling Nies - "The Mountains Of Madness"
Blue October - "Foiled"
My Chemical Romance - "Black Parade"
Echo and the Bunnymen - "Sierra"
Buck 65 - "This Right Here Is Buck 65"
Martha & The Muffins - "Far Away In Time"
The Books - "Lost & Safe" & "Thought For Food"
Marilyn Manson - "Golden Age Of The Grotesque"
Neil Young - "Rust Never Sleeps"
Mars Volta - "Amputechture"
Sam Phillips - "Omnipop"
Head Automatica - "Popaganda"
TV On The Radio - "Return To Cookie Mountain"
Tim Fite - "Gone Ain't Gone"
Matthew Herbert - "Plat Du Jour"
Academy Is - "Almost Here"
Ted Sirota's Rebel Souls - "Breeding Resistance"
Soundtrack - "Fast Food Nation"
Tom Recchion - "Chaotica"
Saez - "God Blesse"
7 seconds - "Take it Back, Take it On, Take it Over
Motion City Soundtrack "Commit This To Memory"
Graeme Revell - "Aeon Flux" Soundtrack
Apollo 440 - "Electro Glide In Blue"
Julie London - "Wild Cool and Swingin'"

JOKE OF THE MONTH
---
There was this city guy driving in the country, and came across a sign nailed to a fence post saying "Boat for sale"...
Thinking he could use a boat to go fishing with his kids, he drove into the farmers yard and looked around for the boat.
Having only seen a couple of cows, some chickens and a pig, he went up to the farmers house and asked about the sign.
The farmer came out and with his hands holding his suspenders, he said..."yep, dem der two cows of mine, 'Bessie and Eunice', dey are boat for sale eh"...

Send in your favorite (clean) cow joke to news@callthecow.com and if we use it we'll link to you.


CONTACT INFO
---
For booking information, new sampler CD, or anything else, contact us at.
record@callthecow.com
www.callthecow.com
(630) 897-9023
For Past Newsletters follow this link

SUBSCRIBER INFO
You are on this mailing list because you have contacted Apocalypse Cow in the past. If you wish to be removed from this list reply to this e-mail news@callthecow.com with "remove" in the subject line. If you wish to add someone else to the newsletter, reply to this e-mail with the person's address to be added.