Apocalypse Cow Recording - April Newsletter - www.callthecow.com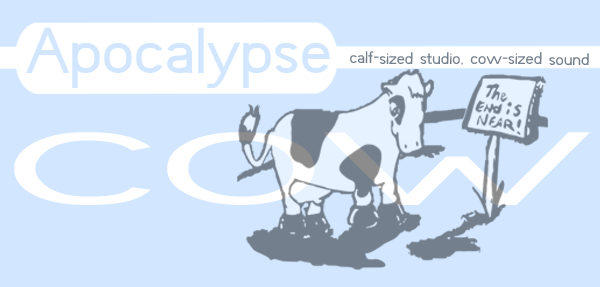 Happy National Humor Month! -


NEWS

---
Welcome once again to another Cow Newsletter. We're still working like banshees over here as you'll notice by seeing the multitude of artists we've been working with this past month. Be sure to read about everyone's projects as there's always fun and different.
If you've been here recently you may have noticed a new face around here every once in a while. We'd like to welcome Thomas Fricilone as our newest intern. Thomas is currently studying to be a producer at Columbia College in Chicago and is learning the ropes here at The Cow. Thomas stays busy with his band In Limbo and his comedy sketches with Beard and Face.
This month's podcast is out and ready for your listening pleasure. Go to our Podcast Page for more info and links. This month features some bands who have been in lately such as Neverwhas, Paid Pilots and Gary Landess and of course also new tunes by Roughly Enforcing Nostalgia. Read more about them below.
WHO'S in the RECORDING STUDIO
---
Long time client and collaborator Gary Landess was in this month to lay down a couple of new acoustic based tracks which everyone can hear in this month's podcast. Gary played his resounding resophonic guitar underneath his valiant vocals. He kept the songs simple with just guitar and vocals adding only sumptious stomps and concientous claps to keep it moving. Very great sounding original songs with simple arrangements. Also in Gary news, this month he has moved to Kansas City, Missouri so everyone must wish him well in his move to a slightly warmer place. But, Gary has promised to keep coming back here for more recording so we must all band together to make sure he keeps his word. By the way, you can all find more information about Gary and his first album "Rise of the Multiforms" on his website www.garylandess.com.
(The Band That) Never Whas recently came into The Cow to record the first five tracks for their first album. They play a brew of pure hard rock (or Grime Rock as they put it) that includes elements of grunge, jam band and singer/songwriter music. They also do a most kickin' cover of Warren Zevon's "Splendid Isolation", just so the sports fans at home know! Hear their music on our latest podcast. Besides having one of the coolest band names in the business, (The Band That) Never Whas is also a family affair, featuring Michael Rubicz on guitar and vox, his brothers Rick and Nik on drums and lead guitar (respectively), and their good friend Roy DeFreece on bass. Check out their website (yes, it's an honest-to-goodness website not just a MySpace page) at www.wegrowskulls.com.
Speaking of cool band names, the boys (and girl) in Paid Pilots were also in last month recording an amazing three-song EP here at Casa Cow. The music is a spacious form of indie rock that combines the sparkling rhythms of Joy Division with the ear for textures of Explosions In The Sky, while the lyrics are intriguing meditations on our current wars overseas, materialism and the search for personal identity in this era of cultural tourism. In other words, it's music you can nod to while your brain chews over the ideas. You can hear for yourself on our podcast. Featuring Jay Savsani on guitar and vocals, Sandra Hill on bass and vocals, Jon Andersen on guitar and love of Depeche Mode, and Chris Baxter on drums. Look at this: www.myspace.com/paidpilots
Longtime Cow clients Blynded are back in the studio again, this time recording enough material for a full-length album. The Blynded plays a listener-friendly mix of heavy rock and metal that cranks hard but never loses the melody, plus, they're hella-easy to work with, which we never take for granted here at Casa Cow. You've got Paul Kriechbaum on guitar, Jaime Davis (aka Dr Drumz) on the drums (naturally), David Sutko on guitar, Eric Kiszenia on bass, and new addition Dean Pressley on lead vocals, all ready at a moments notice to spring into rawk action!
Boston, Massachusetts expatriate Lee Donovan has been mixing some tunes with us. Originally recorded some years back at a studio outside Beantown, Lee's batch of tunes run the gamut from swing to 12-bar-blues to Andrews Sisters-esque 40's pop, all penned by Lee with hi wife providing lyrics. We're looking forward to finishing up these mixes so we can start recording new material with Lee; that'll give us a chance to showcase his talents on a whole range of acoustic instruments, including banjo and mandolin.
The Jazz Hooligans just recorded a four-song EP with us a few weeks back, playing a mixed bag of originals and covers including "Take Five", Jeffrey favorite "The Girl From Ipenema" and a self-penned blues ditty called "Tore Down". The Jazz Hooligans are made up of highly skilled, highly intelligent government employees who by night become highly skilled, highly intelligent music fiends, with John J Lewis on keys, Pat Loden on guitars, Stu (Last Name Unknown) on drums and amazing simultaneous (!) percussion and Jeff Foltz on guitar, bass, vocals and percussion (he plays a lot of stuff, albeit not all at once, heh).
Rapper/label owner/entrepreneur Mint brought in his latest discovery, Teknikal, straight outta Canada to record tracks for an upcoming Mint 45 Records release, titled "The Franchize!". Though here at The Cow most recently as a producer, Mint is also a durned fine rapper as well, and we expect to hear more good things from him in the future. Check out his site at www.mint45.com, or go to www.mint45records.com to order "The Franchize!"
Charlie "In Charge" Davison is a very cool one-man-band who was in lately to record a group of new tunes. This batch of songs is influenced by Foo Fighters and The Strokes, with a heavy emphasis on, well, heavy guitars. Charlie performed some rather astoundingly tight guitar doubles (and triples in some cases) that were as fuzzy as a well-loved teddy bear, but quite a bit more aggressive and rockin', just for the record. We're looking forward to seeing Charlie's songwriting skillz develop, and perhaps more tunes from him in the very near future!
Also within the one-man-band vein is Derrick Martens, who stopped by last week to record a brace of songs on the drums (including his excellent interpretation of The Police classic "Roxanne") to send to the Musician's Institute in beautiful Hollywood, California. Not only is Derrick a fine drummer but he's also an employee of the fine folks at Hix Music, so we're all pulling for him getting into the MI. Good luck, Derek!
The Cow completed a new arrangement of Stephanie Hosea composition last month, an RandB song called "Baby Baby Boy (I'm Feelin' You)". Stephanie wrote the melody and lyrics, and The Cow provided the beat, and once we get some vocals on this track, we're certain we'll be hearing it very soon on WGCI and the like.
And lastly (yeah, I know, there's been a lot happening this month), Mike Mihalo's been in quite a bit in the last two months, bringing in melodies and lyrics at a furious rate. So far, The Cow (in coordination with the great Mike Beckman on guitars) has arranged over ten new songs for Mike, and the pace shows no sign on slacking any time soon. Mike Mihalo's songs are a bracing mixture of genres; one day he may have an alternative rock song in the style of Matchbox 20 or Live for us to create, and another day it may be a Queen song a la "Killer Queen" or "Somebody To Love", and yet another day it may be GNR-meets-Nirvana, or perhaps an old-timey rockabilly number. Fortunately, Mike Beckman and The Cow are more than equal to the challenge, so have no fear!
For more information on any of these artists, contact us at news@callthecow.com


WHAT'S IN THE COW CD PLAYER
---
Iggy Pop - New Values and Soldier
31 Knots - The Days and Nights Of Everything Anywhere and Polemics
Mad Professor Meets Plus Der Zeit - Meet In Berlin At Checkpoint Charlie
Blue Nile - Hats
Lupe Fiasco - Food and Liquor
Arcade Fire - Neon Bible
Caetano Veloso - Araca Azul
Heavens - Patent Pending
Assassins - You Will Changed Us
Paradise Lost - Host
Kalashnikov - Music Is A Gun Loaded With Future
The Fixx - Phantoms
Fall Out Boy - Infinity On High
My Chemical Romance - The Black Parade
LEO - Alpacas Orgling
Cobra Starship - While The City Sleeps
Christina Aguilera - Back To Basics
Gruppo Sportivo - 10 Mistakes
Robert Palmer - Addictions Volume 01
The Academy Is - Almost Here
Lily Allen - Alright Still
Neon Blonde - Chandeliers In The Savannah
TV Eyes - Self-Titled
Orchestral Manoeuvers In The Dark - The Pacific Age
David Bowie - Scary Monsters
The Books - Lost and Safe
Troy Sterling Nies - The Ethereal Plane
Rust - Sleeper
311 - Evolver
Deadbolt - Zulu Death Mask

JOKE OF THE MONTH
---
Q: Why were the cows upset when the farmer switched to round bales?

A: Because they weren't getting a square meal a day.

Send in your favorite (clean) cow joke to news@callthecow.com and if we use it we'll link to you.


CONTACT INFO
---
For booking information, new sampler CD, or anything else, contact us at.
record@callthecow.com
www.callthecow.com
(630) 897-9023
For Past Newsletters follow this link

SUBSCRIBER INFO
You are on this mailing list because you have contacted Apocalypse Cow in the past. If you wish to be removed from this list reply to this e-mail news@callthecow.com with "remove" in the subject line. If you wish to add someone else to the newsletter, reply to this e-mail with the person's address to be added.