Apocalypse Cow Recording - September
Newsletter - www.callthecow.com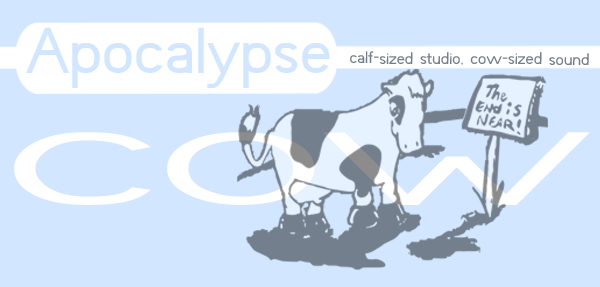 Happy National Blueberry Popsicle Month! -



NEWS

---
Everyone will be happy to hear about our December Sale. Cow Bucks are discounted at 10% for the entire month of December! So pay only $36 online and get a $40 gift certificate in exchange. Cow Bucks make great presents and stocking stuffers so put them on your list to Santa. And, if you get money for Christmas, you can buy Cow Bucks for future recording projects. Shop online now to buy or check out our sale page for more details.
We're proud to bring you the second installment of the Apocalypse Cow Bandcast (podcast). This month features a fun mix of hot off the press songs and a few songs pulled from the vault. Featured artists this month are Roughly Enforcing Nostalgia, Bluebottle, Kills Thirst, Tub Ring, Dr. Sleep, Fair Herald, HooHah and strange interludes provided by voiceover artist Bil Orland. Check out our Podcast page for more information.
WHO'S in the RECORDING STUDIO
---
Abbi Rajasekhar came to The Cow to track drums and bass for her new album. Abbi can best be described as a singer songwriter; playing acoustic guitar and belting out pure melodies straight from the heart. She brought in producer Patrick DeWitte who will be mixing the album. Members of the band So Long Forgotten (P.J. Pence on drums, Joe on bass and Cameron Yergler on guitar) made a stop between tour dates to play on her album. You can frequently find Abbi playing at Potbelly's sandwich shops in the Chicago area.
Rock band Fair Herald is in the final stages of mixing their 6 song EP. Blending rock and alternative with melodies, Fair Herald is getting ready to take over the world...starting with Chicago. Check them out at www.fairherald.com
Cow regular Gary Landess is starting serious work on his next album which will most likely be a collection of cover songs from his favorite artists, including ZZ Top and Howlin' Wolf. Gary has also brought in bassist/producer/friend Kevin Mayes. Kevin has run his own studio, Diamond Studios in Chicago, and played with the likes of Prince (the purple one himself). Check out Gary's first release, Rise of the Multiforms (recorded here) at www.garylandess.com.
For more information on any of these artists, contact us at news@callthecow.com


WHAT'S IN THE COW CD PLAYER
---
A new segment in the Cow Newsletter that we might include every once in a while. Here are just a couple albums we have been listening to lately (we tried to narrow it down for space purposes). We, of course, love them all and recommend them highly!
Simple Minds - "Empires & Dance"
Pilotdrift - "Water Sphere"
Dresden Dolls - "Yes Virginia"
Panic! At At The Disco - "A Fever You Can't Sweat Out"
Morningwood - "Self Titled"
Paul Gilbert - "Spaceship One"
Paul Simon - "Surprise"
Dragonforce - miscellaneous videos
Gnarls Barkely - "St Elsewhere"
Art Brut - "Bang Bang Rock N Roll"
John Cale - "Hobosapiens"
T-Bone Burnett - "The True False Identity"
Killing Joke - "Hosannas From The Basement Of Hell"
Julie London - "Collection"
Martin Denny - "Exotica"
Paper Chase - "God Bless Your Black Heart"
Samantha 7 - "Self-Titled"
Sugarcubes -"Here Today, Tomorrow Next Week!"
Hilary Duff - "Most Wanted"
Andrew Bird - "The Mysterious Production Of Eggs"
Tuxedomoon - "Holy Wars"
Anne Dudley & Jaz Coleman - "Songs From The Victorious City"
Comsat Angels - "Waiting For A Miracle"
Taking Back Sunday - "Louder Now"
We Are The Fury - "Infinite Jest"
Smokie Norful - "Nothing Without You"
Cutting Crew - "Broadcast"
Echo & The Bunnymen - "Siberia"
Eighteen Visions - "Self-Titled"
Spiderbait - "Tonite Alright"
Dot Allison - "We Are Science"
William Shatner - "Has Been"
David Byrne & Brain Eno - "My Life In The Bush Of Ghosts"
Cornershop - "When I Was Bron For The 7th Time"
Peeping Tom - "Self-Titled"
Michael Daugherty - "UFO"
Deadbolt - "Zulu Death Mask"
Throbbing Gristle - "Thwenty Funk Jazz Greats"



JOKE OF THE MONTH
---
Q: What do you call a cow that wears a crown?

A: Dairy Queen!

Send in your favorite (clean) cow joke to news@callthecow.com and if we use it we'll link to you.


CONTACT INFO
---
For booking information, new sampler CD, or anything else, contact us at.
record@callthecow.com
www.callthecow.com
(630) 897-9023
For Past Newsletters follow this link

SUBSCRIBER INFO
You are on this mailing list because you have contacted Apocalypse Cow in the past. If you wish to be removed from this list reply to this e-mail news@callthecow.com with "remove" in the subject line. If you wish to add someone else to the newsletter, reply to this e-mail with the person's address to be added.