Apocalypse Cow Recording - October
Newsletter - www.callthecow.com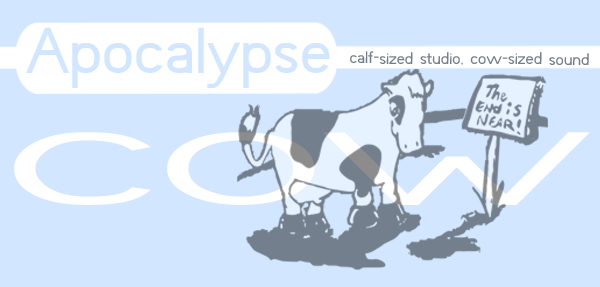 Happy National Vegetarian Month! -



NEWS

---
We have finally joined in the masses and created our very own MySpace page. Yes, I know it's kind of late to be jumping on the bandwagon, but hey, we have one now. Please visit www.myspace.com/callthecow and be our friend!

Our third podcast is up and ready to be played on via your favorite mp3 player, be it an iPod, Creative or just your computer. Check it out on our Bandcast page at www.callthecow.com/RecordingPodcast.htm. This month's featured artists are Gary Landess, Vital Kin, Tub Ring, Greg Boerner, Bluebottle and of course our own Roughly Enforcing Nostalgia.
For the month of October we are happy to put on the Buddy Business Sale. All small business owners and self employed people, in the music industry (or not), can get the special rate of $35/hour or $315/10 hour day. Check out our sale page for more information.
One last month to give your input on a guitar shop questionaire. It's for some friends of ours who will be opening up a new guitar store. It would be great to get everyone's opinion about your favorite gear, it will only take a minute of your time, only 12 short questions. Just go to the Guitar Poll to get there.

WHO'S in the RECORDING STUDIO
---
Gary "karate master" Landess is slicing and dicing his way through his second album. Stomping out beats with his resophonic guitar and laying down some rough and gritty vocals on cover songs such as Rhythmeen and Killing Floor. Although he's handed over bass guitar duties to Kevin "bass in your face" Mayes of Diamond Studios, Gary is still playing drums, guitar (electric and resophonic), harmonica, singing and playing the all important cowbell! You can hear his new tunes on this month's podcast. Also check out his website for more "Gary" news at www.garylandess.com.

Father Pete "master of the rumba beat" Jankowski recorded another Christmas song here at The Cow. Pete came into the studio with lyrics, a melody and song structure for "Christmas Train", and we filled in the rest. The song is a fun upbeat piece written for children and features a catchy "choo-choo" hook. Cow favorite Greg "place on the" Boerner lent his guitar skills to the song while staff singer Dan "the like-able one" Brooks lent his voice. Pete will be producing an album of Christmas songs with a fellow songwriter which will hopefully be ready for this season's Christmas rush.
Rock band Vital Kin has completed final mixes for their album "Desist the Reign." The album mixes rock elements with a more spacey vibe including keyboard and lots of distorted guitar. You can hear one of their songs, It Will Arrive, on our newest podcast. Vital Kin comes from Mount Prospect and is comprised of Joe "trilingual" Bozek and Roger "keep it in check" Bozek.
For more information on any of these artists, contact us at news@callthecow.com


WHAT'S IN THE COW CD PLAYER
---
A new segment in the Cow Newsletter that we might include every once in a while. Here are just a couple albums we have been listening to lately (we tried to narrow it down for space purposes). We, of course, love them all and recommend them highly!
13 & God - "Self-Titled"
The Legendary Pink Dots - "Nemesis Online"
Peter Gabriel - "Melting Face"
Head Automatica - "Popaganda"
Buck 65 - "Secret House Against The World"
Kate Bush - "The Dreaming"
Fantamos - "Suspended Animation"
David Byrne/Brian Eno - "My Life In The Bush of Ghosts"
311 - "Evolver"
Simple Minds - "Empire & Dance"
Skybox - "Arco Iris"
Tuxedomoon - "Holy War"
John Cale - "Hobosapiens"
Sol Hoopii - "Master Of The Hawaiian Guitar Vol 1"
Cut/Copy - "Bright Like Neon Love"
U2 - "Unforgettable Fire"
Regurgitator - "Mish Mash"
Killing Joke - "Hosannahs From The Basement Of Hell"
The Academy Is . . . - "Almost Here"
Squirrel Nut Zippers - "Perennial Favorites"
Brett Michaels - "Songs Of Life"
David Johanssen Story - "From Pumps To Pompadours"
New York Dolls - "One Day It Will Please Us to Remember Even This"
16 Horsepower - "Secret South"
Michael Penn - "Mr Hollywood Jr, 1947"


JOKE OF THE MONTH
---
Q: What painting did the cow artist paint?
A: The Moo-na Lisa

Send in your favorite (clean) cow joke to news@callthecow.com and if we use it we'll link to you.


CONTACT INFO
---
For booking information, new sampler CD, or anything else, contact us at.
record@callthecow.com
www.callthecow.com
(630) 897-9023
For Past Newsletters follow this link

SUBSCRIBER INFO
You are on this mailing list because you have contacted Apocalypse Cow in the past. If you wish to be removed from this list reply to this e-mail news@callthecow.com with "remove" in the subject line. If you wish to add someone else to the newsletter, reply to this e-mail with the person's address to be added.