Apocalypse Cow Recording - November
Newsletter - www.callthecow.com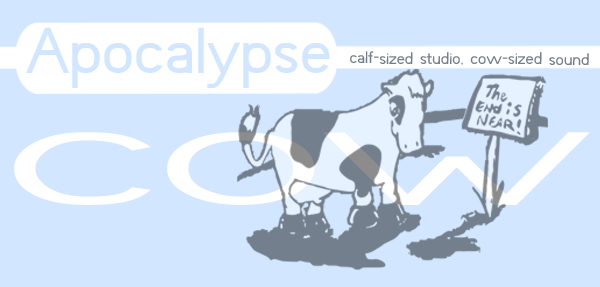 Happy International Drum Month! -



NEWS

---
And we welcome you to yet another issue of the Apocalypse Cow Newsletter. Now that Halloween is officially over I can start talking about "The Holidays". And with the holidays comes nothing other than our own fabulous Cow Bucks! Yes, you too can add this to your Christmas list for all of your family and friends to give to you. Collect as many as you can for any upcoming recording projects you have. Anyone can buy them on our website or give us a call to order them. Remember it can be the gift that keeps on giving.
The next episode of our Bandcast is up and ready for downloading to your iPod (or other mp3 player or computer). Just visit our podcast page to subscribe or download. This month's podcast features a few heavier tunes (and a few not as heavy songs) by: Tub Ring, Roughly Enforcing Nostalgia, Blynded, Kills Thirst and Vital Kin.
Thank you to everyone who filled out our Guitar Poll. Our friends greatly appreciated the input and promise to make a kickin' guitar shop!

GEAR
---
It has been months in the making, but at long last our new headphone amps are up and functional. These are not just any old headphone delivery box, you will now have complete control over your headphone mix. Yes, you heard right, you will get your very own 9 channels to tweak and turn however you like. If you don't want to hear those pesky guitarists or your vocalist makes you cringe, while you're recording you won't have to worry about it (the mix is a different story). Simply create your own mix in your headphones and no one will know the wiser. We're thrilled to have them and it's been working out great, you get to focus more on your performance than having to worry about us create a good mix.

WHO'S in the RECORDING STUDIO
---
Old School Metal band Blynded was in the studio this month to record the first three songs to their album (due out in 2007). Blynded's music is very powerful and brutal and features tons of shredding guitar solos to complement the proclaiming vocal style. Haling from Woodridge to northwest Indiana are members Jaime Davilis (drums/vocals), Paul Kriechbaum (guitar), David Sutko (guitar) and Eric Kiszenia (bass).
Brad Gale came to Apocalypse Cow to record a demo reel for his career in musical theater. Brad has been in many productions including Prison Break as well as the ubiquitous Cats. He has a very strong tenor voice and tons of enthusiasm both while singing and in general. He will most likely make it big in "the biz."
This fall seems to be the season for weddings, at least for us, and also for Ed Hochevar who came in to record a song for his daughter's upcoming wedding. Ed did an arrangement of Daddy's Little Girl (for the father-daughter dance, of course) and spiced it up bit by also playing his Accorgan, an accordian with synth/organ sounds and a drum machine all built into one. In the end he had a complete arrangement (drums, rhythm, melody and vocals) in only one take, how cool is that!
Speaking of the holidays being present, Pete Jankowski put the finishing touches on his latest holiday song "Christmas Train." He will be releasing this song along with others recorded here on a CD soon. He will be collaborating with a fellow Christmas writer and so the CD will surely be a holiday hit!
For more information on any of these artists, contact us at news@callthecow.com



JOKE OF THE MONTH
---
Two cows are sitting in a tree, knitting.
One turns to the other and says, "Did you just see that horse fly by?"
The other cow, who was concentrating on her knitting replies, "Don't talk rubbish, horses can't fly."
A few minutes later, the first cow spots another flying horse, and repeats her question to her friend, whereupon she receives the same reply.
A little while later the sceptical cow spots a horse as well, "I just saw a flying horse!!"
"See, I told you there were horses flying about."
"Oh, there must be a nest close by!!"

Send in your favorite (clean) cow joke to news@callthecow.com and if we use it we'll link to you.


CONTACT INFO
---
For booking information, new sampler CD, or anything else, contact us at.
record@callthecow.com
www.callthecow.com
(630) 897-9023
For Past Newsletters follow this link

SUBSCRIBER INFO
You are on this mailing list because you have contacted Apocalypse Cow in the past. If you wish to be removed from this list reply to this e-mail news@callthecow.com with "remove" in the subject line. If you wish to add someone else to the newsletter, reply to this e-mail with the person's address to be added.