Apocalypse Cow Recording - March
Newsletter - www.callthecow.com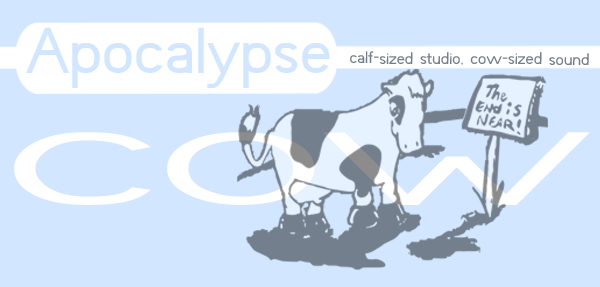 Happy St. Paddy's Day! -



NEWS

---
Welcome to yet another edition of the Apocalypse Cow newsletter. Just when you thought you would be free of us, here we are again. And as always with another exciting month to talk about.
I'm sure some of you noticed our homepage has changed a bit. Simply click on the recording link and it will take you right back to the old familiar website for recording. Soon there will be more information about our producing talents on the website too, but for now that just goes to the main recording site. You can also hear some songs that we've written if you visit our licensing section. Please let us know if you run into any trouble with the site.

GEAR
---
Okay, not extremely exciting for all of you but for us the fact that we now have a laptop setup to record and mix simple songs is exciting for us. No, it doens't mean we can do offsite recording, we like to keep it in the studio. But it does mean we can bring our work home with us now (because 12 hour work days are sometimes just not long enough). Seriously though, we do have one more computer we can get work done on, which is always good. With this new setup came another Line6 Toneport which models amps and mic pres. We're hoping to link the 2 that we have together for some mega good sounding fun!

WHO'S in the RECORDING STUDIO
---
Rock cover band The Sarcastic Saints came in to record this past month. They recorded a few songs to use as a demo for getting many, many gigs. The Sarcastic Saints play everything from REM to Howie Day and everything in between. Currently residing in the Wheaton area are members St. Kevin (vocals), St. James (lead guitar), St. Robert (guitar), St. Thomas (bass) and St. Jeffrey (drums). You can find out more about the band and where they are playing at www.sarcasticsaints.com.

Solo Christian artist Rob Martis came into the studio to record his next album. Rob adds some edge to your standard acoustic/vocal recording with his unique playing style. Songs range from a serene sounding classical piece to tense avant garde buildups. Rob also adds percussion to his pieces by tapping out rhythms while he plays with his hands or fingernails making it sound like he was adding extra parts to his solo performances. Keep your ears open for his inspirational music.

We also did some mixing and mastering for another solo Christian artist this month, Scott Cyphers. Scott recorded the album himself and had us mix a couple of songs and master the album. Scott's music blends acoustic guitar, percussion and vocals, all performed by him. You can find out more about him at www.acoustic-confessions.com.
Queenie is still working on her album with us, but in the meantime she is recording and releasing a live album. She recorded the album at Brookdale Music in Naperville and will have us master it. Visit her website www.queeniemusic.com for more info.
Shelly Tosh of joue joue has now officially released her exercise DVD and CD for toddlers called "Tot's Rock". Shelly came into The Cow with lyrics and melodies and we arranged and recorded the music for the songs. All the songs are geared toward your average toddler and has lots of jumping and clapping. We must admit that we found ourselves distracted while we worked on it because we were busy spinning and touching our toes. To find out more information and to order your own copy visit www.jouejouekids.com.

For more information on any of these artists, contact us at news@callthecow.com



JOKE OF THE MONTH
---
What do you call a cow that can't give milk?

An udder failure.

Send in your favorite (clean) cow joke to news@callthecow.com and if we use it we'll link to you.


CONTACT INFO
---
For booking information, new sampler CD, or anything else, contact us at.
record@callthecow.com
www.callthecow.com
(630) 897-9023
For Past Newsletters follow this link

SUBSCRIBER INFO
You are on this mailing list because you have contacted Apocalypse Cow in the past. If you wish to be removed from this list reply to this e-mail news@callthecow.com with "remove" in the subject line. If you wish to add someone else to the newsletter, reply to this e-mail with the person's address to be added.