Apocalypse Cow Recording - January
Newsletter - www.callthecow.com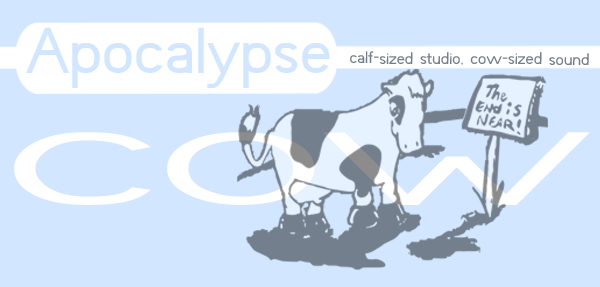 Happy New Year! -



NEWS

---
Welcome to a new year with the fabulous Apocalypse Cow newsletter. It's been quite a year for us here and now we're wrapping up 2005 and ready to do it all again in 2006, only bigger and better this time around.
Just to warn you, pretty soon we'll be making a few minor changes to our website. Most everything will stay the same, except our homepage will have a new look to it and display some more of our services like producing, songwriting and music licensing.

WHO'S in the RECORDING STUDIO
---

Metal band Kills Thirst came to The Cow to record an EP of a few of their hard rock songs. Kills Thirst has a hard metal edge to it, but keeps the melodic elements of rock. Hailing from Aurora are members Joe Breyne (vocals), Zach Taylor (guitar), Pat McCarthy (Bass) and Doodle (drums).

Solo singer Gary Chezem recorded a demo CD of a few a cappella songs. Gary has a strong deep voice perfect for spiritual songs and can hold his own by himself. He is available for weddings and funerals or anything else you would need a singer for.

Rock band The Only Theory finished the mixing on their EP. They are in the process of building a website at www.theonlytheory.com so check it in a while to find out more info.

Singer/songwriter/guitarist Greg Boerner is currently mastering his album "World So Blue" with us. His 3rd album has been in the works for over a year and is now coming to an end. Greg has really taken his music to the next level and experimented with many different recording possibilities to make his album more than just your standard singer/songwriter/foot stomper album. Greg will be releasing the disc at the end of the month with his local release show on January 29th. For more details check out www.gregboerner.com.

Gary Landess is continuing to work on new songs, playing all instruments himself. A studied drummer, Gary also plays guitar, bass and sings on all of his songs. He will be releasing his debut album very soon, you can find out more info at his new website www.garylandess.com.

For more information on any of these artists, contact us at news@callthecow.com



JOKE OF THE MONTH
---
Where do cows go on Saturday nights?
To the Moooooovies!
Submitted by Sara Moss of the Moss and Moss Duo. Check out their business Moss Search, Ltd.

Send in your favorite (clean) cow joke to news@callthecow.com and if we use it we'll link to you.


CONTACT INFO
---
For booking information, new sampler CD, or anything else, contact us at.
record@callthecow.com
www.callthecow.com
(630) 897-9023
For Past Newsletters follow this link

SUBSCRIBER INFO
You are on this mailing list because you have contacted Apocalypse Cow in the past. If you wish to be removed from this list reply to this e-mail news@callthecow.com with "remove" in the subject line. If you wish to add someone else to the newsletter, reply to this e-mail with the person's address to be added.