Apocalypse Cow Recording - February
Newsletter - www.callthecow.com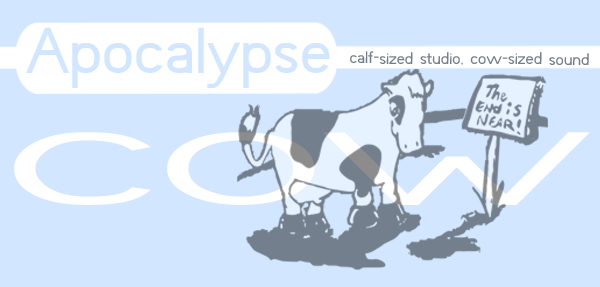 Happy Groundhog's Day! -



NEWS

---
Welcome to the Groundhog's edition of the Apocalypse Cow Newsletter. Sadly it seems that we will have another 6 weeks of winter. What better way to spend the remaining bitter weeks than recording!
Just to warn you in the next few days we'll be making a few minor changes to our website. Most everything will stay the same, except our homepage will have a new look to it and display some more of our services like producing, songwriting and music licensing. Just follow the recording link to find all the same information.

GEAR
---
We recently joined the ranks of being the proud owners of a BC Rich guitar. The black beauty sounds great and adds just the right amount of hard rock magic.

WHO'S in the RECORDING STUDIO
---

Greg Boerner had his CD release party for his 3rd album "World So Blue" at the end of January and played to a jam-packed venue in Geneva. You can still buy his CD on his website or at one of his many gigs. Find out more about Greg at www.gregboerner.com.

Gary Landess also released his new album "Rise of the Multiforms." His debut album is available on his website www.garylandess.com.

New Age artist Queenie is continuing to work on her studio album with us. Check out more about her at www.queeniemusic.com.


For more information on any of these artists, contact us at news@callthecow.com



JOKE OF THE MONTH
---
What do you call cattle with a sense of humor?

Laughing stock.

Send in your favorite (clean) cow joke to news@callthecow.com and if we use it we'll link to you.


CONTACT INFO
---
For booking information, new sampler CD, or anything else, contact us at.
record@callthecow.com
www.callthecow.com
(630) 897-9023
For Past Newsletters follow this link

SUBSCRIBER INFO
You are on this mailing list because you have contacted Apocalypse Cow in the past. If you wish to be removed from this list reply to this e-mail news@callthecow.com with "remove" in the subject line. If you wish to add someone else to the newsletter, reply to this e-mail with the person's address to be added.