Apocalypse Cow Recording - December
Newsletter - www.callthecow.com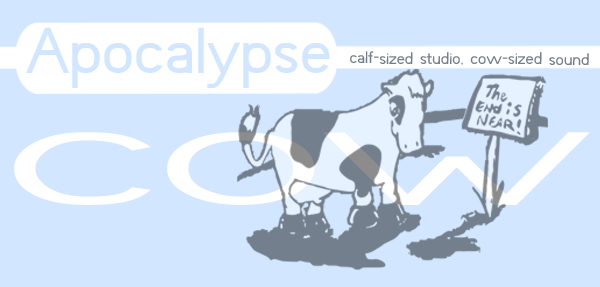 Happy Bingo Month! -



NEWS

---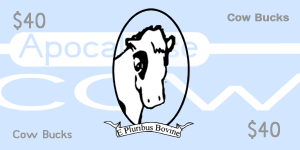 Everyone will be happy to hear about our December Sale. Cow Bucks are discounted at 10% for the entire month of December! So pay only $36 online and get a $40 gift certificate in exchange. Cow Bucks make great presents and stocking stuffers so put them on your list to Santa. And, if you get money for Christmas, you can buy Cow Bucks for your own future recording projects. Shop online now to buy or check out our sale page for more details.
At long last we have an intern here helping us. Everyone, please welcome Chad Bell if you see him here. Chad came to us through our local Oswego High School and is helping us with recording and with the business/marketing end of the studio including getting our MySpace page up and running. He plays trumpet, guitar, drums, bass and can do a pretty mean beat box.
As our Christmas present to all of you we would love to send you all an updated Sampler of music we've recorded. I know it has probably been a while (perhaps years) for some of you since you have heard what we've been doing, and thought you might like to hear what's new, how our sound has changed, new tricks we've learned, etc. Just write or call us with your address and we will happily mail out a new disc with our holiday well wishes.
This month's podcast features Christmas music (naturally). We've recorded quite a few Christmas projects over the years and so we have quite a large array of songs to include. Songs featured in this Christmas episode include Gary Landess, Peter Jankowski, HooHah, Rich and Sarah Moss, Dave Byron and of course the ubiquitous Roughly Enforcing Nostalgia.
WHO'S in the RECORDING STUDIO
---
Lisa Matthews recorded an original song titled "No Relief" which will circle the Nashville circuit. Lisa is a talented singer/songwriter in the Americana vein and is constantly gigging in the Chicago area. No Relief was produced by guitarist Tommy Dziallo who tours with Dennis DeYoung (formerly of Styx). Tommy has also been a session guitarist on countless albums and commercials and currently also works at Victoria Amplifiers. Lisa brought in some other hard hitting session musicians including Kyle Woodring on drums (who also tours with Dennis DeYoung and has played with the likes of George Michael and John Mellencamp). And finally Joe Macicak on bass (who has played with countless bands and sessions including touring with the Ringling Brothers Circus). Be sure to keep your eye out for Lisa Matthews and her music as she will surely become a hit songwriter.
Teenage pop/country star Courtney Jay came to The Cow to re-record vocals for her EP "Missing You." Courtney recorded four country songs in Nashville a couple of years ago and decided to redo them with her updated vocal timbre. She will be performing with Billy Gilman this Thursday, Dec 7th at the Star Plaza Theatre in Merrillville, IN. For more information visit her website at www.courtneyjay.com.
Kismet recorded vocals for a couple new songs of theirs to be produced overseas. Kismet describes themselves as a gospel duo singing R&B harmonies about their faith and unifying the world. Their music ranges from pop dance tunes to traditional Muslim songs all with the unifying theme of ummm... unity. For more information about this act visit their website at www.kismetnasheed.com.
For more information on any of these artists, contact us at news@callthecow.com


WHAT'S IN THE COW CD PLAYER
---
There's so much great music out these days we love to listen to it all (and we suggest you do the same)! Here's a few ideas to get you started.
The Mars Volta - "Frances The Mute"
The Books - "Lost & Safe"
Martha & The Muffins - "Far Away IN Time"
Clouseaux - "Beyond Good & Evil"
Deadbolt - "Zulu Death Mask"
Matmos - "A Chance To Cut Is A Chance To Cure"
Buck 65 - "Secret House Against The World"
Christina Aguilera - "Back To Basics"
Muse - "Black Holes & Revelations"
The Killers - "Sam's Town"
Sam Phillips - "Omnipop"
Minutemen - "Double Nickels On A Dime"
T-Bone Burnett - "The True False Identity"
Charles Mingus - "Blues & Roots"
The Grassy Knoll - "Positive"
Kronos Quartet - "Black Angels"
Dresden Dolls - "Yes Virginia"
Bill Frisell - "Unspeakable"
Telephone - "Au Coeur De La Nuit"
Legendary Pink Dots - "All The King's Horses"
John Denver and the Muppets - "A Christmas Together"
The Beach Boys - "Christmas Album"
Juan Esquivel - "Merry Xmas from the Space-Age Bachelor Pad"

JOKE OF THE MONTH
---
A woman from the city was visiting her sister-in-law, and was taking a
train through the country. Suddenly she noticed some cows.
"What an adorable bunch of cows" she remarked to the person next to her.
"Not a bunch, herd", the person next to her replied.
"Heard of what?"
"Herd of cows."
"Of course I have heard of cows!"
"No, a cow herd."
"What do I care that a cow heard. I have no secrets to keep from a cow!"

Send in your favorite (clean) cow joke to news@callthecow.com and if we use it we'll link to you.


CONTACT INFO
---
For booking information, new sampler CD, or anything else, contact us at.
record@callthecow.com
www.callthecow.com
(630) 897-9023
For Past Newsletters follow this link

SUBSCRIBER INFO
You are on this mailing list because you have contacted Apocalypse Cow in the past. If you wish to be removed from this list reply to this e-mail news@callthecow.com with "remove" in the subject line. If you wish to add someone else to the newsletter, reply to this e-mail with the person's address to be added.