Apocalypse Cow Recording - August
Newsletter - www.callthecow.com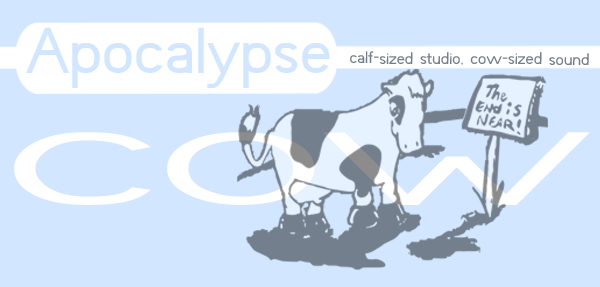 Happy Summer! -



NEWS

---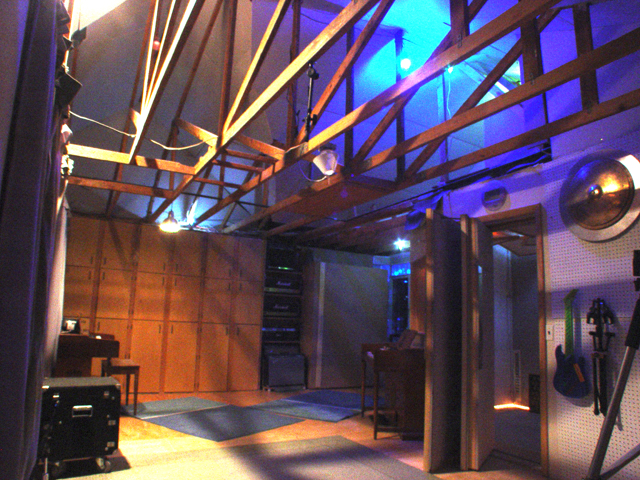 There is so much exciting new stuff for you this month in our newsletter. Be sure to read it all.
First off, we are starting an Apocalypse Cow Podcast (aka "Bandcast") of bands/artists we've recorded at here. We will put out monthly episodes of any new music we've recorded and also pull some songs from the archives as well for almost an hour of good, clean fun (okay, it might not always be clean). To subscribe via iTunes follow the purple iTunes link

iTunes. If you have your own favorite RSS reader click on the orange button

RSS Feed . And if you don't know what I'm talking about follow this link to find out more about Podcasts and how to get free music automatically downloaded to your computer, iPod or mp3 player.
I'm sure by now you noticed the fabulous picture of the progress made to the live room...There is still a lot of work left to be done but you get an idea as to the new improved ceiling spaciousness. And yes, it sounds as good as it looks too! Because the construction is still going on, so is the sale! Through the end of August we will continue doing $35/hour or $315/10 hour day. But hurry up and book because August is filling up fast. For more information (and more pictures) check out our sale page.
We also have a special poll for everyone to fill out this month. It's for some friends of ours who will be opening up a new guitar store. It would be great to get everyone's opinion about your favorite gear, it will only take a minute of your time, only 12 short questions. Just go to the Guitar Poll to get there.

GEAR
---
We can now officially rock out to the max with our new addition to the guitar family: a B.C. Rich Warlock (complete with coffin case of course). It also boasts some pretty sweet Zakk Wylde pickups and is cranking loud. It has incredible action so you can really take your solos to the max. Great stuff!
And on the computer front we have a new audio card, the M-Audio Fast Track Pro, so we can build another computer dedicated solely to our Gigasampler and have fun with all the great, realistic sounds it gets for composing songs.

WHO'S in the RECORDING STUDIO
---
Hailing from Chicago, Fair Herald came in to record six songs for their upcoming EP to be released soon. Blending a penchant for No Depression instrumentation & the willful experimentation of local heroes Wilco, the boys in Fair Herald have a grasp of songwriting that belies their age. Featuring Dave Brankin on drums, Sean Bacastow on bass & crazy flipsville FX, Mike Kuntz on guitar & vocals & Jimmy Bloniarz on virtuoso one-take piano wizardry (& fabulous recitation of Rudyard Kipling poetry), we expect to hear many great things from these friendly fellas in the coming years. See www.fairherald.com for more on all that good stuff. Also check them out in our podcast.
Altgeld Forgotten (emerging from the murky depths of Orefisaurus) is an extremely-high energy old skool punk act that combines the go-for-broke hijinks of The Decendants with the moral conscience of Bad Religion. Heady political ideas rub shoulders smoothly with clever, tongue-in-cheek rhymes, while keeping up a breakneck pace at all times. Plus, it was tons o' fun to hear what these guys had been up to since the salad years of Orefisaurus, & I must say their musical chops & conversational genius did not dissapoint. New rhythm guitarist Luke Staszak joins Lou "Hot Hands" Dagostino on the bass, "Crazy" Jon Ross on lead guitar, & Steven "Steve" Healy on drums. Go to www.nocoastpunkrock.com to get your punk on! Also check them out in our podcast.

The Chateau Teafort trio came back to the studio to record Phoenix Rising, the follow-up to last year's double album also recorded at The Cow. Chateau Teafort is originally an A Capella group singing original renaissance sounding music. They have since stretched their proverbial wings and inlcuded instruments in this album, such as the harp, guitar, glass flute, penny whistle, doumbek and bodhran. The 19 songs on this album are simply splendid and keep the listener on his toes. Coming all the way from Brownsburg, Indiana are members Katherine Kibellus, George Reed II, and George Reed III. Look for their album coming out soon on Amazon.
Voice-over thesbian Bil Orland recently stopped by to record a new demo reel here at The Cow. Blessed with an incredibly deep, radio-ready baritone, Bill has the makings of a voice-over success story, as well as excellent taste in post-punk & prog music. (Dude came in wearing an awesome vintage "Elvis & The Attractions" shirt!) Expect to hear Bill on your favorite radio spot sometime soon, but check him out now so you can say you knew him when.
Speaking of knowing somebody from way back when, Logan Nolin, the next American Idol, came by as well to record some tunes that ran the rather large gamut from Josh Groban to A Simple Plan. Logan has an uncommonly clear timbe to his voice which is a real joy to listen to, & we're just sure that it's take him far indeed. His website www.logannolin.com is still under construction but should be up soon.
Vital Kin finished the mixes for their long-in-the-making concept album, "Desist The Reign", & we must say that the finished product is sounding quite good. Vital Kin is a New Wave/Prog-influenced power trio out of Mt. Prospect that boasts an inventive sense of instrumentation, crossing lush pads with strains of distorted lead guitar pyrotechnics (or is it pyrotechnix?) for a sound that is indubitably all their own. Featuring twin brothers Roger & Joe Bozek & Chris "Don't Make Me Hit You With My Jesus Stick" Pluska, Vital Kin will rock you like a steamer train! Also check them out in our podcast.
Queenie continues working on material for upcoming full-on studio album, as well as releasing a new live CD entitled "Untouched" available to own on her website. Queenie has an ethereal New Age sensibility that echoes the best work of Kate Bush & Happy Rhodes while clearly marking out it's own musical niche. Hailing from Lisle, Queenie mastermind Kim Steele (kick-ass last name, by the way) splits her time between ambient vocal compositions, writing historical/supernatural novels & teaching piano, therefore raising the entire intellectual/musical level in this area, so we all owe her a debt of gratitude for that as well! Check out www.queeniemusic.com for info on all her many amazing pursuits.
For more information on any of these artists, contact us at news@callthecow.com



JOKE OF THE MONTH
---
Q: What are cows favorite subjects in school?

A: Cowculus, Psycowlogy, & Thermoodynamics

Send in your favorite (clean) cow joke to news@callthecow.com and if we use it we'll link to you.


CONTACT INFO
---
For booking information, new sampler CD, or anything else, contact us at.
record@callthecow.com
www.callthecow.com
(630) 897-9023
For Past Newsletters follow this link

SUBSCRIBER INFO
You are on this mailing list because you have contacted Apocalypse Cow in the past. If you wish to be removed from this list reply to this e-mail news@callthecow.com with "remove" in the subject line. If you wish to add someone else to the newsletter, reply to this e-mail with the person's address to be added.