Apocalypse Cow Recording - November
Newsletter - www.callthecow.com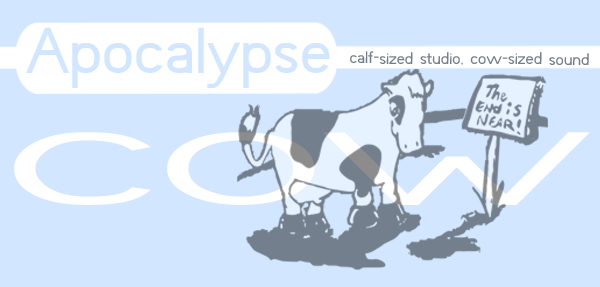 Happy Thanksgiving! -



NEWS

---
Hope everyone is gearing up for the holidays like we are. We've been working on some projects around here, including a Christmas project, and building new computers. Read on for more and don't forget to fill out our poll on our homepage.
Thanks to everyone who filled out our mp3 poll last month. It was very informative to find out about all the different players available. For those of you interested in the results, 55% of you who submitted own some sort of mp3 player. Of those people the most common size to own is 20GB and people listen to their music an hour to several hours a day on average. Some of the most common features were a small size, shuffle capability, an easy interface and that it supports .wav files.
Now for this month's poll: What genres of music do you listen to? You get to check all genres that you like.
Be sure to check out our homepage to cast your votes!
NEW GEAR
---
Studio Moo (aka Mixing Room B) recently got outfitted with a brand new Liquid Cooled computer. This computer is not only super quiet but boasts a dual core AMD processor for faster speeds. It's fun...yet so silent!

WHO'S in the RECORDING STUDIO
---
Rock band The Only Theory came in to track 3 songs for their latest demo. The best way to describe The Only Theory is that they play rock with a groove and an attitude. The band lives near St. Charles and includes members Zeke Sunleaf(drums), Rob McCormack (guitar/vocals), Edwin Soto (guitar) and new member Steve (bass).
Richard and Sara Moss of Downers Grove have begun work on a Christmas album. The couple have performed these songs at their local Church and school assemblies for many years and have finally decided to record their songs. Sara sings and plays flute while Richard accompanies on guitar with a Michael Hedges style. The songs are Christmas-y and traditional, yet the two bring their own touch and give them some attitude.

We recently did some mastering work for singer/songwriter/guitarist Pete Kruse. His album "Not That Far" is a heartfelt blend of his experiences with God, girls, family and friends. You can find out more about him at www.petekruse.com.
Greg Boerner is successfully progressing on his latest album with us. He has spent the last year recording this album and the songs grow with each session. Start keeping your eyes open for when his release will be...released. In the meantime check him out live in action, find his schedule (and more) at www.gregboerner.com.

For more information on any of these artists, contact us at news@callthecow.com



JOKE OF THE MONTH
---
If all cows in Britain are destroyed because of mad cow disease, will it be known as the "The herd that was shot around the world"?

Send in your favorite (clean) cow joke to news@callthecow.com and if we use it we'll link to you.


CONTACT INFO
---
For booking information, new sampler CD, or anything else, contact us at.
record@callthecow.com
www.callthecow.com
(630) 897-9023
For Past Newsletters follow this link

SUBSCRIBER INFO
You are on this mailing list because you have contacted Apocalypse Cow in the past. If you wish to be removed from this list reply to this e-mail news@callthecow.com with "remove" in the subject line. If you wish to add someone else to the newsletter, reply to this e-mail with the person's address to be added.