Apocalypse Cow Recording - May
Newsletter - www.callthecow.com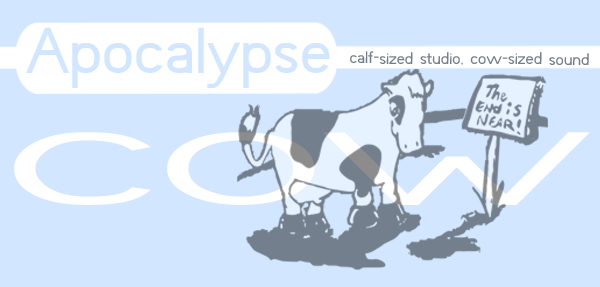 Happy Cinco De Mayo! -



NEWS

---
It's official…we are going to be remodeling very soon. There will be an all-over make-over of the live room and minor improvements in the control room. I won't go into details, but I'll just say things will look and sound different, including the drum/vocal booth being moved. We have no specific date set for the remodel, but will of course let you know when we set the schedule. And of course we'll invite everyone over when it's all done.
And for this month's poll:

What's your definition of "making it"?
-Bar shows on the weekend
-Selling almost 1000 CDs
-Signed to an indie label
-Signed to a major label
-Owning a gold plated toothbrush

Remember to visit our homepage to cast your vote!
The results from last month's poll are in. The questions: "What type of atmosphere do you prefer for recording?" and "What lighting do you prefer?" The results came back inconclusive, but it does seem that people would prefer the lighting to be moody and atmospheric.


NEW GEAR
---
We now own a TC-Helion Voiceworks. This piece of outboard gear will auto-tune your vocals on the spot as well as add harmonies and doubles. It's great if you want to add a full chorus behind your vocals without performing a zillion times. You can get sounds ranging from a gospel choir to a barbershop quartet and everything or nothing in between.


WHO'S in the RECORDING STUDIO
---
Bluebottle has finished tracking for their album "Bet it all on Red" due out at the end of July. They brought in Matt Irie from the Cougars to belt out a guest vocal appearance for one song. Be sure to check out Bluebottle's website at www.blue-bottle.net for more info.
Greg Boerner has been in working on songs for his upcoming album. He's also busy performing all over the place, playing venues all the way to Minnesota. Find out when he's playing near you at www.gregboerner.com.
Gary Landess is finishing up songs for his album. He recently worked on his song "Illinois Cowboy," a very get-a-long, cowboy-ish sounding tune.


For more information on any of these artists, contact us at news@callthecow.com



JOKE OF THE MONTH
---
If a plane were to fly over and drop a small bomb in a field and
that bomb did not explode but a bull wandered over and swallowed
the bomb -- can you provide a single word to describe the scene?
A bomb in a bull.

Send in your favorite (clean) cow joke to news@callthecow.com and if we use it we'll link to you.


CONTACT INFO
---
For booking information, new sampler CD, or anything else, contact us at.
record@callthecow.com
www.callthecow.com
(630) 897-9023
For Past Newsletters follow this link

SUBSCRIBER INFO
You are on this mailing list because you have contacted Apocalypse Cow in the past. If you wish to be removed from this list reply to this e-mail news@callthecow.com with "remove" in the subject line. If you wish to add someone else to the newsletter, reply to this e-mail with the person's address to be added.