Apocalypse Cow Recording - February
Newsletter - www.callthecow.com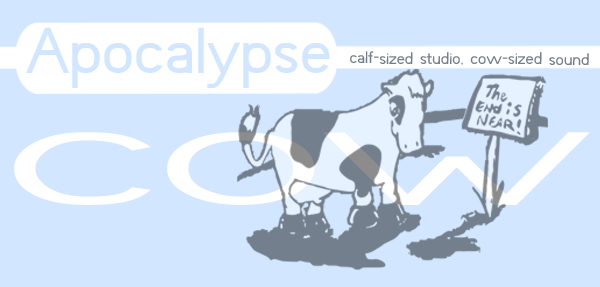 Happy Groundhog's Day! -



NEWS

---
It's been a fun and exciting month here at The Cow. Our print newsletter has been mailed out, so if you didn't get a copy be sure to send us your snail mail address and we'll get one out to you right away. It's has an article about getting more traffic to your website, talks about our featured artists, has a year-end wrap-up, and of course the 5 tips for recording at The Cow.
Thanks to everyone who filled out our first poll to make it a success. The poll results from last month are in, and the all around top voted album of 2004 was Brian Wilson's "Smile". Other runner-ups included Head Automatica's "Decadence", Nelly McKay's "Get Away From Me", Green Day's "American Idiot" and Travis Morrison's "Travistan."
And now for this month's poll:
"A rule of thumb major labels have is that new artists need to sound 98% like everything on the radio and only 2% different. We'd like to hear your perspective on this statement. For your own music, how similar do you want to sound to your idols or reference discs?"
Just go to our home page to give us your opinion and tune in next month for some of the results.


NEW GEAR
---
We have a new set of speakers for Studio Moo, the Mackie HR824. These speakers sound great and will help us get even better mixes of your songs.
We've also added a couple of new microphones to our collection, a matched pair of HM-1's made by KEL Audio. These are great for stereo micing and produce a nice rich tone.


WHO'S in the RECORDING STUDIO
---
Solo artist Mike Jeffery began recording songs for his debut album. Mike plays guitar and sings and has a primarily acoustic sound that's augmented by John Contino from New York on electric guitar. Keep your ears open for this up and coming artist.
Mixing for Emerging From Van Doors has been completed and the album "These Words Are Bullets" is being printed. You can find out more about it at www.emergingfromvandoors.net.
Greg Boerner is working on songs for his 3rd album. He's been doing a lot of experimentation to really make the album cuts something special. Check out more about Greg and his foot stompin' at www.gregboerner.com.
Gary Landess is knocking out songs for his album which will feature a mix between acoustic ballads and hard rock tunes (not at the same time . . . yet).
We've been working hard on mixes for The Ending. Make sure to check them out at www.the-ending.com and learn all about their rock n' roll antics.


For more information on any of these artists, contact us at news@callthecow.com



JOKE OF THE MONTH
---
What do you call a cow with only two legs?
Lean Beef

What do u call a cow with no legs?
Ground Beef
Submitted by Matt Richter from Angelfire. Check out the thrash/black metal band at www.angelfirerocks.tk
Send in your favorite (clean) cow joke to news@callthecow.com and if we use it we'll link to you.


CONTACT INFO
---
For booking information, new sampler CD, or anything else, contact us at.
record@callthecow.com
www.callthecow.com
(630) 897-9023
For Past Newsletters follow this link

SUBSCRIBER INFO
You are on this mailing list because you have contacted Apocalypse Cow in the past. If you wish to be removed from this list reply to this e-mail news@callthecow.com with "remove" in the subject line. If you wish to add someone else to the newsletter, reply to this e-mail with the person's address to be added.