Apocalypse Cow Recording - December
Newsletter - www.callthecow.com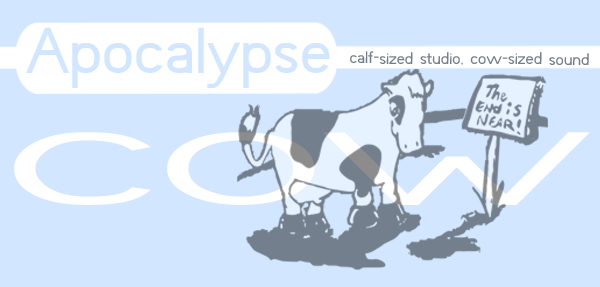 Happy Holidays! -



NEWS

---
Welcome to yet another newsletter from Apocalypse Cow Productions. We've had a busy month here and are gearing up for another busy one.
And now the results from last month's poll. The question was what genres of music do you listen to? (Check all that apply). Of the choices given and the results received we found that the average person listens to about 8 different genres. The most popular genre was Rock with 78% of you saying you listen to it. Coming in 2nd place was Jazz at 63% and 3rd place was Indie Rock at 47%.
This month's poll is very appropriate for this holiday season. "What CD do you most want for Christmas (or Hanukah or etc.)?"
Be sure to check out our homepage to cast your votes!
NEW GEAR
---
We recently added to our collection the Line 6 Toneport UX2. This is a microphone/guitar preamp that plugs directly into the computer via USB cable. And in true Line 6 style it comes with oodles of oodles of models for guitars, effects, mic pres and yes, it even allows you to change the theoretical microphone placement on the guitar amps. It is all controlled by software that gives you the ability to do all your tweaks.

WHO'S in the RECORDING STUDIO
---
R&B group Onisty came to The Cow to record vocals for their song "Bring it on Back". The trio had their producer in New York create the beats to their melody and lyrics, then the vocals were all recorded here. Inspired by Destiny's Child Onisty blends lots of harmonies and even raps during sections. Keep your ears open for this brand new group.
Country songwriter Scott Eversoll came in to record a demo song to shop to artists. Scott has been a writer for many years and writes his songs on his acoustic guitar and sings in his deep country voice. Keep your eyes on the liner notes to hear more from him.

Richard and Sara Moss finished their Christmas album. Featuring acoustic guitar, flute and vocals the album is a nice collection of spiritual songs.

Greg Boerner is in the final stages of his 3rd album "World So Blue". Most recently he brought in a couple of session players for some finishing touches: Mark Ott on drums and percussion and Leon Dubose on Organ and backup vocals. Keep checking www.gregboerner.com to find out when the anticipated release date will be.

Gary Landess made a Christmas CD of his acoustic guitar versions of Joy to the World. He recorded a serene classical guitar style version and an upbeat rockin' version. Gary is handing out the Christmas CD in advance of his debut album "Rise of the Multiforms". And even better news, he now has a website (still in the construction phase) at www.garylandess.com.
For more information on any of these artists, contact us at news@callthecow.com



JOKE OF THE MONTH
---
What happened when the cow jumped over the barbed wire fence?
It was an udder catastrophe!

Send in your favorite (clean) cow joke to news@callthecow.com and if we use it we'll link to you.


CONTACT INFO
---
For booking information, new sampler CD, or anything else, contact us at.
record@callthecow.com
www.callthecow.com
(630) 897-9023
For Past Newsletters follow this link

SUBSCRIBER INFO
You are on this mailing list because you have contacted Apocalypse Cow in the past. If you wish to be removed from this list reply to this e-mail news@callthecow.com with "remove" in the subject line. If you wish to add someone else to the newsletter, reply to this e-mail with the person's address to be added.