Apocalypse Cow Recording - August
Newsletter - www.callthecow.com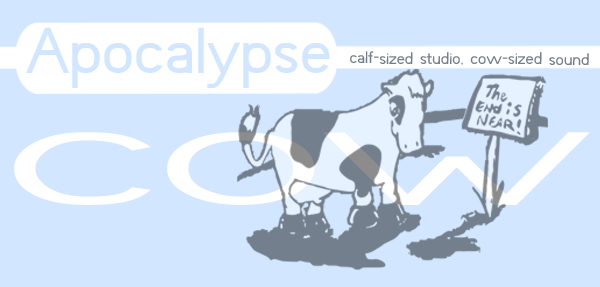 Happy American Artist Appreciation Month! -



NEWS

---
Welcome to yet another newsletter from Apocalypse Cow. We're getting ready to put out our summer print newsletter. It will feature an article from Mastermind Productions about mastering. To be sure you get your copy sign up for the newsletter.
And we have another poll up on our homepage. This month's question is a multi-parter about songwriting, including such stimulating questions as:
1. How long does it take you to write a song?
2. If you're in a band, how many people write the songs?
3. When you write songs with other people, do you write them separately or together?
Be sure to check out our homepage to cast your votes!

NEW GEAR
---
We now have an 88 key fully weighted keyboard. The Alesis QS8 has great action and we will use it mostly as a controller for our Gigasampler. This combination will get a great, realistic sounding piano without us having to store an actual grand piano.


WHO'S in the RECORDING STUDIO
---
The band Ta Ve Ta was in to track songs for their debut album. Blending progressive rock and experimental avant garde music, Ta Ve Ta plays a music that's all their own. Starting with their non-standard instrumentation and continuing with their non-standard songs, they really push the envelope with their style. Ta Ve Ta comes from the Wilmette area and includes members Paul Henepstead (drums/percussion, balalaika), Trevin VanDyke (guitar, electrosquirrel), Drew Scheyer (cello, bass, guitar) Spencer Howland (turntables, groovebox, clarinet, recorder, spoons and harmonium) and Erin Coleman (violin, second toe player).
Rock band MFDVR came in to record a short EP. The best way to describe MFDVR is that they play rock. They blend punk, blues, old metal and new metal and make their own style. Members include Luke Austin (drums), Harold Cohooy (rhythm guitar) and Matt Payer (lead guitar and bass).
The kid's exercise music for joue joue is coming along great. The vocals for the songs will be be laid down soon, as well as a group of kids coming in to sing some backups for the songs. All the songs are getting that special Cow treatment in the most upbeat manner possible to get those Toddlers dancing!
Longtime Cow artist Greg Boerner is continuing work on his album. He's getting more songs done each month and is starting to really get a good collection ready for his album. Find out more about him at www.gregboerner.com.
Gary Landess is coming in to record more songs that may be added to his album if time permits. Gary has a lot of songs in many different genres and plays everything himself. We'll let you know when his album is released.



For more information on any of these artists, contact us at news@callthecow.com



JOKE OF THE MONTH
---
What's the difference between an angry crowd and a cow with a
sore throat?
One boos madly, and the other moos badly.

Send in your favorite (clean) cow joke to news@callthecow.com and if we use it we'll link to you.


CONTACT INFO
---
For booking information, new sampler CD, or anything else, contact us at.
record@callthecow.com
www.callthecow.com
(630) 897-9023
For Past Newsletters follow this link

SUBSCRIBER INFO
You are on this mailing list because you have contacted Apocalypse Cow in the past. If you wish to be removed from this list reply to this e-mail news@callthecow.com with "remove" in the subject line. If you wish to add someone else to the newsletter, reply to this e-mail with the person's address to be added.