Apocalypse Cow Recording - April
Newsletter - www.callthecow.com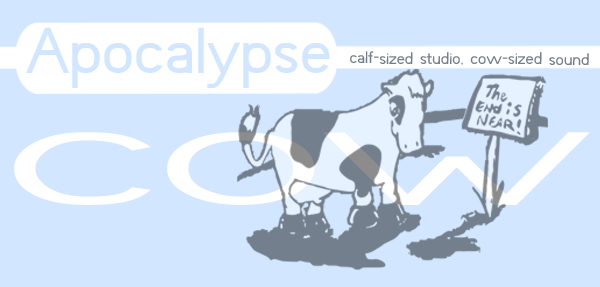 Happy Spring! -



NEWS

---
We're so happy to see that spring has finally made it here. It's brought some good gear with it as well as some fun bands.
The results from March's Poll are in.
The Question: "How many of you would rather be working as a full time musician than at your current full-time job?"
The Results: A whopping 86% of you would rather have music be your full-time gig. If any of you needed that extra push, this is it. So now go out and live that dream!
Now for April's Poll which is a two part question:
What atmosphere or look do you prefer for the studio that you record in?
Industrial (Think metal, think geometric)
Otherworldly (Close Encounters Mothership)
Medicinal (I wonder if those lab coats are real?)
Woodsy (Oak everything, even oak antlers)
Homey (Overstuffed plaid couches and the perpetual smell of fresh cookies)
Stark (Only straight lines and primary colors)
Kitshcy (Fill every wall and corner with everything possible)
Alpaca Themed (Alpaca portraits throughout the studio and perhaps an alpaca mascot)
Other (Please describe)
And the second part of the question: What lighting environment do you most enjoy for recording?
Bright and sun-filled
Dimmer lights and moody
Colorful and atmospheric
Remember to visit our homepage to cast your vote!


NEW GEAR
---
We added some new mic pres to our family. We now have 4 API's, 2 Neve's and 2 John Hardy mic pres for a total of 8 splendiforous channels. You wouldn't believe it, but they really make everything sound better!
We recently got a variety pack of microphones. Lots of dynamic mics great for drums and electric guitar. The pack included a Sennheiser 421, a couple of 609's, an Audio Technica 4051A, a couple of Global Audio GXL 2400 small condensers, a Shure beta 52, a Shure beta 91and a plethora of those staple Shure 57's and 58's. Enough to keep us happy, at least for a little while.


WHO'S in the RECORDING STUDIO
---
We have been working on a new band that has yet to be named or announced in public. Two members from two different Cow bands have formed to become this new group. We'll keep you posted on the grand revealing.
We recorded a couple of tracks for a benefit CD for the Missouri Children's Hospital. Four young girls came in and recorded vocals for the CD which will be finished in Missouri. The CD will feature songs ranging from Bluegrass to Halloween songs.
Adi Akkapeddi came in again to sing his Indian songs. This young artist sings in English, national Indian and in his parents local Indian tongue. He is planning a trip to India this summer where he's hoping to make it onto the Indian Idol television show (yes, it's just like American Idol but for India). If you're into the fun, highly orchestrated Indian music, you'll like Adi.
Bluebottle is tracking for their upcoming album "Bet it all on Red." Bluebottle is working hard to make this a great release that will get them on "the charts." Keep your ears open and your eyes peeled for the Bluebottle release coming soon on www.blue-bottle.net.
Greg Boerner has made it back in to continue work on his 3rd album. Greg's mainly acoustic/vocal songs range everywhere from somber love ballads to humorous sing-alongs. Find out more about him, like where you can see him play, at www.gregboerner.com
Gary Landess stumbled our way this past month to keep finishing songs for his album. Gary has written and recorded a plethora of songs in the last year and a half and now he's really digging in to get an album finished.

For more information on any of these artists, contact us at news@callthecow.com



JOKE OF THE MONTH
---
What record label signs the most singing cows?
Moo-town!
Send in your favorite (clean) cow joke to news@callthecow.com and if we use it we'll link to you.


CONTACT INFO
---
For booking information, new sampler CD, or anything else, contact us at.
record@callthecow.com
www.callthecow.com
(630) 897-9023
For Past Newsletters follow this link

SUBSCRIBER INFO
You are on this mailing list because you have contacted Apocalypse Cow in the past. If you wish to be removed from this list reply to this e-mail news@callthecow.com with "remove" in the subject line. If you wish to add someone else to the newsletter, reply to this e-mail with the person's address to be added.