Apocalypse Cow Recording - Special Bulletin
- www.callthecow.com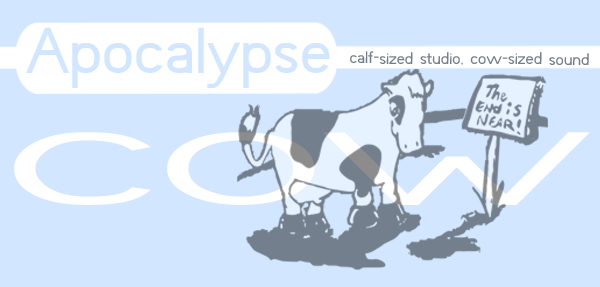 Special Bulletin! -


The long-awaited Tub Ring album "Zoo Hypothesis" recorded by Apocalypse Cow has been released. We're all very proud of the album and all efforts put into it by everyone. Please support the band by buying the album at any music store such as Tower, Amazon, Barnes and Noble, Best Buy and of course on their website at www.tubring.com. To find out more about the release read on...
FOR IMMEDIATE RELEASE

Apocalypse Cow Recording recently finished producing Tub Ring's latest album, Zoo Hypothesis, their third release on Underground Inc/Invisible Records (Meg Lee Chin, TRS-80). Tub Ring's album jumps around about as much as their keyboardist in concert. For example, Zoo Hypothesis starts out with the off-kilter piano accompaniment and crooning vocal line of "Tiny, Little", only to be obliterated by the tough-as-nails unison power chords of "Death Of The Robot", which is then enveloped by the warmth of orchestrated violins starting off "The Promise Keeper". Up until this most recent album, the band's claim to fame was their high-energy live shows where the keyboardist leaps on his keys, the bass player flails maniacally about, and onstage injuries are so numerous that they merit an "Injuries" photo gallery on their website.
Apocalypse Cow was charged with the task of transferring that live enthusiasm to record, and their onstage fervor is mirrored by the brazen creativity and orchestral arrangements of Zoo Hypothesis. Able to go beyond the restrictions of mere live show sonics, Zoo Hypothesis utilizes everything within their power to inject the same vibrancy into the songs. Tub Ring drafted a variety of musicians to play violin, bassoon, trumpet and bari sax, and also included a cornucopia of melloflute, vibes, xylophones, and glocks to further enrich their schizophrenic rock and keyboard sound.
Tub Ring's collaborative spirit was a perfect fit for Apocalypse Cow Recordings' experimental, "see-what-sticks-to-the-wall" mentality. Originally recording 23 songs at the studio over the course of a year and a half, Tub Ring eventually whittled the album down to 15 tracks, while throughout the year The Cow was mixing the songs and adding their own special flavor of production: sampling, programming, extra instrumentation, mixing perfection, and even doing re-creations of the songs. In some cases, Tub Ring would record a song, go on tour, and later come back to hear that song sounding very different, with even extra bridges, intros, extended sections and various genre-transformations thrown in.
In a sense, Tub Ring's songs were put in Apocalypse Cow's proverbial snow globe to be shook thoroughly and left to settle as whole new creations. Most of the production ideas that The Cow added were done by utilizing sampling. The Cow would take snippets from other songs (usually songs that thematically fit in with singer Kevin Gibson's witty, literate lyrics), and then manipulated the samples until they were unrecognizable but now musically gelled perfectly into the song. In essence, this technique creates a whole new set of instruments for the song by using other recorded songs. The song "The Night Watch" was something The Cow actually wrote for the album (it was originally intended to be just a segue track), and exclusively uses samples as the soundtrack. All the samples were taken from "Heaven's Gate-topiced" songs to fit the otherworldly theme of the album.
Apocalypse Cow sampled not only from outside sources, but sampled the band itself as well. "The Promise Keeper", for instance, ends with the vocalist "singing" the sonic equivalent of a ransom note: The vocal line ----- "If I were wise I'd see a trend" (a quote from their previous album Fermi Paradox) ----- was pieced together and pitch-shifted syllable by syllable from other songs to create a whole new vocal performance the singer had never sang. There are also entire sections of songs created by The Cow without ever having a single person perform on it as such. In the song "Alexander In Charge", the bridge, which features a large brass section, was pieced together from previous performances and scores of samples. The many collaged elements seem disparate upon first listen, but gradually a grand design of linked pop culture bits emerges, echoing Gibson's own puzzle aesthetic.
The producers at Apocalypse Cow, the Brothers Brooks, have been sampling for years with their own band Roughly Enforcing Nostalgia (www.roughly.net), doing hybrid mash-ups well before there was a term for it. Influenced by the plunderphonic methods of John Oswald, Evolution Control Committee, and Mario Caldato Jr., Roughly's music is created almost entirely of samples with very little actual performing (except for the highly intellectual lyrics). Seeing as how The Cow takes up the majority of the brothers' time these days, a lot of Roughly's musical ideas will sneak into other artists' music, as is evident in Zoo Hypothesis.
Apocalypse Cow also prides themselves on using their own home-made gear: Everything from their Iso-Multiplexor guitar splitter, drum mics, guitar pedals and headphone amps (all with discrete electronics, of course) to their couch, chairs, and Amp Vault. They have even started their own brand of gear, FBG, that they sell on their website along with their homegrown lunchbox amp and embroidered t-shirts.
Zoo Hypothesis was recorded digitally on The Cow's "fire-breathing mega-computer" using Sonar, Acid, Beat Quantizer, Drumagog and Gigasampler (among others), as are all releases done at Apocalypse Cow. The Cow is located in beautiful Boulder Hill, IL, 35 miles west of Chicago and, for the past five years, has taken over the childhood home of owners Jeffrey and Dan Jeremy Brooks. Along with Jeffrey's wife, Theresa, the three find time to run a recording studio while not playing frisbee. You can find more information about Apocalypse Cow Recording at www.callthecow.com.
Tub Ring is made up of Chicagoland natives Kevin Gibson (vocals), Rob Kleiner (keyboards), Jason Fields (bass), Shawn Sprinkel (guitar) and James Cole (drums), playing 200+ gigs a year. More information on Tub Ring can be found at www.tubring.com.

###


CONTACT INFO
---
For booking information, new sampler CD, or anything else, contact us at.
record@callthecow.com
www.callthecow.com
(630) 897-9023
For Past Newsletters follow this link

SUBSCRIBER INFO
You are on this mailing list because you have contacted Apocalypse Cow in the past. If you wish to be removed from this list reply to this e-mail news@callthecow.com with "remove" in the subject line. If you wish to add someone else to the newsletter, reply to this e-mail with the person's address to be added.