Apocalypse Cow Recording - October
Newsletter - www.callthecow.com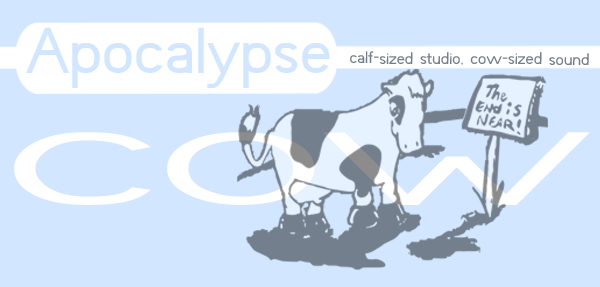 Happy Autumn! -



NEWS

---
It's been a while and a lot has happened here at The Cow. We've been working on some great music lately and have gotten a bunch of new gear, including some great tube microphones and the new version of Sonar.
Cow recording artists Tub Ring have been very successful with the release of their new album, Zoo Hypothesis. They've hit #65 on the CMJ charts (College Music Journal - or - what the college stations are playing) and in the first week of their ad campaign were #17 most added. Be sure to buy the album to hear what all the buzz is about and request their lead single, "The Promise Keeper", on radio stations!


NEW GEAR
---
We just received the brand new version of our recording software, Sonar 4, made by Cakewalk. This new version boasts a bunch of new features that have already become invaluable for our mixing and recording. Just a couple of our favorite new features include multi-clip slip edits, which will allow us to make edits to several tracks at the same time. Also, the new ability to freeze tracks has been great. By freezing tracks, we can temporarily lock effects and edits to use less processing power, meaning our computer will more easily keep up with how hard we want to push it.
Our latest behemoth piece of gear is the SE Gemini microphone. This large diaphragm mic features two tubes inside to give it that warm, smooth sound. Great for micing just about anything, and we've been using this big guy for vocals or room mic and getting great results.
We've also been using our new SE Z5600A microphone. This mic has just a single tube inside, but has a variable pickup pattern allowing us to use it for just about anything. It has a great clear tone making it superb for vocals.
Another SE item we now have is the TB101 Tube Pre-amp. The pre sounds great wired into our board and really warms up the recordings.
And last but not least, even more SE gear, a matched pair of the SE2 small condenser mics. These little brutes make a great stereo pair for micing drums and any other stereo applications we have.

WHO'S in the RECORDING STUDIO
---
Chicago band Analog Radio is recording their newest EP with us. Analog Radio combines the best of 60's pop, early 80's power pop and 90's indie-rock all rolled into one helluva rock act, with great poppy guitar tones, layers of harmonies and background vocals. Analog Radio has been a regular feature on XRT's Local Anesthetic Capsule, and includes members Brian Royer (guitar/keyboards/vocals), Dann Morr (bass/vocals), Mike Madzinski (drums) and Donnie Briggs (lead guitar). You can find out more about them at www.analogradio.com.
Metal band Angel Fire came into the studio to record their first EP. Angel Fire is a black metal band with big, tough sounding guitars and intricate rhythms. Coming from Elmhurst are members Nico (guitar), Chris Quaglia (bass), Dan Koehler (drums) and Matt Richter (guitar/vox). Be sure to check out their website at www.angelfireband.cjb.net.
Making the trip all the way from St. Paul, MN, HooHah spent a week or two just recording whatever came to mind (which turned out to be quite a bit, incidentally). With a main love of blues and punk (like The Clash), HooHah's music creates something of a mix between the best of both worlds, and with a little mix of Tom Waits on top. To hear his music, check out his Acid Planet site.
Rob Kleiner is working on another solo project, tentatively called Dr. Sleep. His songs pack that special punch of pop appeal with idiosyncratic arrangements. Rob brought in Sara Sleeper (vocals, cool last name), Dave Smith (bari sax), Matt Phelan (violin) and Tub Ring bandmates James Cole (drums) and Kevin Gibson (backing vox). Rob performed everything else himself, including guitar, bass, keys, lead vocals and, yes, even a little bit of drums. Keep your ears open for some of his songs.
Solo artist Gary Landess came in to work on some new tunes. The rock songs have some great tones and a wonderful almost live-type of feel. We've also been finishing some of the final mixing on some of his 30+ tracks he's layed down with us. Congrats Gary!

For more information on any of these artists, contact us at news@callthecow.com



JOKE OF THE MONTH
---
How do you get a bull to stop charging?
You take away his credit card.
Send in your favorite (clean) cow joke to news@callthecow.com and if we use it we'll link to you.


CONTACT INFO
---
For booking information, new sampler CD, or anything else, contact us at.
record@callthecow.com
www.callthecow.com
(630) 897-9023
For Past Newsletters follow this link

SUBSCRIBER INFO
You are on this mailing list because you have contacted Apocalypse Cow in the past. If you wish to be removed from this list reply to this e-mail news@callthecow.com with "remove" in the subject line. If you wish to add someone else to the newsletter, reply to this e-mail with the person's address to be added.