Apocalypse Cow Recording - November
Newsletter - www.callthecow.com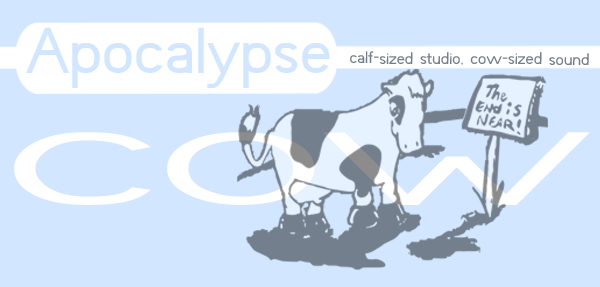 Happy Thanksgiving! -



NEWS

---
Welcome to yet another newsletter from Apocalypse Cow. We've bought some more gear and have been working on some great music. Read on for more.


NEW GEAR
---
We recently acquired a Hammond M-3 organ. This little beauty sounds great and will be a gem to add to songs for that classic Hammond sound.
We also picked up an Italia Mondial guitar. The Mondial is an open-bodied electric guitar made out of a plastic material and it has both electric pickups and an acoustic pickup in the bridge. Its sound matches its awesome space-age look.
And one last guitar, the Fender Cyclone II. A new limited edition guitar, the Cyclone features Jaguar pickups with the Mustang look and Strat Tremolo. A fun addition to our collection.

WHO'S in the RECORDING STUDIO
---
Speaking of space-age, emo band Calebs came into the studio to record their new EP. Calebs uses piano and guitar effects to get a nice dreamy sound to add to their My Bloody Valentine influences. Coming from Bloomingdale are members Ed Hamel (piano, vocals, drums), Brian Schultz (guitar) and Joel Ebert (bass). Check out their up and coming website at www.calebsband.com.
Blast from the past Greg Boerner is back at Apocalypse Cow recording the follow up to his 2nd album "Wishing Well". Greg's music blends folk, blues and gospel into one neat little package. He plays guitar and sings in a down-home style giving his songs that vintage southern sound. Check out more about Greg at www.gregboerner.com.
Tub Ring's Rob Kleiner finished mixes for his Dr. Sleep side project. The songs have a real modern rock/pop sensibility about them that's going to make them instant hits, at least in our opinion. Make sure to keep your ears open for Rob's breakout music.
And last but certainly not least, Gary Landess has continued to come into our studio for some strange reason making excuses about needing to record his songs. He's putting some finishing touches on songs like his ballad "Wave Goodbye" and his hard-hitting rock tune "Throw Knives & Spit Fire." After playing guitar, drums, bass, percussion and laying down vocals all himself, the songs are sounding really good.

For more information on any of these artists, contact us at news@callthecow.com



JOKE OF THE MONTH
---
Q: How do you make a milkshake?
A: Give a cow a pogo stick.
Send in your favorite (clean) cow joke to news@callthecow.com and if we use it we'll link to you.


CONTACT INFO
---
For booking information, new sampler CD, or anything else, contact us at.
record@callthecow.com
www.callthecow.com
(630) 897-9023
For Past Newsletters follow this link

SUBSCRIBER INFO
You are on this mailing list because you have contacted Apocalypse Cow in the past. If you wish to be removed from this list reply to this e-mail news@callthecow.com with "remove" in the subject line. If you wish to add someone else to the newsletter, reply to this e-mail with the person's address to be added.