Apocalypse Cow Recording - May
Newsletter - www.callthecow.com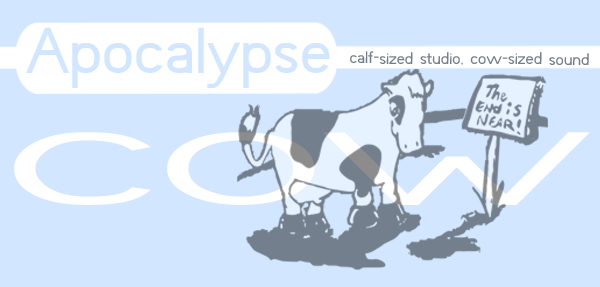 Happy May Day! -



NEWS

---
Another month, another newsletter, another amp. We've gone and bought another couple of amps to add to our Marshalls, Fenders and Mesa. We've also continued work on several projects this month.
We recently got a write-up in New York tech journal "Pro Sound News", who's article mentioned our groundbreaking new DAW megacomputer, as well as Cow acts such as Bluebottle, The Ending and Cesar Corral. Check out the March issue if you get a chance and keep your eyes open for more write-ups.



NEW GEAR
---
We added to our amp collection with a CBS era Fender Bassman 135 head. This head sounds great wired up to a bass or a guitar, giving it that powerful sound that Fender is known for. Be sure to check it out for your next project.
Another amp also made it's way to The Cow, the Peavey Transtube Express 112, which features high and low gain inputs as well as a 12-inch Celestion speaker. This little guy is great for impromptu playing and packs a powerful punch.


WHO'S in the RECORDING STUDIO
---
14 year old pop diva Courtney Jay returned to the studio to record two new original songs. Courtney wrote lyrics and melodies to her two songs and is leaving it to The Cow to make the songs into pop sensation hits! Check out Courtney and her music at www.courtneyjay.com
Father Pete Jankowski is in the final stages of his project which consisted of six children's Christmas songs that he hopes to get published for the Christmas season. Pete came in with his songs written out on paper and we arranged and recorded the songs for him to send out as demos. The songs feature Pete, Leslie Beukelman and our own Dan Jeremy on vocals, and Dave Byron on classical guitar.
Riff box Gary Landess has continued recording songs for his solo project. Everything from car-revving rock songs to bawl-your-eyes-out ballads. Also, Gary is now selling riffs, so if you're interested contact us for more info.
Mixing for the Arkansas band Corpslight (pronounced core-lite) has been continuing here at The Cow. Keep informed of the release at www.corpslightband.com.
And as always mixing for Tub Ring has been going on as well while they're on tour. Find out where they're playing at www.tubring.com.

For more information on any of these artists, contact us at news@callthecow.com



JOKE OF THE MONTH
---
How did the farmer find his lost cow?
He tractor down!
Send in your favorite (clean) cow joke to news@callthecow.com and if we use it we'll link to you.


CONTACT INFO
---
For booking information, new sampler CD, or anything else, contact us at.
record@callthecow.com
www.callthecow.com
(630) 897-9023
For Past Newsletters follow this link

SUBSCRIBER INFO
You are on this mailing list because you have contacted Apocalypse Cow in the past. If you wish to be removed from this list reply to this e-mail news@callthecow.com with "remove" in the subject line. If you wish to add someone else to the newsletter, reply to this e-mail with the person's address to be added.