Apocalypse Cow Recording - March
Newsletter - www.callthecow.com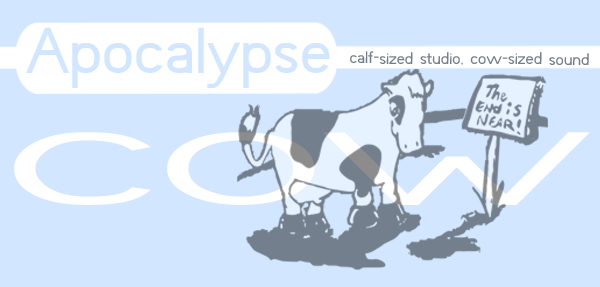 Happy St.Patrick's Day! -



NEWS

---
Springtime is coming and we've decided to take the month off to enjoy the weather...okay, not really. We're keeping really busy over here and are going to be starting a bunch of new projects in March. Our new computer is becoming very comfortable in it's new home in the control room. Read on to find out more about it.


NEW GEAR
---
The brand new mega-computer has been installed and we're pushing it to the limits, but it keeps running strong! The rackmount computer boasts dual Athlon 64 processors with 4GB of RAM and houses a terabyte of hard drive space. All of our software is running faster and smoother than ever. Even more impressive is the all-black, "Knight Rider"-esque look of the computer, which begs the eternal Spinal Tapian question of, "Is there anything more black?" (The answer, of course, being, "None is more black.")

Along with the new computer came new soundcards for it. We have setup 32 channels of Mark of the Unicorn inputs with the possibility to expand to 96 channels. These new MOTU soundcards allow for better monitoring in both the hardware and its software. Between the new soundcards and the computer, we are more streamlined, allowing us to work faster and concentrate more on the music rather than coddling a limping computer.


WHO'S in the RECORDING STUDIO
---
Songwriter/guitarist John Till was in the studio for the first time to record several of his old country/rock songs. John brought in Steve Arens to play bass and pedal steel guitar and Scott to play drums on two new songs, one of which is a tribute to the original Man in Black, Johnny Cash. Which begs the eternal Spinal Tapian question of . . . oh, never mind.

Tub Ring returned to the studio once again to record another batch of songs for their upcoming album "Zoo Hypothesis", due out this fall. This latest batch of songs jump around a number of genres, with catchy Michael Jackson grooves, lush Queen vocals and earth-moving Stonehenge intros. Check out their website for more info, shows, and very fun puzzles at www.tubring.com.

Rock n' Roll explosion Bluebottle finished their EP "Bet it all on Red" this past month, the follow-up to "The E.G.O. Has Landed". Bluebottle incorporates horns into their rockin' groove with soaring vocals and punky backups. The 7-piece rock machine can't be stopped, but can be found at www.blue-bottle.net.

Cow recording artist Gary Landess made a trip down to Kansas, where he earned a black belt in karate, as well as a razor-sharp samurai sword engraved with the date he received it. He is now head of our collections department. Congratulations, Gary.

For more information on any of these artists, contact us at news@callthecow.com



JOKE OF THE MONTH
---
There was a herd of cattle all standing on a hill when an earthquake struck. All of the cows fell down, but the bull remained standing. The farmer noticing this went out and asked the bull, "Why didn't you fall down like the rest of the herd?" The bull replied, "We bulls wobble, but we don't fall down."
Send in your favorite (clean) cow joke to news@callthecow.com and if we use it we'll link to you.


CONTACT INFO
---
For booking information, new sampler CD, or anything else, contact us at.
record@callthecow.com
www.callthecow.com
(630) 897-9023
For Past Newsletters follow this link

SUBSCRIBER INFO
You are on this mailing list because you have contacted Apocalypse Cow in the past. If you wish to be removed from this list reply to this e-mail news@callthecow.com with "remove" in the subject line. If you wish to add someone else to the newsletter, reply to this e-mail with the person's address to be added.