Apocalypse Cow Recording - July
Newsletter - www.callthecow.com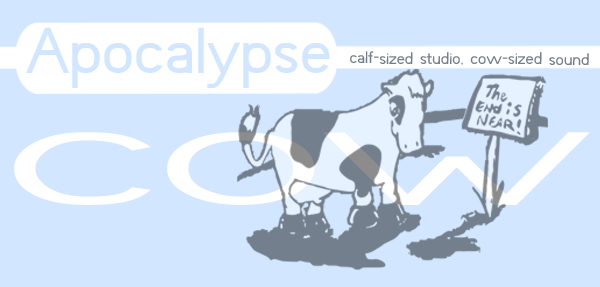 Happy Independence Day! -



NEWS

---
The July issue of the printed newsletter has been mailed out. Be sure to read it to find out all you want to know about protecting yourself against hearing loss. Also be sure to check out our featured artists and featured new gear. If you haven't received a copy and would like one, send us your snail mail address and we'll get one out to you right away. And if you've missed previous issues of our newsletters but still want to reap the benefits of our articles, you can now check them out on the web under the newsletter sign-up link.


NEW GEAR
---
We just added a new microphone to our collection; the Audio Technica AE2500. This mic will be used primarily for the kick drum and features both a dynamic and a condenser inside. The two elements are set-up to be perfectly in phase so we can get both the hard attack of the beater and the tone of the drum. What could be better?


WHO'S in the RECORDING STUDIO
---
Punk band Next Best Thing came into the studio to record a five-song EP. Next Best Thing takes the typical punk sound and adds in a little bit of reggae and a little bit of rock and tops it off with fun lyrics. From the Naperville area are Mike Felton (bass), James Abril (guitar, back vox), Alec Schraegle (drums) and Jason Fein (vocals). Find out more about the band at www.geocities.com/nextbestrock.
Tub Ring's album "Zoo Hypothesis" is out at the printing presses to get ready for the CD release show at the Bottom Lounge August 14th and to be in stores everywhere August 17th. This album is the culmination of over a year's worth of hard work and it shows. Tub Ring musicians are Rob Kleiner (keys), Kevin Gibson (vocals), Jason Fields (bass), Shawn Sprinkel (guitar) and Dave Tavares (drums) with guest musicians James Cole (drums), Matt Phelan (violin/turntables), Sara without an H (vocals), Dave Weiner (trumpet), Dave Smith (bari sax), Dan Jeremy Brooks (sampling/back vox), Jeffrey Brooks (additional guitars/back vox) and Theresa Brooks (bassoon). Keep abreast of the release and get tickets for the CD release show at www.tubring.com.
Mixing is in the final stages for Arkansas band Corpslight. This crazy rock band pushes the limits of music by jumping around many genres within the same song and changing things up to keep the listeners on their toes. Check out them out www.corpslightband.com.
Courtney Jay is in the final stages of recording two new pop songs she wrote with the help of The Cow. The lyrics and melodies Courtney brought in were made into a pop rock Evanescence-type of song and an R&B song. Check out Courtney and her music at www.courtneyjay.com
Solo artist Joe Turba came in to record some more vocals on his acoustic project. Joe's experience in an a Cappella group really showed as he sang lots of harmonies on top of his solo lines to really flesh out the songs. Keep your ears open for more from Joe.
Gary Landess worked on some mixing for his song "Get That", a rip-roaring guitar-slammin' tune that'll make your heart hurt.

For more information on any of these artists, contact us at news@callthecow.com



JOKE OF THE MONTH
---
Why don't cows have any money?
Because farmers milk them dry.
Send in your favorite (clean) cow joke to news@callthecow.com and if we use it we'll link to you.


CONTACT INFO
---
For booking information, new sampler CD, or anything else, contact us at.
record@callthecow.com
www.callthecow.com
(630) 897-9023
For Past Newsletters follow this link

SUBSCRIBER INFO
You are on this mailing list because you have contacted Apocalypse Cow in the past. If you wish to be removed from this list reply to this e-mail news@callthecow.com with "remove" in the subject line. If you wish to add someone else to the newsletter, reply to this e-mail with the person's address to be added.