Apocalypse Cow Recording - January
Newsletter - www.callthecow.com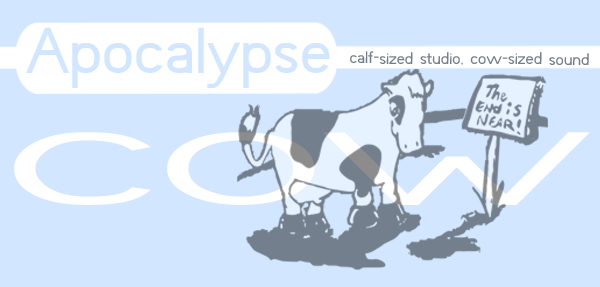 Happy New Year! -



NEWS

---
2003 has been a prosperous year for us, as we've made leaps and bounds with the studio in everything from the music we've been working with to improvements in equipment and everything in between. Now that 2004 is finally upon us we're planning for bigger and better things so, keep in touch so you can say you knew us when...

The Apocalypse Cow hard print newsletter will be out sometime this month. This bi-annual publication is delivered directly to your mailbox and this edition will feature an article about copyrighting your songs (useful knowledge for anybody writing his/her own songs). Also, read about our featured artists, new gear we have to make your project go smoother and, of course, a year-end wrap up. To make sure you receive your copy, send your snail mail address to news@callthecow.com



NEW GEAR
---
We just purchased a wind MIDI controller, the Yamaha WX5. This is similar to a keyboard MIDI controller in that it sends MIDI data to the computer, which can later be manipulated by pitch, length, velocity, etc., except this wind controller looks and plays like a clarinet and a saxophone, respectively. With the different way of playing, the MIDI is captured with a wind emphasis, so emulating other wind instruments (anything from tuba to flute) becomes more realistic sounding. We plan to be using the wind controller a lot when composing with MIDI to get the expressive sounds of wind instruments not capable on a keyboard.




WHO'S in the RECORDING STUDIO

---
The Ending (formerly THCsquared) made the trip up from Champaign, IL to record two of their new songs. The Ending blends their rock/metal influences with their drum corps experiences to create some technically amazing music. The traditional rock setup is augmented with a tenor drum player (in case you aren't familiar with marching drums, tenors are the group of four drums, sometimes known as "quads"). The Ending is made up of Louie Golden (vox), John Supple (bass), Doug Ford (drum set), Dan Reem (guitar/vox), Andy Smith (guitar) and John Ferro (tenor drums).

Rock band Corridor came to the studio this past month to begin recording their EP. The influences of Corridor's members vary widely to make music that bounces between many different styles, from 70's rock to today's jam bands. Hailing from the Joliet area are members Dusty Veal (guitar), Dusty Thiel (guitar), Mikey Nordsell (drum set), Larry Walsh (bass), Bob Pechtold (vox) and Bob Gans (percussion). For more info on the band check out www.corridormusic.com.

We recently mastered a project for Wonderloaf. Dressing in white capes and pastel turtlenecks, Wonderloaf can best be described as eccentric rock with a Zappa edge. Check out their musical stylings at www.wonderloafmusic.com.

The Hunt Club is having some songs mastered by The Cow. The Hunt Club is a high-powered rock band that covers all styles of music, but enjoys writing their own rock songs most of all. Check out their website for more info at www.thehuntclub.net.

Country vocalist Shannon Clark has just finished her project. Shannon, along with her husband Jeff and brother Joe Carr, took their first foray into writing songs this year. They brought the songs to us with lyrics and basic melody ideas, and we at The Cow created the arrangements for the songs. The four songs are about everything from hating work to growing up in a small town. Keep a watch out for Shannon in the future.

Cesar Corral is in the mixing stage of his solo project and plans to be finishing soon. Stay posted for more updates on his project.

Solo act Gary Landess was back working on some of his songs. Most notably, he recorded a one-man jam by playing both acoustic guitar and drums at the same time! Keep reading these newsletters to find out more about what Gary's up to.

And last but definitely not least, we have been working a lot on mixes for Tub Ring. The last batch of songs Tub Ring recorded here has a lot of potential and we're making sure to mix and produce them to exceed the highest of potentialitude (whatever that means). These songs cover a wide pallette of genres, from Viking masculinity to showtune infused battlefields and beautiful-sounding mass suicides. Check out the method behind the madness at www.tubring.com.


For more information on any of these artists, contact us at news@callthecow.com



JOKE OF THE MONTH
---
Who is a cows favorite philosopher?
Albert Camoooo!
Made up by Dan Jeremy Brooks; check out his experimental power pop at www.roughly.net, home of Roughly Enforcing Nostalgia.
Send in your favorite (clean) cow joke to news@callthecow.com and if we use it we'll link to you.



CONTACT INFO
---
For booking information, tours, new sampler CD, or anything else, contact us at.
record@callthecow.com
www.callthecow.com
(630) 897-9023

For old 2003 newsletters

SUBSCRIBER INFO
You are on this mailing list because you have contacted Apocalypse Cow in the past. If you wish to be removed from this list reply to this e-mail news@callthecow.com with "remove" in the subject line. If you wish to add someone else to the newsletter, reply to this e-mail with the person's address to be added.