Apocalypse Cow Recording - February
Newsletter - www.callthecow.com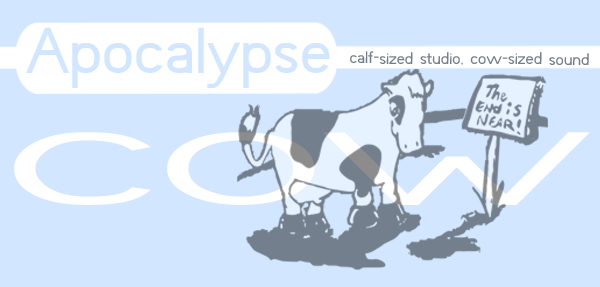 Happy Ground Hog's Day! -



NEWS

---
It's been a busy and blustery month for us. We've got a lot of projects finishing lately, so read all about them in this newsletter. We're also purchasing a new computer which will outperform even the best audio systems imaginable! (Which is quite a bit 'cause we can imagine a lot!)

The Apocalypse Cow print newsletter was mailed out last month. It featured an informative article about copyrighting music, as well as articles about our featured artists, new gear and a year-end overview. If you have not received a copy of the newsletter but would like to, just send your snailmail address to news@callthecow.com. Also, we'd like to make a correction to the newsletter; the featured band, The Ending has a bass player, John Supple, who was left out by accident. We're very sorry, Supple, and this in no way reflects our opinion of you or bass players. Seriously.


NEW GEAR
---
We have a brand new mega-computer coming to us soon. This computer will be used in the control room and will feature dual Athlon 64 processors and 4GB of RAM. We'll be installing a Raid 0+1, which means the data will be written on the drives faster, and back-up drives will be written to simultaneously as well. There are a bunch of other great features of this computer too which we won't bore you with right now. We're extending the honor of building this monster to Scott Reams of Liquid DAW. Check out his liquid-cooled computers at www.liquiddaw.com.



WHO'S in the RECORDING STUDIO

---
Bluebottle started recording their brand new EP in January. Bluebottle is another one of those rare "good ole rock bands" that combine horns with the standard rock set-up. Getting their start 8 years ago when they originally were thought of as a ska-punk band, Bluebottle has evolved into a profusion of genres. Coming from the northwest suburbs are members Brandon Wojcik (trumpet/keys), Stephen Clark (bass/vocals), Greg Simpson (drums/percussion/keys), Victor Gonzalez (guitar/vocals), Mike Anderson (guitar), Jason Shimotake (trombone) and Dave Ponce (trombone). Check out their music at www.blue-bottle.net.

The Ending came in for final mixes of their two raucous rock songs. All members of the band come from drumline backgrounds and currently play drums in the U of I or ISU drumlines. The Ending features massive, rock-solid guitars and heavy, yet hummable, vocals and accompanies all this with a set of tenor drums triggered to make the impeccable playing sound larger than life.

Corridor will be working on their final mixes soon. The 6-piece jam band incorporates blues, 70's rock, grunge, and jazz. They also add an extra uniqueness to their rock songs by having bongos, congas and various percussion added for accents. Check them out at www.corridormusic.com.

Solo artist Cesar Corral has finished his album. Cesar sang and played acoustic, electric and nylon-string guitar on his original collection of emo/pop songs. Cesar brought in drummer Eric "E-Rock" Bogle for the majority of the songs, and performed the other three songs with the one-of-a-kind Cesarian Beat Machine™. Also, in doing a few songs with his own beatboxing talents, Cesar may have also inadvertently spawned a new and exciting sub-genre: acoustic beat-mo!

Gary Landess has been continuing his bouts in the studio. The drummer/guitarist has most recently been working on his ballad "Wave Goodbye," which is in stark contrast to his other heavy-driven blues tunes such as "Gator Water" and "Midnight Drivin'".

For more information on any of these artists, contact us at news@callthecow.com



JOKE OF THE MONTH
---
Why don't cows have any money?
Because farmers milk them dry!
Send in your favorite (clean) cow joke to news@callthecow.com and if we use it we'll link to you.



CONTACT INFO
---
For booking information, new sampler CD, or anything else, contact us at.
record@callthecow.com
www.callthecow.com
(630) 897-9023
For Past Newsletters follow this link

SUBSCRIBER INFO
You are on this mailing list because you have contacted Apocalypse Cow in the past. If you wish to be removed from this list reply to this e-mail news@callthecow.com with "remove" in the subject line. If you wish to add someone else to the newsletter, reply to this e-mail with the person's address to be added.