Apocalypse Cow Recording - December
Newsletter - www.callthecow.com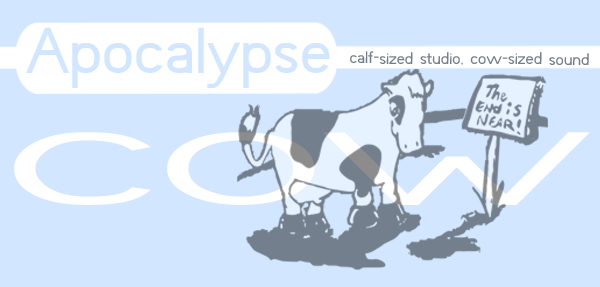 Happy Holidays! -



NEWS

---
Hi everyone! We've been up to a lot lately here at The Cow, working with more and more bands and getting more and more gear like always.
And with Christmas coming soon, I have to plug our fabulous Cow Bucks! Your family and friends can help you stock up for your recording endeavors with these Cow gift certificates. Anyone can buy them online at www.callthecow.com/order.htm with a credit card, or give us a call.


NEW GEAR
---
We've added a Rhodes Mark II Piano 73 to our collection of keyboards. It's got that classic 70's electric piano sound just like you'd expect, and is in great condition.
Another new toy over here is the Yamaha Sub Kik. This microphone sets up right in front of the kik and looks like a speaker inside of an 11-inch drum. Not only does it look cool, it sounds cool too. It picks up the sub sounds of the kik, so you can really feel the kik in the mix.

WHO'S in the RECORDING STUDIO
---
Coming from Bloomington, IL, Emerging From Van Doors has begun recording songs for their debut album. EFVD mixes hardcore and indie music resulting in poppy/thrashy songs. Members include Jim Lindsey (guitar/vox), Jason White (bass) and Alex Anderson (drums). You can check them out at www.emergingfromvandoors.net.
The ChiBillies stopped in to record a live promo set. They play a mix between country, blues and rock. The members are Sam Hubbell from Hix Brothers Music (guitar), Dana French (who's played with Stevie Ray Vaughn and Robert Plant) (guitar/vocals), Tim Politte from the band Younger Than Yesterday (a rendition of The Byrds) (drums), and Larry (bass).
Calebs is working on mixes for their debut EP. Calebs' emo styling is a mix between spacious instrumental soundscapes and heartfelt vocals. Check out their brand new website at www.calebsband.com.
Solo artist (and Cow regular) Greg Boerner has got his nose to the grindstone working on his 3rd album, and is experimenting with sounds to make his songs truly unique for his guitarist/singer/songwriter genre. Check out more about Greg at www.gregboerner.com.
And of course, Cow semi-regular Gary Landess is finishing up mixes for a few of his songs and getting that much closer to getting his album finished. Gary plays good 'ole rock songs ranging from tough-sounding rock songs to tear-inducing ballads.

For more information on any of these artists, contact us at news@callthecow.com



JOKE OF THE MONTH
---
Q: What do you call a dried-up cow?
A: A Milk Dud!
Submitted by an anonymous reader.
Send in your favorite (clean) cow joke to news@callthecow.com and if we use it we'll link to you.


CONTACT INFO
---
For booking information, new sampler CD, or anything else, contact us at.
record@callthecow.com
www.callthecow.com
(630) 897-9023
For Past Newsletters follow this link

SUBSCRIBER INFO
You are on this mailing list because you have contacted Apocalypse Cow in the past. If you wish to be removed from this list reply to this e-mail news@callthecow.com with "remove" in the subject line. If you wish to add someone else to the newsletter, reply to this e-mail with the person's address to be added.